First Comes Marriage
And then comes love
Click the Buzz Me button to receive email notifications when this writer publishes a new article or a new article in this column is published.
There's a special term for when two people meet, date, fall in love and then decide to tie the knot. It's called a "love-marriage," explains Devinder Mahajan, a retired engineer who lives in Memorial. 
Devinder briefly pondered having a love-marriage. It was, after all, the norm among his American friends in Cleveland, where Devinder worked at a consulting company. But, perhaps out of a sense of obligation to the tradition of arranged marriage, Devinder set these thoughts aside and willingly had his parents in India help orchestrate his marriage. 
"There is no doubt that questions [about arranged marriage] arose in my mind," says Devinder, who immigrated to the U.S. in 1960 to pursue an engineering degree. "But whenever doubts would come, my answer was, it has worked for centuries past, so it would work for me." 
And by all accounts, it did. 
For 54 years, Devinder has been married to Sushma Mahajan, a retired pathologist he met through his family. In some ways, the two seem wildly different. Devinder is a talker while Sushma is a listener – even when they first met, at an arranged meeting in Sushma's dad's office in New Delhi, Devinder was talking non-stop while Sushma could barely get a word in. And while Devinder has a genial demeanor – he often laughs at his own jokes, whole-heartedly with his shoulders bouncing and his head thrown back – Sushma is thoughtful and more serious.
But in their values and beliefs, what the couple says matter most in a union, the two are aligned. Both come from families dedicated to social service. Devinder's father and Sushma's grandfather were heavily involved in Arya Samaj, a Hindu organization that cultivates strong moral values. And the two are similar in their progressive ideals. For instance, neither wanted their marriage to include a dowry, an ancient custom with patriarchal origins. 
"We don't have any incompatibilities," Devinder says. "I think it's mainly because our background and views are so similar that it's worked out so well for us."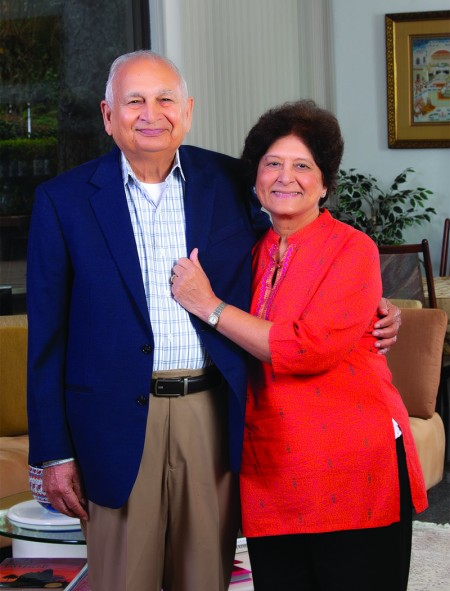 The premise of arranged marriage is that basing an important life decision on practicalities, not lust or emotion, is most conducive to a lasting relationship. In traditional arranged marriages, parents select a spouse for their son or daughter, considering factors such as the person's family background, education level and values. The practice was common worldwide until the 18th century, and it remains common today in some parts of the world, including South Asia, Africa and the Middle East. According to some estimates, more than half of marriages worldwide are arranged, and more than 20 million of such unions exist today. 
Arranged marriages are not forced, for the future bride and groom must consent to matrimony, but there is typically no dating involved, either. The future bridegroom may meet only once or twice before deciding to marry. 
Without having dated, love was hardly a factor in Devinder and Sushma's decision to wed. But today, their love is evident in the way they speak about each other. Though Sushma is reserved, she peppers her husband's stories with compliments. When Devinder says he was the first in his family to immigrate to the States, for instance, Sushma expands, "He was the first one in his entire extended family, and then he helped his cousins come over." 
When Devinder explains that he helped develop the Houston branch of Arya Samaj, Sushma pipes in: "He had to supervise the whole thing." 
Devinder speaks equally reverently about his wife. When Sushma tells me her upbringing inspired her to join Pratham, an education non-profit, Devinder interrupts that she was on the board for 11 years. 
"It's been a plus having similar thinking," Devinder says. "That helps to reinforce respect and love for each other."
As with most arranged marriages, the Mangals' union began with the parents. 
"As soon as I started med school, my mom started sending pictures [of potential matches]," says Rakesh Mangal, a doctor who now lives in Bellaire with his family. "In India, my grandfather and friends all started looking." 
But Rakesh was not interested in marriage. He wanted to finish medical school before settling down. He even pushed his younger brother to get married before him in order to detract attention from himself. His brother obliged. "Then the pressure was off," Rakesh said. "It was a big relief for me." 
But, relief didn't last long. When Rakesh started residency, his mom cracked down again. "Any holiday I came home, my mom would be there with pictures," he said. "I can't tell you how many I saw." 
Rakesh wanted to please his parents, but he also was determined to finish residency before marrying. And once residency was finished, he wanted to complete his fellowship in reproductive endocrinology and infertility, followed by another fellowship in endometriosis surgery. By then, his mother was worried about her son's marital future. She approached a priest about Rakesh's situation. The priest, who read Rakesh's palm and offered predictions based on astrology, said Rakesh would need to fast for three consecutive Saturdays, after which he would meet his future wife. 
"I said yeah, right," Rakesh said. "But I said I'd go along with my mom."
Rakesh, though skeptical, fasted for the next three Saturdays, even while on a vacation with his friends. 
Coincidence or not, the Tuesday after his last fast, Rakesh found his soul mate. 
Having just returned from a two-week vacation, Rakesh went to check his mailbox. Unsurprisingly, his mailbox was stuffed with envelopes containing photographs of potential matches. While pulling out the envelopes, one fell to the ground. In a hurry to get to work, Rakesh stuffed all the envelopes back into the mailbox, except the one that fell on the floor. 
When he opened it, Rakesh first saw a photo of a religious statue, in front of which stood a beautiful woman, Seema. 
"I just got the chills," Rakesh said. "As soon as I saw the picture, there was no question in my mind. I had to meet her."  
Rakesh and Seema began talking on the phone and finally had a chance to meet when Rakesh travelled to India. Both said they were struck by how easy conversation was.  
"We were just talking and talking and couldn't stop," Rakesh said. "I don't know where the time disappeared." 
After meeting, both Seema and Rakesh were ready to say I do, but they wanted to move slowly. 
"We didn't make any decision at that time," Seema said. "We were both ready, but we didn't want to do anything under pressure. We wanted to take our time and see how we felt about it."
The two continued to talk on the phone for several months, with Rakesh spending $1.50 per minute to make the long-distance phone call from Louisiana. One day, he proposed to Seema over the phone. "I said how about it, and she said yes. Or actually she said okay," Rakesh corrected himself. 
Within 10 days, Rakesh and Seema were married. 
Although Seema and Rakesh had autonomy over their marriage and spent some time getting to know each other before getting married, they still consider their matrimony "arranged" and say the system can work well if done correctly.  
"I think it's not bad if you don't force it," Seema said. 
"We wouldn't have known how to meet with thousands of miles between us," Rakesh added. "I think what works is using friends and family as a means to connect to someone. They aren't going to send you just anybody." 
Is marriage the culmination of romance, or the beginning of romance?" My dad, Atul Salhotra, poses this question when I start probing him on the details of his arranged marriage to my mom, Poonam Salhotra. "I debated this topic and won when I was in graduate school," my dad adds. "I think love grows." 
My dad shares the Mahajans' belief that similar upbringings and values typically facilitate a compatible union. But the way he found his partner was not through a mutual connection, but through a newspaper. 
My dad was nearly done with graduate school at MIT when his parents – sitting all the way in India – began pressuring him to find a wife. They decided to place a matrimonial ad in India Abroad, a weekly publication targeted towards Indian-Americans. My mom, meanwhile, was completing her own doctorate across the country in New York City. She too faced marital pressure from her parents, who placed a matrimonial ad for their daughter in the same newspaper. 
"My mom would actually look through the ads and circle the ones she thought were good," says my mom, who immigrated to the U.S. with her parents when she was 11 years old. The ads typically included a name, age, education level and photo upon request – similar to the online dating profiles people create today. 
The ad was just a preliminary step. "A lot of things would happen before the girl and guy met," my mom explains. "A lot of investigations were done, and generally you'd try to find someone who knew both parties. There's a lot of background work." 
Unbeknownst to my mom, this background work was well underway, and it was soon discovered that my mom's grandfather knew my dad's father and thought well of him.
In the spring of 1987, my dad trekked from San Francisco to meet my mom. In the tiny town of Gowanda in upstate New York, my dad spent the day with my mom and her family. They ate lunch together, went to the local Indian grocery store and watched a Bollywood movie.
My mom soon forgot about the meeting. By this point, she'd had several such meetings with potential partners, and she was more focused on her schoolwork anyway. But after further communication between the two families, another meeting took place in June, and it was soon decided that Atul and Poonam would get married. 
My parents consented to the marriage, but neither was thrilled about it either. 
"I was kind of indifferent," my mom says. "He seemed like a good person." How romantic, I think.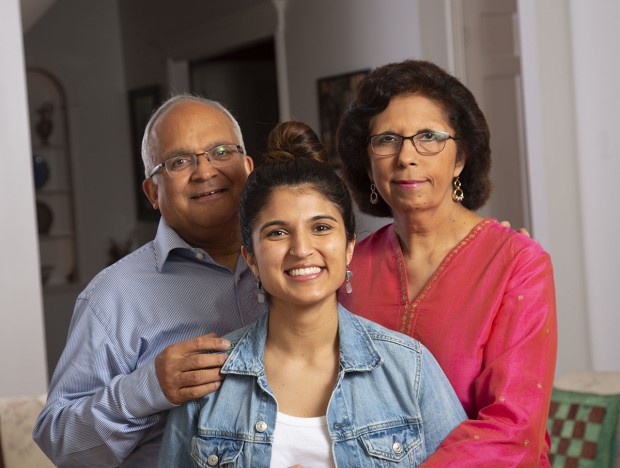 "Our families were very compatible, which was important," my dad adds. 
My parents spent the first several months of marriage getting to know each other's quirks – what most of us learn, and decide whether we want to put up with, during the dating phase of a relationship. 
While they like to joke that they may not have ended up together had they dated, they've still built a loving relationship built on compassion and respect. 
"It was sort of meant-to-be," my mom says of the match. "I mean come on. Who goes all the way from San Francisco to Gowanda?"
"Love is a long-term thing," my dad says. "It's not just infatuation. It's responsibility and a commitment."
Want more buzz like this? Sign up for our Morning Buzz emails.
To leave a comment, please log in or create an account with The Buzz Magazines, Disqus, Facebook, or Twitter. Or you may post as a guest.