Confident in Their Skin
A Children's House for the Soul
Click the Buzz Me button to receive email notifications when this writer publishes a new article or a new article in this column is published.
It's not every girl who gets a chance to stride through an art gallery in Manhattan, modeling a dress she designed herself while her favorite pop song blasts through speakers overhead. 
But it is what Texas teens Mia Johnson, Emily Haygood and Alex Schoener did one day last fall. 
"I was really nervous about walking out in front of a crowd of people," says Mia, a junior at The Village School. "But I actually walked out and was so overwhelmed by the amount of support that I started tearing up." 
As Mia struck a pose in her deep green dress – a hue matching her eyes – the pop song "Brave" by Sara Bareilles played. The song, whose lyrics tell an empowering story about the beauty of being who you are, could not be a more fitting anthem for the moment. In a sense, the fashion show represented the pinnacle of years-long journeys for Mia, Emily and Alex, girls who vary in background and interests, but have shared similar struggles of battling skin diseases. 
"I think it's hard for someone who's not going through something to understand how tough it is," said Mia, who has an autoimmune disease called scleroderma. The disease causes the body to attack itself and, in Mia's case, manifests as lesions and spots on her face. "It was just kind of difficult going through elementary school because kids don't have a filter and just say things like, 'Oh what's on your face?' It's the topic of every conversation you start."
Emily and Alex have faced similar challenges. Emily, 13, has severe atopic dermatitis, a chronic condition more commonly known as eczema, characterized by visibly dry and itchy skin. Alex, a freshman at Duchesne Academy, has alopecia areata, a condition causing rapid hair loss.
Over time, the girls have discovered that embracing their skin is the first step towards becoming an advocate for other children with skin conditions, and they each speak bravely and openly about their experiences. 
"When it started getting worse and worse, I was really scared I was going to enter high school without any hair," Alex says in a recent video testimonial. "That really shocked me, and it really scared me, honestly, because I didn't think I was ready for that. But as time went on, I feel like now I can completely accept who I am. I can say, 'Oh yeah, I have alopecia.'" 
The girls each point to Houston nonprofit A Children's House for the Soul for helping them become more self-confident. Launched in 2016 by pediatric dermatologist Alanna Bree, the organization provides emotional and social support for children and families impacted by any kind of skin disease.
Were it not for the nonprofit, Mia, Alex and Emily are unlikely to have met each other – HIPAA laws preclude doctors from connecting patients to each other, and the girls live in different parts of town. But, through the organization, Dr. Bree has created a community. 
"It's a community where they are not alone," says Dr. Bree. "It is so powerful to realize there are other people who have the same struggles. It changes their perspective." 
On a Friday morning in 2009, Alanna Bree stunned her business manager – and herself – by announcing that she quit her job. Dr. Bree was working as a pediatric dermatologist at Texas Children's Hospital and had been struggling with an internal dilemma of whether she was fulfilling her life's purpose. While she had always dreamed of becoming a doctor, the logistical realities of the job limited her ability to connect with patients in the way she had hoped. 
"I thought back to the reasons that motivated me to be a physician in the first place, and I realized I had veered way off course," Dr. Bree writes in her book, A Children's House: A Little Story About a God-Sized Dream. "I was distracted by the logistics of medicine. Insurance payments (or lack thereof), prior authorizations, compliance issues, governmental regulations, patient satisfaction scores, electronic medical records, malpractice, schedules, paperwork and more paperwork…" 
Within weeks of quitting her job, Dr. Bree was traveling to Managua, Nicaragua, on a mission trip. She followed up these trips with short-term missions in Guatemala and Kenya, all the while getting closer to understanding her life's purpose. 
Though the goal of the trips were not always to provide medical care, Dr. Bree often found herself using her medical expertise to help diagnose people's skin conditions. Skin disease affects approximately 20 percent of children and teens.
With her faith as her guiding compass, Dr. Bree soon realized she needed to return to medicine. 
"I didn't think I'd come back," she said. "I was really burnt out. But I realized I have this special training and knowledge. There are only 385 board-certified pediatric dermatologists." 
Dr. Bree was certain that, upon returning to medicine, she wanted to help children with skin diseases using a holistic approach. Unlike other medical conditions that children can keep private, skin diseases are visible. Children with skin disease are therefore more likely to suffer from lack of confidence, depression and social withdrawal. 
So instead of trying to maximize revenue by seeing as many patients as possible, she wanted to connect with her patients and help them with the inevitable struggles that come along with having a skin conditions. 
"These kids wear their diseases – they don't get to choose if they share it with the world because it's visible, and it's the first thing people notice about them," she said. "Kids feel very unsafe, like they have to put on this protective armor." 
Dr. Bree developed a vision for the nonprofit – a welcoming place with programming to build inclusivity and tolerance – but she lacked the funds to create it. To raise money, she started her own dermatologic practice in a cozy Montrose-area bungalow at 1976 W. Dallas St. But instead of taking home the money she earned, she funneled it into the nonprofit organization, which operates out of the same building. "My husband is a physician, so I can do it," she says. "Not everyone has that luxury."
"It's made me happier than I've ever been," she added. "It really speaks to the fact that money can't buy happiness." 
Even now, Dr. Bree takes no salary from her practice or from the nonprofit. Both have expanded and are outgrowing the corner bungalow they share, so Dr. Bree feels it's time for the nonprofit to have its own space. She envisions a colorful home, equipped with a custom library, a special salon where children with hair loss can try new styles or wigs, a kitchen where kids can come together over meal prep, a play area and more. Dr. Bree recently launched a capital campaign, trying to raise $1 million in 2020 to purchase and renovate the property next door to the bungalow. 
"It's coming together, and it feels meant to be," Dr. Bree said. "I can envision the space and the kids. This is going to be the only dedicated place in the whole United States supporting kids with skin disease. This really is history in the making." 
In the short film I Was Made a Masterpiece, artist Rick Guidotti explores the emotional impact of skin disease, highlighting many families from A Children's House for The Soul. When Rick, an advocate for those with physical or intellectual differences, decided to hold his New York City art gallery opening in October 2019, he invited Dr. Bree to premiere the film. 
What was initially slated as a small presentation snowballed into a full-fledged fashion show featuring Mia, Alex and Emily.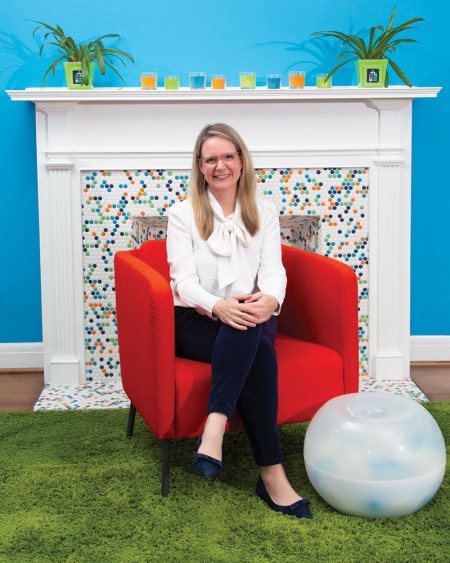 "At first, it was just going to be Lindsey [director of community engagement for the nonprofit] and I presenting the film, but then I said, 'Wouldn't it be great if one of our teens comes?' Teenage girls are the most powerfully affected by skin disease because that's such a critical time of interacting with the world and personal beauty," Dr. Bree said. 
"And then I was like, it's New York. Let's go big."
Over the course of only two months, the idea for the fashion show came to fruition. The idea stemmed from artwork by A Children's House for the Soul board member Dr. John Cangelosi. A board-certified dermatopathologist, Dr. Cangelosi's work focuses on diagnosing skin disorders under the microscope. Realizing that skin abnormalities can look artistic when viewed up-close, he has showcased photographs of various skin conditions at art exhibitions. Dr. Bree had always wanted to incorporate his art into a project with her non-profit, but had never found the right fit – until the film premiere. 
Dr. Bree hired designer Kimberly Oehrlein, whose branding company had created the logo for A Children's House years earlier. Oehrlein, a self-taught dressmaker in Cypress, was to take Dr. Cangelosi's images of Emily, Alex and Mia's skin diseases and then use them as the pattern for customized gowns. Essentially, the girls would wear their skin disease on a dress they designed themselves. 
"How impactful if they got to define how they want to wear their disease in such a beautiful way," Dr. Bree said. 
During a consultation with Oehrlein, each of the girls discussed what their dream dress would look like. Oehrlein helped them select a color, bodice and neckline. "We really put the design in the girls' hands," Oehrlein says. "We pretty much gave them full creative control." 
Once she mocked up the silhouette of the dresses, Oehrlein examined Dr. Cangelosi's slide images and figured out the best way to incorporate them onto the fabrics. Depending on the flow of each dress, different materials were used. Emily's dress was purple satin and chiffon, Alex's pink princess dress was a polycrepe fabric, and Mia's was satin. 
After spending about 60 hours on each dress – from the concept to the final construction – Oehrlein had the dresses in tow and traveled to New York City with the girls along with their moms and Dr. Bree. 
Behind the scenes, the girls were nervous. Each had spent years hiding behind their diseases, and now they were about to wear them for a room full of people. But when the time came, and all eyes were on them, they each wore their skin proudly.
"You could tell they felt so empowered, so confident and so beautiful," Oehrlein said. 
"There was a different kind of confidence in her," says Emily's mom, Amber Haygood. "Watching her and the other two girls walk out with so much confidence and just loving themselves – it was powerful."
Want more buzz like this? Sign up for our Morning Buzz emails.
To leave a comment, please log in or create an account with The Buzz Magazines, Disqus, Facebook, or Twitter. Or you may post as a guest.