An Evening with Maysoon Zayid
Click the Buzz Me button to receive email notifications when this writer publishes a new article or a new article in this column is published.
"For those of you who don't know me, I am not drunk," Maysoon Zayid said to a crowd that immediately burst into laughter. "But the doctor who delivered me was. As a result, I have Cerebral Palsy."
So began the sold-out show delivered by comedian and disability activist Maysoon Zayid, 45, as part of the Muslim Series at Asia Society, a global educational organization with a branch in Houston's Museum District. Now in its second year, the Muslim Series seeks to highlight the talents and stories of American Muslims. 
Maysoon, no doubt, is a talented woman with a fascinating story. The actress, comedian and disability advocate grew up in a small town in New Jersey, where she recalls her family members as the only Arabs in the entire city. Her Cerebral Palsy, a disorder that affects movement, manifested most visibly as uncontrollable shaking and difficulty with controlled movements like walking. But Maysoon never recalls being bullied - neither for her disability nor for her multiple minority status as a Palestinian, Muslim woman. 
"My friends always included me, and my parents held me to the same standards as my sisters," Maysoon wrote in an email interview. "I was aware that there were things I couldn't do and needed help with, but because I wasn't treated differently, I did not feel like this was a bad thing."
After leaving her hometown, Maysoon discovered that people with disabilities were treated unfairly. Her dreams of making it on daytime soap opera General Hospital seemed far-fetched after she realized that nobody who looked like her appeared on television. And while she was left unharmed after multiple vehicular stops by police officers, she discovered that she was lucky, for nearly 50 percent of all people killed by law enforcement are disabled. 
After 9/11, Maysoon also felt vilified for her ethnicity and religion. At the time, Maysoon was in her 20s and had just launched her career as a comedian after taking a stand-up class. Following the September 11 attacks, clubs in New York City were cancelling Maysoon's comedy sets out of fear of backlash. And she says the fear and hate has only gotten worse. She seems well-acquainted with vicious internet comments, and she says her agent has even suggested she get a bodyguard. 
That's why today, Maysoon is using her platform to advocate, both for those with disabilities and for Arab Muslims. Part of why she pursued television, despite facing severe criticism from internet trolls, is because she believes it's imperative for visibly disabled people to appear onscreen.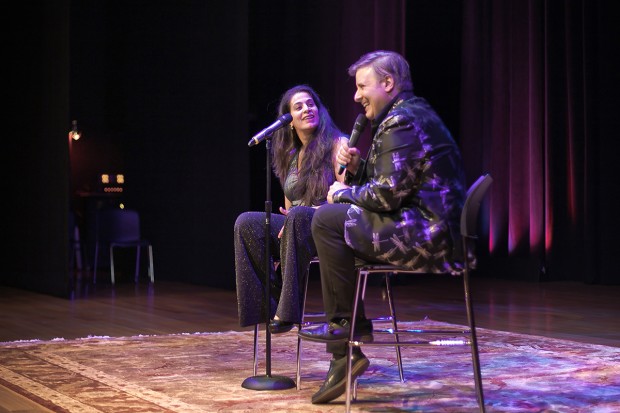 Though it took time, Maysoon has had success as an actress. She appeared on the popular soap opera As the World Turns for two years and was recently cast on General Hospital, her dream job. She has also appeared on Oprah Winfrey's In Deep Shift, 60 Minutes and ABC News and had roles in You Don't Mess with the Zohan (2008) and Law & Order. Next, she wants to be co-host on The View.
"Even if it's just on Fridays," she wrote in an email. "Giving a visibly disabled woman, who is also a multiple minority and funny as hell, a seat at the table could change and save lives." 
As a comedian, Maysoon has an uncanny ability to deliver laugh-out-loud jokes followed by gut-wrenching truths. She talks about subjects like religion, equality, disability. Maysoon's strength is not simply that she knows how to deliver a punchline. It's that she says things others are too afraid to say. 
At her show on Saturday, she relayed an anecdote about her experience studying theater at Arizona State University. Despite having perfect grades, Maysoon was never cast in any of the plays. She wondered why that was the case and was ecstatic when the school decided to put on a show featuring a girl with Cerebral Palsy – she had to get that part, she thought. She was shocked to learn she didn't. 
"I went running – or actually limping quickly – to the head of the theater department and said, 'Can you explain to me how I didn't get a part I was literally born to play?" Maysoon recalled. The head of the theater department responded, "'because you can't do the stunts.'"  
Maysoon then delivered one of my favorite lines of her set: "I said, if I can't do the stunts neither can the character."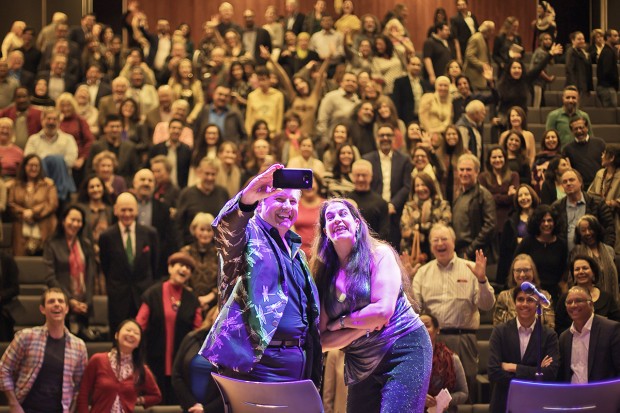 After the audience laughter softened, Maysoon went on to make a point: "College is imitating Hollywood," she said. "Hollywood has a sordid history of having non-disabled people play visibly disabled people on screen […] A lot of us in the disability community believe that visible disability, much like race, cannot be played. So if a wheelchair user can't play Beyoncé, then Beyoncé can't play a wheelchair user."
Maysoon's event ended with a question and answer session moderated by TV Anchor Ernie Manouse. Guests stuck around at the end to take selfies and to chat with Maysoon, who seemed well-received by the 250+ audience.  
"I loved Saturday's event," Muslim Series co-chair Shazma Matin wrote in an email. "I found Maysoon not only to be funny and relevant, but also a great advocate for people with disabilities. I came away much more sensitized to how society can and should find ways to accommodate people with special needs. We will all be the better for it."
Asia Society Texas Center's Muslim Series continues with a talk by Ethan Allan Chairman and CEO Farooq Kathwari, Thurs., April 16.
Want more buzz like this? Sign up for our Morning Buzz emails.
To leave a comment, please log in or create an account with The Buzz Magazines, Disqus, Facebook, Twitter or Google+. Or you may post as a guest.