Rodeo Keepsakes
Stirring up sweet memories
Click the Buzz Me button to receive email notifications when this writer publishes a new article or a new article in this column is published.
Sometimes, a cowboy hat is more than something to shade a head, a pair of boots is more than protection for feet, and spurs can have a message engraved on them that is equally etched into one's heart.
Such is the case for S. Shawn Stephens, Susan Buddeke and daughter Paige Buddeke Dominey, who all have sweet memories attached to rodeo season. Sentimental value runs deep for these Buzz residents, who have heirlooms that are so dear to them, they evoke memories throughout the year – but during the Houston Livestock Show and Rodeo, it all hits a little closer to home.
Cowboy hats were special to my father, and he never went out to the rodeo without a hat on," says Paige, whose dad, Richard Miles "Bud" Buddeke, passed away in 2003 from a heart attack. "The same goes with me. I always have something on related to my father that belonged to him when I go. It might be his bow-legged 'H' (the HLSR logo) pin, his watch, a bracelet or his hat – I actually wear the same size as him."
Both Paige and her mother, Susan, have spent the past 16 years missing Richard, who was a longtime HLSR volunteer. "Richard got involved in the rodeo through our neighbor, who was on the Corral Club committee" says Susan. "He told us about the rodeo, and the charity part really interested Richard. I think a lot of people think that the rodeo is just a concert, but once you start to volunteer, you see how the inner workings of rodeo are and how it touches kids. The overlying thing that it does for our family is service."
Once Richard saw that he could make a difference in the community, he jumped in. "Dad started his volunteer efforts with the rodeo in 1981 with his membership on the Corral Club committee," says Paige, a television sales manager. "During his tenure on the committee, he rose through the leadership ranks. He was elected to the board of directors in 1992 and ultimately became vice president and served from 2000 to 2002." 
Susan says that Richard's enthusiasm encouraged her to get involved, and she started to volunteer with the HLSR in 1995 and has never stopped. She is a lifetime director, was a Trailblazer Award honoree in 2010 and has served on numerous committees. She also is passionately involved with Amigas Para Niños, a non-profit organization that was started by women at the rodeo and it is aimed at helping students who have experienced hardships.
"The rodeo is good at giving recognition to the volunteers and the donors for all that they do. They are very thoughtful about it," says Susan. The recognition comes in the form of personalized jackets, belt buckles, spurs, committee pins, saddle blankets, saddles and more. Given Richard's length of service, there are a wealth of items that bring Paige and Susan, outgoing blondes who could pass as sisters, a lot of joy and reflection.
"We display them proudly," says Susan, gesturing to her family room, filled with HLSR memorabilia, including shadow boxes filled with committee pins. "My decorator asked me what to do with all the things, and I said, 'Show them off!' The shadow boxes are beautiful, like a piece of jewelry." Over the years, she has gifted some of them to Paige's children, Beth Ann and Miles, as well as to Paige. 
"It is like passing the baton," says Susan, tearing up. "I just gave Paige Richard's saddle. A saddle is a significant piece of a person's identity." And, keeping that identity alive is what's at the heart of the matter. "Richard loved the rodeo so much," Susan says. "It defined him so much, more so than his career" as a communications company executive.
Paige is making sure the heirlooms from her dad, along with service to the rodeo, are carried forward. "Miles is named after my father, Richard Miles," says Paige, of her 14-year-old son. "Miles now has my dad's personalized buckles, which recognize his different levels of leadership. These buckles are so special."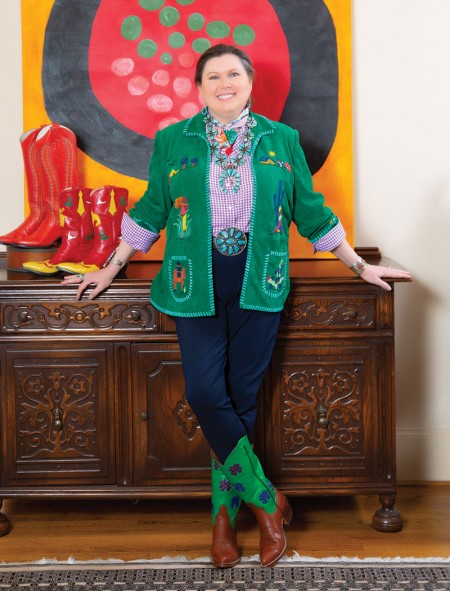 For S. Shawn Stephens, buckles, boots and brands top a list of heirlooms that are close to her heart. Shawn's love of all things Western comes to her naturally.
"I grew up in Amarillo, Texas," she says with a smile. "We had a vacation house near Santa Fe because Mom grew up in New Mexico, and my dad grew up on the Stephens Ranch in the Texas Panhandle."
Shawn's childhood was filled with trips to her grandparents' properties in Texas as well as the mountains of New Mexico. Much of who she is as a person was formed bottle feeding calves, swimming in cattle tanks, riding horses and running through the apricot and apple orchards in Wheeler County.
"I am a Texas girl, going back many generations," she says proudly, looking at an array of mementos in her home. There is a vintage suede jacket with fringe gifted to her from her mother, an iron brand from the ranch and a Zuni concho belt given to her in 1978 as a high school graduation gift from her grandparents. Every item, she says, has a backstory. "These remind me of so many happy thoughts and memories.  I am so sentimental, and I keep everything."
Shawn and attorney husband Jim Jordan have one daughter, Shelby, who is named in keeping with her family tradition of having an "S" as the first letter of their names. "My daughter is going to be getting a lot of things one day," Shawn says with a grin. 
Shawn has an extensive and colorful collection of Native American jewelry, Western clothing, boots – and especially hats. "I am a girl who likes a good hat," laughs Shawn, whose eyes shine as bright as the turquoise on the band of a favorite cowboy hat. "I do love to wear things that have meaning. You can wear anything, but why not wear something that has meaning?" 
Having a connection with family and friends is paramount to Shawn. For a special birthday, Jim gave her a pair of custom boots by Al's Handmade Boots that are green, purple and pink, sporting four-leaf clovers and family ranch brands. "The ranch is near Shamrock, Texas, that's why there are shamrocks on the boots. The Circle F is for my Faville granddad, and the Double S is for my Stephens granddad," she says. "These honor both my grandfathers who lived to be well into their 90s, and I do think of them when I wear them.They are super special."
Other treasured items reflect a dear friendship from college, with a sorority sister who became a western clothing designer. "Cheryl (McMullen) is also a sentimentalist like me and was a good friend in Theta at Baylor University with me," says Shawn, Houston Ballet Board president and a retired attorney. "She is a real artist, and she overwhelms me with her creativity." When Shawn was invited to the U.S. ambassador to Australia's Fourth of July party many years ago, she took the party's international dress code to heart – and turned to her friend, who founded Double D Ranchwear, for help.
"The invitation said to wear your national dress, and I thought, 'Well, my national dress is Texas!'  So I wore boots and jeans and a vest, and I wanted a new hat. I knew Cheryl was starting to make hats, so I called her for help. She made the hat, and it was the first hat she ever made, rushed to me. The hat came off the press with the beautiful hat band. I wore that hat to the party, and it was the icebreaker of all icebreakers. Everyone wanted to take their picture with me!"
Other sentimental items that transport Shawn back to her childhood are a collection of Native American jewelry and belts. "Since my mom is from New Mexico, I have always had turquoise jewelry," she says. "I don't ever remember not having it! It's my roots."
Whenever Shawn wears some of the pieces, it keeps her connected to her family. "During rodeo, I love to pull all my things out, and if I have a lovely bracelet or belt that has a story, it makes me happy because I look down and I think about my family. This is how I grew up. It's in my blood."
Which is exactly how Paige, herself a longtime rodeo volunteer, feels.
"In our family, volunteering for the rodeo is very much our tradition. I used to tease that I grew up on Astrodome popcorn. We did not really go on spring break vacations because we all worked at the rodeo. Not that long ago, my mom gave me one of Dad's jackets. Inside it there were wristbands and tickets from the 2000 barbecue cookoff. That made me so happy. When I reached in that pocket and pulled out that stuff, my whole day was made." says Paige, with tears filling her blue eyes. "'Look at that!' I thought. They were just little pieces of paper – but it was a connection to my Dad and how I was raised."
Want more buzz like this? Sign up for our Morning Buzz emails.
To leave a comment, please log in or create an account with The Buzz Magazines, Disqus, Facebook, Twitter or Google+. Or you may post as a guest.