Time for us
Click the Buzz Me button to receive email notifications when this writer publishes a new article or a new article in this column is published.
Buzz Baby is a column about life with little ones. Writer Annie McQueen has four children age 5 and under.
Couples raising small children can face a challenge in finding time for their relationship – remembering those days before the toddlers were throwing a fit and the baby's diaper pail was full.
Whitney and Ryan Burns are no exception. Whitney, a director at Hines Southwest Region development office, and her husband Ryan, an engineer who's also pursuing his MBA, have a 3-year-old son and one more on the way. 
A lot of experts say it's important to focus on the relationship with your significant other first and foremost. Bringing a baby into the mix – or two or three – can introduce new challenges. 
A few Buzz couples – including Whitney and Ryan – shared ways they make time for their relationship amid the craziness of life with small humans.
Whitney and Ryan certainly know what it's like not to take for granted the simplicity of just being together. The couple started out with a long-distance relationship. Their lives have changed dramatically. "With general day-to-day chores and stressors, taking time for just Ryan and I to connect can often get pushed to the back burner," Whitney said. 
Whitney says a typical date night out isn't their approach – it's just taking time for easier things, like connecting on a walk (no phones allowed, their rule). The couple started this ritual when they first started dating when Whitney lived in New York City and Ryan lived in Philadelphia. 
"One of our favorite activities was to just walk around and explore," Whitney said. "We kept that tradition going when we moved together to D.C., and while Houston isn't as walkable as any of those places, we still make it a point to take long walks together." They often take their son in the stroller while he naps, so no babysitter required. 
"Although our dates are usually simple strolls around the neighborhood instead of exciting dinners at the coolest new spot in town, it works for us and that's what matters," said Whitney. The pair also curl up to watch their favorite show, Schitt's Creek, after Jack has gone to bed.
Agustina and Josh Rayner, who have two girls, Amelia, 6, and Lucia, 3, met through a triathlon group in 2007. They've been married for nine years. The pair love running – they even ran a marathon together on their honeymoon in Barcelona.
Now as parents, they book a babysitter to come before the sun rises so they can run together. "Often [we] find our long runs are the best time to catch up and talk without someone interrupting," said Agustina.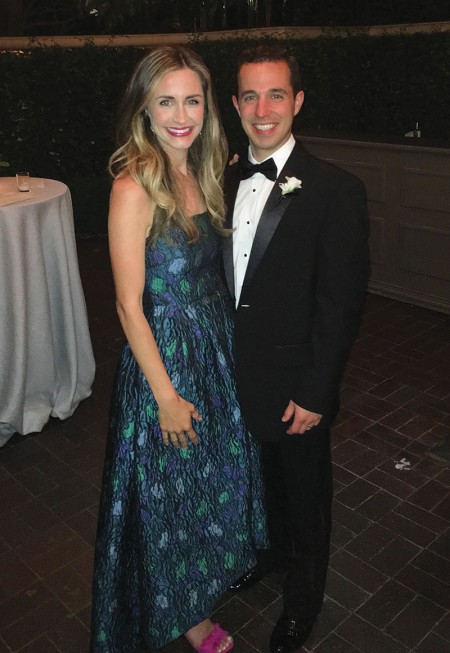 Desirae Regueiro knew she was picking the right guy when she married Robert seven years ago. Robert knows her quirks, including how particular she can be, and he finds it endearing. The couple has three small children under the age of 5, William, Ellis and Mary Nell. 
Desirae says their No. 1 focus in their marriage while raising kids is keeping up with communication. "Always, even when it's not something we want to hear, it's all about the delivery of the message. We make intentional time once a day to check in face-to-face, which sounds incredibly simple, but when you have three small kids, it's really meaningful."
They are also diligent about booking a babysitter for regular date nights, which Desirae says was hard to get into the groove of after having a third baby, but they stuck to it.
They also heed their favorite marital advice, from her aunt and uncle: "You don't give 50/50 in a marriage, you give 100/100 because if you aren't giving 100 percent of yourself to the most valuable relationship, it will not make it, especially when you throw all of life's hardships in."
Those hardships have found their way in, such as when Desirae went into early labor while pregnant with Mary Nell at the Fort Lauderdale airport last summer on their family vacation with the kids. There they were – bags already checked and standing in the middle of the airport. Desirae had to take an Uber ride to the nearest hospital. The couple communicated and stayed as calm as they could. "Robert handled the whole thing like a champ," she said. Luckily, she had just a short hospital stay, was discharged and able to make the next flight back to Houston. 
A lot of people say, "Happy wife, happy life," but there's another saying that's just as true, "Happy parents, happy kids." Happy Valentine's Day.
Want more buzz like this? Sign up for our Morning Buzz emails.
To leave a comment, please log in or create an account with The Buzz Magazines, Disqus, Facebook, Twitter or Google+. Or you may post as a guest.