Today's ski trips
Click the Buzz Me button to receive email notifications when this writer publishes a new article or a new article in this column is published.
When Stephanie Nguyen first began skiing in the '90s, safety wasn't something skiers thought much about.  "I didn't wear a helmet; I remember skiing with sunglasses and a New York Yankees baseball cap," she recalls with a laugh. "It was crazy, but that was normal back then."
Anne Lewis, who is gearing up to head to Steamboat Springs with a new baby, is a mother of four and appreciates the presence of ski schools, which weren't around when she was learning. "My dad just put me between his legs and said, 'Let's go!'" 
Now the kids get up to speed very quickly. Hers quickly switched to snowboarding, and they love the terrain parks, where they enjoy videotaping themselves as they glide through the trees. Cell phones on the slopes have made a huge difference, she says. "Now you can use your phone to call each other and say, 'Where are you, and can you meet up for lunch?'"
Since Stephanie and Anne began skiing, there's been an evolution in technology, skiwear and gear that has revolutionized the industry. High cuisine, high fashion and top service have come to the slopes. It's gotten easier to ski, and easier to do it in places that would have been unthinkable before.
More people are skiing; 10.3 million people skied over the winter of 2018-19, a million more than the year before. Safety is a priority, with 85 percent of adults and 99 percent of children using helmets during 2018-19, according to Adrienne Saia Isaac of the National Ski Areas Association. 
One trend that is making the slopes a bit more accessible economically is the advance purchase of lift tickets. Today, buying a lift ticket at the ski area is like buying a plane ticket at the airport; the best deals can generally be found online in advance. Many ski areas partner with companies like Liftopia or Get Ski Tickets to help manage their pricing. 
"It's a great deal for the consumer who knows when they want to go skiing, and can definitely help families save money on single-day lift tickets," said Isaac.
Technology has made new areas accessible to the sport, as well, said Bill Jensen, CEO of Telluride Ski & Golf, and have also made it more enjoyable. "If you haven't skied in 15 or 20 years, the evolution in ski technology is really significant and is a factor in where people can ski."
A machine called a winch cat now grooms very steep terrain, he said, opening steeper slopes for a thrilling ride. Ski design has also come a long way, making the sport easier for people to master. "A couple of weeks ago we had someone who was 42 who hadn't skied since high school. In one or two hours, they were at the top of the mountain skiing on the intermediate trails saying, "Oh my God, this is so much fun."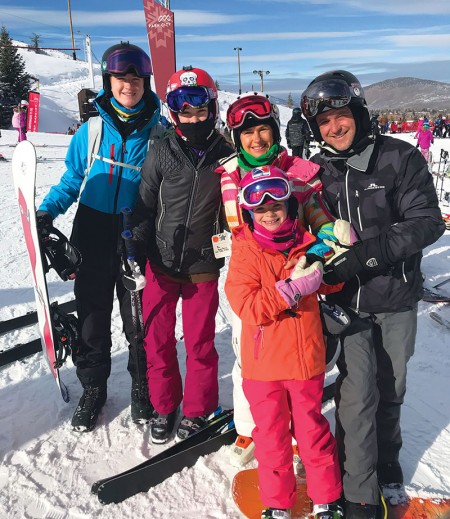 Anne and Stephanie have also seen the rise of snowboarding, which has captured the full attention of their kids. Stephanie took up snowboarding herself in an effort to keep up with her two boys. "I get made fun of but they never, ever have to wait for me," she says with a laugh. "I stay right there with them. I'm a mama bear; I'm always worried about leaving anyone behind."
Stephanie's boys began skiing at 4. Now Zach is a junior at Episcopal, and Jeff just graduated from Louisiana State University, and they're still doing it as a family, everywhere from Tahoe to Utah to Steamboat, Colo. Their new favorites are Aspen and Telluride. "It really defines who we are as a family, being in the mountains."
Zach, unfortunately, suffers from severe altitude sickness – so much that he has ended up in the Aspen hospital multiple times. It hasn't dissuaded him in the least. "The poor guy, I'm like, why do you still want to go? But he just loves it that much."
Recently they hit upon a solution – an oxygen tank, rented and delivered to his room. Zach is far from alone in his ailment, of course, and ski resorts are rising to the occasion, with oxygen canisters available now in ski shops and hotel spas and gift shops. Services like Alpine Oxygen will deliver tanks to your room at a reasonable price. Some upscale hotels are offering oxygen bars, and even oxygen rooms. "Now we call ahead and an oxygen tank is waiting for us when we arrive," Stephanie said. "Having an oxygen tank delivered to our hotel or condo is the best thing that we ever did."
Looking back, Stephanie sees so much that has changed – and generally for the better. "When we first started it was painful – because the equipment was uncomfortable, it was cold and you didn't have the right gloves."
Skiwear has seen a revolution as well. Each year brings breakthroughs in breathability, sustainability and waterproof performance – and of course, downright cuteness. Kids' snowsuits sport fluffy manes, unicorn horns and dinosaur tails.
"The gear has changed so much – everything used to be so old-school," said Stephanie. "It used to be you wanted to have all your own gear. But now every year there's something new, so it's not really taboo anymore to rent."
Dining has definitely changed, as well, she said. "Now you have a little card you put in your pocket, and things are more automated, so it's so much easier. Food options are better now; you can go up on the mountain and have pho."
Another thing that's changed is the level of service. Indoor lockers keep your boots warm and dry. Some high-end resorts offer valet services to help skiers store equipment, have it ready to go at the base of the mountain, and get boots and skis on and off, especially help­ful if you're skiing with children or dealing with health issues.
At the other extreme, there are those who not only want to schlep their own gear for the sake of the workout but are actually skiing uphill – skinning, it's called, and it's part of a family of uphill snow sports that include split-boarding for snowboarders. A big advantage, besides the calorie burn, is that you can head up the mountain before the lifts open and beat the crowds.
Another thing that is changing, Stephanie and others have noticed, is the climate. "The more time you spend up there, people are all talking about climate change, and the seasons are getting shorter," she said. "Three years ago, there was like zero snow and everyone was freaking out. But then last year you could ski all the way until May. It seems like every year, something makes you go, hmmm…"
Indeed, the industry as a whole has taken notice, and sustainability has been at the top of the priority list. As an increasingly inconsistent climate impacts the industry – whether it's through less snow or more snow than average, increasing droughts and wildfires or other weather extremes – voices within the ski industry are taking a more vocal stand, said Isaac.
"The voice of the ski industry and outdoor recreation in general has gotten increasingly louder when it comes to sustainability and its importance," said Isaac. For years she's seen a trend among resorts large and small of greater investment in the environment, with renewable energy, greening their supply chain, more thoughtful resource management, waste reduction and implementing recycling and composting.
"A somewhat newer trend is how vocal resorts have been in terms of the advocacy side," she said. "Within the last few years we've seen a real increase in terms of educating their guests and speaking out for the science they believe in and advocating climate-friendly policy… because at the end of the day, without snow, you don't have skiing. It's pretty simple."
For Maddy Payne, a graphic designer and grad student at the Savannah College of Art and Design, sustainability is key. "Seasons have definitely shortened since I started skiing about 18 years ago. I have noticed, though, that Breckenridge Ski Resorts are making more of an effort in regards to sustainability, which is really great."  
Indeed, Breckenridge has shown remarkable leadership in the industry with its "Commitment to Zero" initiative, said Isaac, in which they've pledged to achieve a zero net operating footprint by 2030. This sustainability goal includes zero net emissions, zero waste to landfill, and zero net operating impact on forests and habitat.
A trend Maddy has noticed to be gaining popularity – and something she's been enjoying herself in the past couple of years — is backcountry skiing. 
"It's a great workout, provides fresh powder, and is actually better for the environment because it doesn't use the chair lift or require snow machines to keep up with large masses of people," she said. "For me, each winter I am most excited about just getting to go up on the mountain early in the morning and before the crowds. It's peaceful, exhilarating and challenging all at the same time."
She's looking forward to seeing what new gear comes out. "It's always nice to know it was produced in an ecological/environmentally friendly way," she said. "Since we do so much during winter seasons on the mountain, I do think it's really important that we make sure we don't upset the balance of nature after we've hung up our skis and our boards."
Editor's note: Buzz travel columnist Tracy L. Barnett is a Lowell Thomas travel journalism award winner and longtime travel and environmental writer. 
Want more buzz like this? Sign up for our Morning Buzz emails.
To leave a comment, please log in or create an account with The Buzz Magazines, Disqus, Facebook, Twitter or Google+. Or you may post as a guest.