Troop 54: Grilling for a Good Cause
Click the Buzz Me button to receive email notifications when this writer publishes a new article or a new article in this column is published.
The white smoke streaming from the parking lot of St. John's School's athletic fields last weekend may have caused some initial concern but the alarm dissipated when the eyewitness got an enticing whiff of the glorious smell of 150 juicy, smoking briskets. The cue-ing culprits? Six award-winning Lady Pitmasters and dozens of girls from Scouts BSA Troop 54.
Since 1955, The Church of St. John the Divine has sponsored the all-boys Troop 55. Last February, SJD launched Troop 54, an all-girls troop. As a new BSA troop, the girls were looking to create a special fundraiser to help pay for equipment like camping gear and help with the costs of troop activities. Ultimately, various leaders and parents including Scoutmaster Eric Lokker, Assistant Scoutmaster Alan Pate, Assistant Scoutmaster Leslie Wade, Committee Chair Alan Clark, Assistant Scoutmaster Bryan Treadway and others came up with the idea of selling briskets and eventually making it all happen. 
Last fall, while brainstorming plans for the brisket fundraiser, Monica Treviño, the Troop Registrar and mom of troop member, Gabriela, offered to touch base with her friends, Rob and Dianne Arocha, the local BBQ husband and wife team of Bullhorn BBQ, for advice. 
Monica said, "I called Dianne for ideas on planning a successful brisket fundraiser and how to coordinate cooking 150 briskets with about 30 11-17 year-old girls who have never grilled! The first thing Dianne said was, 'Absolutely! We'd love to help! Whatever you need.'"
Assistant Scoutmaster Alan Pate, who was the mastermind event planner earning the title of Brisket Fundraiser Guru, reached out to Dianne about logistics like borrowing some pits, and gave her more details about Troop 54. 
"Dianne went into high gear." Alan shared, "Not only did she commit Rob and she to help the troop cook the brisket, but she also reached out to several of her Lady Pitmaster friends who said they would also help and were excited to introduce BBQ skills to a BSA girls troop.  I knew the grilling skills would come in handy on future campouts as the scouts are responsible for planning and cooking their own meals."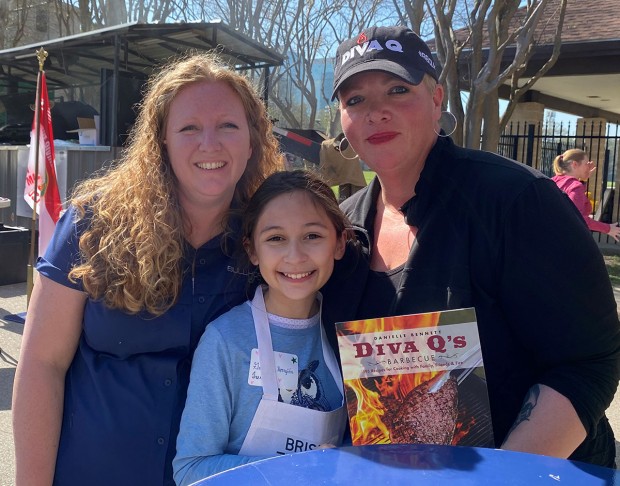 Six award-winning female barbecuers traveled from all over Texas and Florida to share their expertise and enthusiasm with the scouts. The group included:
Danielle Bennett: (Diva Q); Host of Travel Network's BBQ Crawl; BBQ World Champion in pork, bacon, sausage, etc.
Raelyn Barker: (Lil Gringa) Eight-year-old (Mom Sarah Barker also pitched in for the event) Reserve Grand Champion at American Royal World Series Junior Division
Sara Trevino: RodStarr BBQ Team: Perfect Score in Brisket at World Food Championships
Kathryn Herrera: Boots and Crowns Team; Youngest female pitmaster in International Barbeque Cookers Association; Three Banners from San Antonio Rodeo Cook-off; Reserve Grand Champion at Wild Horse Desert Cook-off
Monica Ramos: The Worms #2 Team; Five Grand Championships; Three Reserve Grand Championships; 1st Place Fajitas Lockhart Cook-off
Yadi Robles: Rio Valley Meats BBQ Team; BBQ Podcast, with husband, Fred, team is reigning US Grand Champion of the 40th American Royal World Series of BBQ
The morning of the event, the Troop 54 girls started arriving at 6 a.m. to spread the rub on the briskets and load them into the smokers for 10 hours. 
Then, while the briskets were cooking from 8 a.m. until 6 p.m., the Lady Pitmasters put on a daylong grilling class for the girls. The scouts kept busy learning how to grill from the experts - everything from fire and food safety, hygiene, grilling chicken, steak, hamburgers, shrimp, pork chops, pork butt, vegetables and dessert. Each of the Pitmasters took turns teaching. The girls even grilled the chickens that everyone ate for lunch. 
"Brisket Fundraiser Guru" Alan Pate said, "The Pitmasters (and a crew of volunteers keeping an eye on the smokers) generously donated their time and the use of their equipment, as well as providing supplies from their sponsors. Donations included some of the food for the grilling class, a small charcoal grill for each scout, personalized apron, hot gloves, seasonings and some prizes. The last of the briskets were bagged about 8 p.m."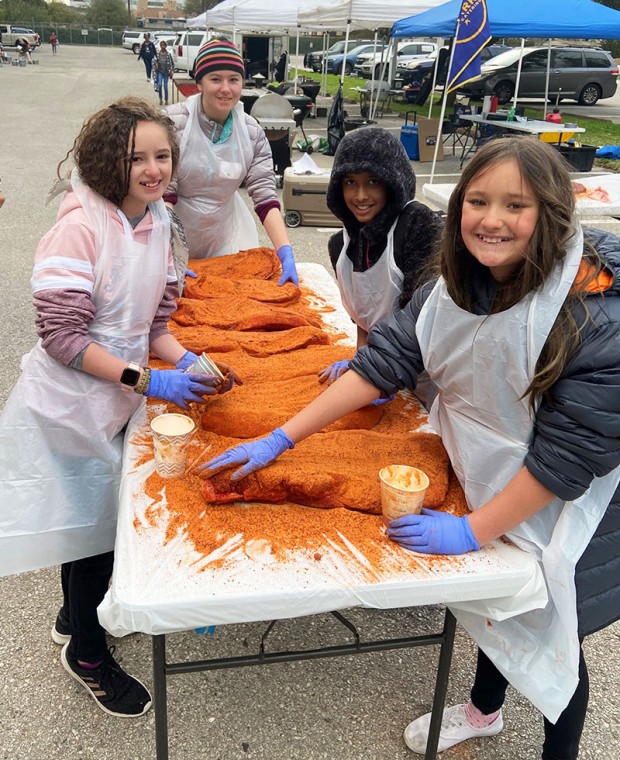 Dianne shared, "I am completely amazed at what my BBQ family accomplished with Troop 54. Helping them cook 150 briskets for their fundraiser and teaching dozens of girls (plus some parents and scout volunteers) how to cook a variety of meats. At the beginning of the day the girls were skittish about touching raw meat, even with gloves on, but by the end they were all in! We watched these young ladies grow in a matter of 12 hours. Only five percent of Pitmasters are women. Hopefully we ignited a desire in a few of those girls to become Pitmasters and we had a blast doing it!" 
DivaQ, Danielle Bennett, said, "I think anytime you have an opportunity to inspire people to cook more at home it's a good thing. Empowering young women to get out there in nontraditional workforce ways or environments like barbecue and grilling is always something that I think should be perpetuated forward."
Gabriela Herrejón Treviño, age 12, who attends The School for Young Children, is enthusiastic about grilling after the workshop. "At first, I was like - ah, this is so hard - but then we got to the steak and I thought - this is so fun! I didn't know I could cook on a grill and now I know how to season the meat. I really like what the Pitmasters do and I think I could be really good at it one day."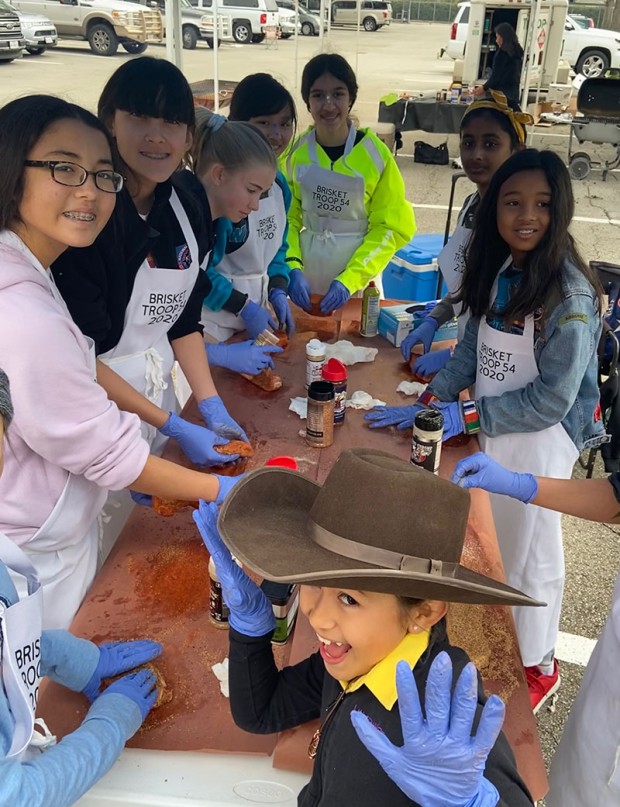 The girls and their families did a great job selling all 150 briskets, which were picked up by lucky customers after church on Sunday. On the order form, there was an option to donate purchased brisket to local charity Restoration Community Church. A group of scouts ended up delivering 20 briskets to RCC.
Thanks to the Lady Pitmasters, Troop 54 is fired up for many more awesome grilling and cooking adventures!
Editor's Note: The national organization of the Boy Scouts of America filed for Chapter 11 bankruptcy this week. Scouting will continue and local councils have not filed for bankruptcy. See more information here.
Want more buzz like this? Sign up for our Morning Buzz emails.
To leave a comment, please log in or create an account with The Buzz Magazines, Disqus, Facebook, Twitter or Google+. Or you may post as a guest.