Spring Break on your own island
Click the Buzz Me button to receive email notifications when this writer publishes a new article or a new article in this column is published.
For many families, it's time once again to pull out the beach gear, try on the swimsuits and prepare for that brief, sweet season of intensity known as Spring Break. It's also a good time to share memories from Spring Breaks gone by – and that's what we did with one group of Buzz families, just to get you in the mood. 
It all started when a group of friends – many of whose kids had gone to Post Oak School, a Montessori school in Bellaire – organized a Spring Break trip in 2017 in Isla Espiritu Santo, an island in the Gulf of California, off the coast of Baja California Sur in southern Mexico. The experience of spending time on an uninhabited island, surrounded by marine life, was exhilarating.
West U veterinarian Amy Garrou, one of the participants in the Baja California trip, started looking around for other island opportunities and hit upon an outfit called Slickrock Adventures, which offers stays on a minimally developed island off the coast of Belize. Long Caye is a part of Glover's Reef Atoll, a UNESCO World Heritage Site and National Marine Reserve. 
Amy made an inquiry and learned that with a minimum of 35 people, they could rent the island for themselves. Along with husband Blair, a venture capitalist, and daughters Hannah and Maddie, she put out the word, mostly among Post Oak contacts, and soon she had exceeded the goal.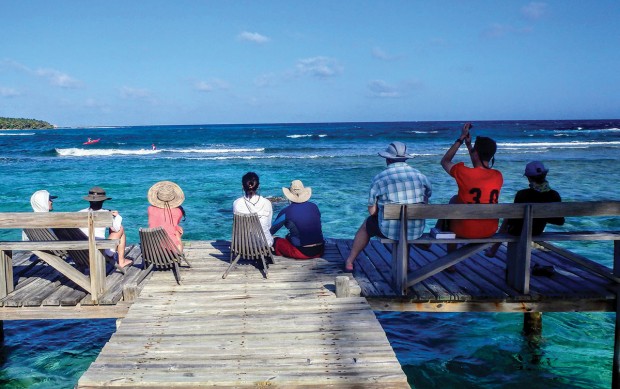 Veteran adventurers Alan Ying and family jumped onboard right away.  "We got a private island for 36 people with glamping-style accommodations, half kids and half adults, windsurfing, surfing, surf kayaking, scuba diving, snorkeling, fishing, paddle boarding, pristine waters, total isolation, and catered meals and activities – all at a totally doable price," said Alan, a private investor and businessman. 
About 20 staff were on hand around the clock, a few of them cooks and maintenance workers but most of them certified trainers and guides, ready to teach visitors at every age and skill level. They were also available to lead snorkeling, scuba and world-class marine fishing. The fishing is done primarily by kayak, a rising trend among dedicated anglers. There is no need for fancy boats or long excursions, since the island is in the middle of prime habitat – and fished only by the island's inhabitants. Slickrock offers fishing access, permits included, to its private island for people who purchase a minimum five-day package.
As a result, hard-to-find species like bonefish and permit fish are plentiful, right off the dock. "My daughter caught a bonefish," said Alan. "People travel thousands of miles to fish that, and it's literally just off the island."
The island itself is quite small – small enough that you can walk from the breaking surf on one side to the placid bay on the other side in a matter of minutes. The rocky side of the island is good for surfers, with ocean swells crashing on the shore; the lee side of the island, however, is one of the best beaches in Belize. This 800-foot-long, palm-shaded beach has just two docks and virtually no boat traffic. It's rustic by design, the idea being to leave the natural environs as intact as possible, while providing for basic material comforts.
The resort includes 16 thatch-roofed beach cabanas, a well-stocked, open-air kitchen, solar-powered water pumps and heaters, a composting toilet, and sporting equipment. There are no flush toilets, no maid service, no internet and no air-conditioning. And no one missed any of that, according to Alan, who went with wife Anita, a physician executive at MD Anderson, and their two daughters, Sydney, 17, and Emory, 15, and 12-year-old son Cooper.
Perhaps because it's an alternative, Montessori school, the Post Oak group tends to draw a good percentage of like-minded, outside-the-box thinkers who are more inclined to enjoy an off-the-grid vacation like this one, Alan said.
"It feels like Gilligan's Island," said Alan. "It's just big enough that it's not boring – but small enough that you're not really walking far. And you're literally on a desert island looking at a postcard every single day."
The trip begins in Belize City, where the travelers meet up with their hosts for a dinner and orientation. Southwest offers nonstop Houston-Belize City flights for as low as $310 round trip; United offers nonstop flights that hover around $400. The next morning, they meet at the dock for a three-hour boat ride out to the open sea and down the coast. When they land on the island, their staff is waiting with lunch and a fridge full of soft drinks, mineral water and the national Belizean Belikin beer. Then it's time to explore.
"Everything on there has been built by hand; they used an ancient Mayan methodology to make the roofs out of palm fronds, which they bring in from the rainforest in Belize," Alan said. "Everything has sand floors, and everything is wind- and battery-powered out there, which is incredible. They have all these little windmills, and they charge up battery packs, so every cabana is wired."
At around $2,200 per person for the full seven days, all inclusive, the price includes two nights in Belize City, the private charter boat to the island, all meals and excursions and lessons with skilled teachers and guides. It's comparable to what one would spend at an upscale resort with all the amenities — which, for Alan, was a plus.
 "This is not the trip where you are waited on hand and foot next to a pool with umbrella drinks and multiple five-star restaurants on an exclusive resort with lots of marble and air conditioning," said Alan. "We've all done those trips, and those are lovely, but what we wanted was actual disconnection from that world."
 With no wifi or cell phone connectivity, families are more directly immersed in the pristine environs and intimate connection with nature.
"We went to this very specifically because we wanted to unplug and do something with the kids – you'll see the kids of all ages, all gathered around racing hermit crabs, for example, and there's not a single device, for seven days. And no one ever, not once, ever mentioned it."
People could choose from a wide range of activities, from coconut bocce ball to beach volleyball to visiting a scientific observatory on a neighboring island – and getting there by kayak. Or they could hang out in a hammock on the beach in perfect stillness with a cold beverage and watch the seagulls soar by. But most are too busy adventuring, exploring the island or learning one of the many sporting activities that are offered. 
"Every single person left there knowing how to windsurf," said Alan. "And the snorkeling is incredible, so you don't have to go far; you're in the middle of the best snorkeling there is."
The menu is cooked up three times a day by the island staff – lots of local seafood, fresh vegetables and fruits from the local markets and fresh coconuts from the island are high on the menu; vegetarian, vegan and gluten-free options are available. 
But the best part, according to Alan, is living a desert island adventure completely unplugged. 
"The challenges are different being a family and raising kids now because of how technology and connectivity affects parents, kids, and relationships," he said. "We find it easier to unplug if the destination is actually disconnected from the world, so we try to find situations that are fun and allow us to detox from the technology whenever we can."
Want more buzz like this? Sign up for our Morning Buzz emails.
To leave a comment, please log in or create an account with The Buzz Magazines, Disqus, Facebook, Twitter or Google+. Or you may post as a guest.