Tracking Ancestors
Chris Kennie's ultimate family tree
Click the Buzz Me button to receive email notifications when this writer publishes a new article or a new article in this column is published.
Researching your family tree is a game of persistence and paper trails, a slow and steady treasure hunt that takes dogged commitment.
But it's worth it when you find out that, during the Salem Witch Trials in the 1690s, your relative accused your wife's relatives of witchery – and then your wife's relatives were hanged.
Buzz resident Chris Kennie made the startling discovery after years of genealogical research, which started on ancestry.com. Several years ago, the stay-at-home dad of three decided to create a massive, extensive, framed family tree that features a selection of his and his wife's ancestors.
From a wall in the family's dining room, six generations of Chris and Alison's families, including a war hero and a mother of more than a dozen children, watch over the couple and their three young children as Chris continues to dig into the data.
"The more I got into the research, the more addicted I got," says Chris. "It's something to pass down to my kids." He still wakes up every day when it's dark outside to continue to research his ancestors.
Chris' interest in genealogy was sparked over a decade ago when he worked offshore on a jack-up boat outside New Orleans helping to support oil rig workers. "After a 12-hour day, I was bored and I had nothing to do," he says. 
A co-worker who was a genealogy enthusiast suggested Chris look into his own family history. So, he joined ancestry.com, and after work each day he tracked down birth and death certificates and marriage licenses online. Around the same time, on a day off, he stumbled upon a faded and beat-up green trunk in his garage that he inherited from his grandfather in the 1980s, but had never opened.
"I said, let's see what's in that trunk," Chris says. He discovered a treasure trove of old family photographs, including one of his father in his uniform during the Vietnam War. Inside, Chris also found faded photographs of his grandfather – a boxer in the 1930s who later worked as a shoe shiner – and his Canadian great-grandfather who was listed on the 1910 census as a taxi driver.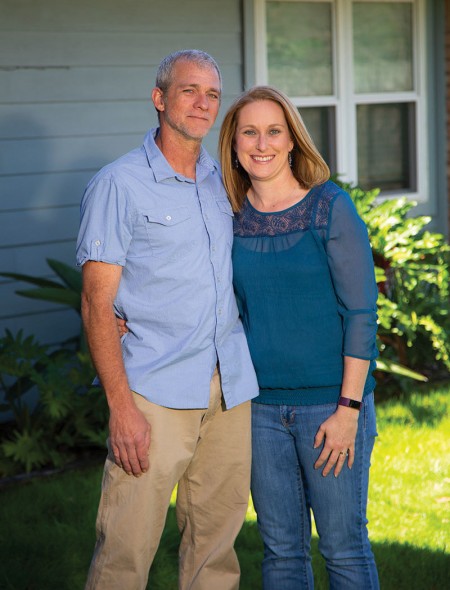 Three years after diving into the research, Chris designed the 5- by 4-foot framed family tree, adding photos and dates for his family members on the left-hand side, and for his wife's on the right. In the middle, he placed a photo of him and Alison from their wedding day beside each of their parents. The family tree features old photographs, names, and birth dates. When their oldest child, Savannah, now 7, was younger, she loved looking at it and could name every relative. 
Chris has spent years compiling family stories and photos in a series of binders, complete with a preface and a table of contents. He types out his research on his computer, then prints the papers and adds them to the binders. So far, he's filled 11 binders, each with hundreds of pages of information. 
Every day, he wakes up at 3 a.m. to work on the research for several hours. "I have about two more years left until I can shut it down," he says. His goal is to find detailed information on 13 generations on both sides of his and Alison's family.
Through his research, Chris debunked several long-standing family tales that were taken as truth. For example, his mother, Bonnie Whittier, long believed she was related to American Quaker poet John Whittier. Bonnie and other relatives collected all of the poet's books. But Chris learned Whittier never married or had children. His mother was disappointed when she learned the news.
Other discoveries were heartwarming. Chris was proud to come across articles on Alison's grandfather, Dwight Deming, an Air Force pilot who, during World War II, earned a second Purple Heart after saving his crew's life during a plane crash.
For others interested in working on their own family tree, Chris says, "Ask as many people as you can for information, but don't get discouraged if no one wants to help." Also, be persistent in tracking down documents.
Eventually, Chris plans to turn the binders into a multi-volume set of printed books to leave as a legacy for his three children, Savannah and her siblings Sydney, 5, and Jackson, 2.
"Maybe they'll end up not caring," he says, "but if they don't, eventually, someone down the family line will."
Want more buzz like this? Sign up for our Morning Buzz emails.
To leave a comment, please log in or create an account with The Buzz Magazines, Disqus, Facebook, Twitter or Google+. Or you may post as a guest.