Hello, Summer: Q & A with Author Mary Kay Andrews
Click the Buzz Me button to receive email notifications when this writer publishes a new article or a new article in this column is published.
When I think of summer reads, I immediately think of Mary Kay Andrews: her beautiful and inviting covers, her beach settings, and a fun new book out each May. This year, in particular, people are looking for books that will provide an escape from our current reality, and her books are perfect for that. 
When Conversations from a Page hosted Mary Kay Andrews last May, we had so many guests that shared how much they loved her books and how they kick off their summer vacations with her latest novel. A number of them had been reading her beach reads since she started writing them. To me, that is the highest compliment – there are not many authors for which I have read every book that they have written. That requires a high level of devotion and consistently strong writing!
Mary Kay and I recently spoke on the phone about her new book, Hello, Summer, which is out next week:
Tell me about Hello, Summer.
Hello, Summer is the story of a hard-charging investigative reporter named Conley Hawkins who has been working for The Atlanta Journal-Constitution. As the book opens, it is her last day of work there because she has a new job at an online news outlet in Washington, D.C. However, at her going-away party, she learns from her sister that the new company has folded. Now jobless, she has to return home (a coastal town in the Florida Panhandle) and work for her family's paper, The Silver Bay Beacon, specifically tasked with overseeing the paper's gossip column, "Hello, Summer." One night, she stumbles upon an explosive car accident. It turns out that the man in the car was a local U.S. congressman; curious as to what happened, Conley begins asking questions and uncovers a political scandal.
This novel seems more personal – I love the dedication: "Dedicated with sincere admiration and deep gratitude to all the journalists-especially print journalists - past and present. Keep asking the difficult questions. May you persist, nevertheless." Will you elaborate on your inspiration for Hello, Summer?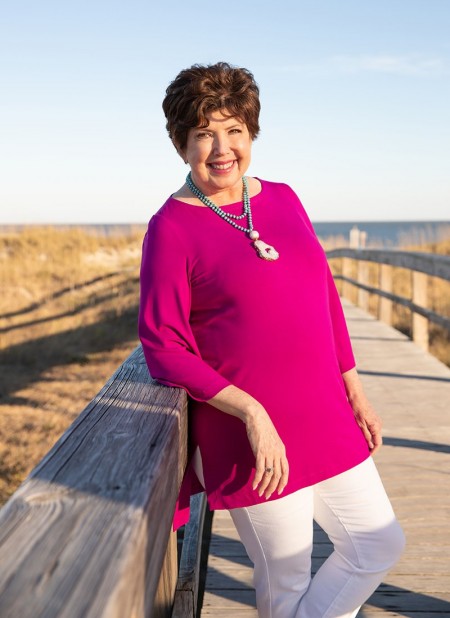 I was a reporter for 14 years, and my last job was at The Atlanta Journal-Constitution. I grew up loving to read The Tampa Bay Times at the breakfast table with my parents in St. Petersburg, Florida. I was reading that same paper several years ago and stumbled upon an article by my oldest friend (who is a reporter) about a long-time congressman's passing and how, after his death, it came to light that he had another family that he had kept a secret. I couldn't get that story out of my mind so when I decided to set this novel at a struggling small-town weekly paper and needed a scandal, I thought this would work perfectly.
What was the highlight of writing this book?
The first highlight was finishing it at 2 p.m. Christmas Eve. I was desperately past the deadline so submitting it right before Christmas Day was such a relief. The second highlight was the research I undertook before writing Hello, Summer. The beach house in Hello, Summer is my ideal beach house; it is a rambling old house that looks out on the Gulf and is filled with old furniture and old memories and a big sweeping porch that wraps all the way around the upstairs of the house. I loved driving around looking at various beach houses to get inspiration for this imaginary beach house.
How do you come up with the titles to your books?
The title for this book was my editor's idea; she asked me to write a book with the title Hello, Summer so I did! The genesis for my book titles changes every time. Last summer with Sunset Beach, I knew I wanted to write about my hometown in Florida. Sunset Beach was a hippie beach on the Florida Gulf Coast when I was growing up, so I decided to set it there. And of course, there are seven or eight Sunset Beaches across the country, which was kind of fun because people thought I was writing about their Sunset Beach.
Are you working on anything at the present that you would like to share with me?
My next novel is about a young woman who shows up at a small mom-and-pop motel on the Florida Gulf Coast, and she has a little 4-year-old girl in tow. She is clearly down on her luck and moves into this motel. Everybody wonders who she is and why she is there. The book is a sister story like Hello, Summer. For years, I have resisted writing sister stories because I have two sisters, and I really just did not want to delve into all of that. But now I am….
Share something your readers wouldn't know about you.
I do not drink coffee. My morning caffeine is a Diet Coke.
Hello, Summer comes out Tuesday, May 5, and Sunset Beach just came out in paperback this week. Please support your local indie bookstores or indie bookstores in general at bookshop.org if you decide to purchase them! For more, read about Mary Kay Andrews' The Beach House Cookbook. 
Bored at home and want to discuss books with people over Zoom? Conversations from a Page is running a literary salon on Zoom with Kristy Woodson Harvey on May 7 (this event is free) and a Curated Book Discussion on May 12 (New York Times bestseller Valentine by Elizabeth Wetmore, which is set in Odessa, Texas) (cost-$5). Email [email protected] for more info. 
For more book recommendations and bookish thoughts, see @ThoughtsFromaPage on Instagram or Cindy's Reading Recs. 
Want more buzz like this? Sign up for our Morning Buzz emails.
To leave a comment, please log in or create an account with The Buzz Magazines, Disqus, Facebook, Twitter or Google+. Or you may post as a guest.