Texans in Chatham, Cape Cod
Click the Buzz Me button to receive email notifications when this writer publishes a new article or a new article in this column is published.
With summer around the corner, Texans are already dreaming of their beat-the-heat getaways. Visions of Telluride, Aspen, Park City and Tahoe begin to gather like a mirage on the warming horizon. But for a few Buzz families, the East Coast is calling: specifically, a tiny town on the elbow of Cape Cod called Chatham. 
As the mercury begins to rise, Interstate 610 gives way to a different kind of loop: the one they walk daily that takes in the coastline, with its iconic lighthouse, and circles back through its quaint historic downtown. Fresh ocean breezes make outdoors the place to be, all summer long. Think clam chowder and lobster, baseball and apple pie, and an ice cream truck's music playing every afternoon as it rolls along the beach – Chatham is literally a slice of colonial-era Americana on the sea. 
Julie and Michael Donaldson grew up with the Atlantic Coast playing a prominent role in their childhoods. Julie's grandparents in New York rented cottages on the North Fork of Long Island for the extended family, and Michael's New Hampshire family took them to beaches along the New England shoreline. 
Michael followed his family to Texas when his parents moved while he was in college. Julie moved to Houston in the late '80s to start her career in non-profit fundraising. The two met in Houston and ended up raising their children in Memorial: Parker, who is now 24, Andrew, 22, and Kate, 17.
One year when the boys were still small, Michael surprised Julie with a trip. Knowing how much she missed the East Coast, he came to her one day and said, "I've just picked out a place on the Cape for us to go for Labor Day." 
Excited, Julie called an acquaintance who she knew had a house in Cape Cod. "We're going to a place called Chatham," she said. Ironically, the friend's home was in Chatham, two doors down from the inn where Michael had reserved a room. 
"That's how small a town Chatham is," Julie said with a laugh – and as time has gone on, chance keeps putting them in proximity with other Houstonians. 
"Texans find each other wherever we go," she said. "No matter where you are – that's how friendly Texans are." 
Summer vacations in Chatham quickly became a family tradition for the Donaldsons, as it did for a number of other Buzz families, the Blasios and the Marnoys among them.
Ellen Blasio first went to Chatham in 1987 with her soon-to-be husband, Rob; the young couple were engaged, and she had gone to meet his family in Milford, Mass. Rob's favorite summer getaway as a child was Cape Cod, and so he took his future wife to a B&B in Chatham.
"It was my first time to Cape Cod," said Ellen, who grew up in Indiana. "I fell in love with it; I had never seen anything so beautiful." The couple continued to rent a place there in the summers, raising their two boys with a Chatham summer getaway. "When we talked a few years ago about a second home, we thought of where we'd want to be, and I just kept coming back to the Cape and to Chatham." In 2017 they made that dream a reality.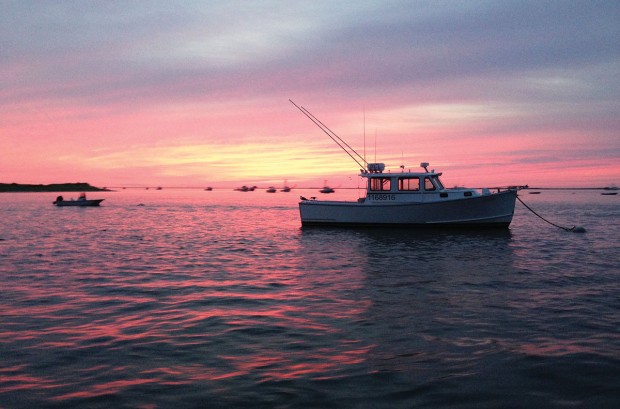 Steve Marnoy also grew up in the Boston area, and Evi went to college in New England, so both felt drawn to that area. So when Evi's parents moved to New Hampshire, Chatham became their favorite summer escape, and eventually, they bought a home there too.  Now it's a place where their grown children love to come up and go deep-sea fishing or golfing, swimming or hiking, shopping in the charming boutiques or just relaxing and soaking up the small-town atmosphere.
For the Donaldsons and the Blasios, that first trip just began to open their eyes to what might be possible as a family there. 
"The kids were outdoors all the time, so they were away from TVs and screens," Julie said. They just enjoyed playing croquet and Wiffle ball in the backyard, building sandcastles and boogie boarding, sailing, fishing, and going to the baseball camp run by the 130-year-old Cape Cod Baseball League that is a local institution. 
"It's a great place to raise kids in the summer where they can just be kids," said Julie.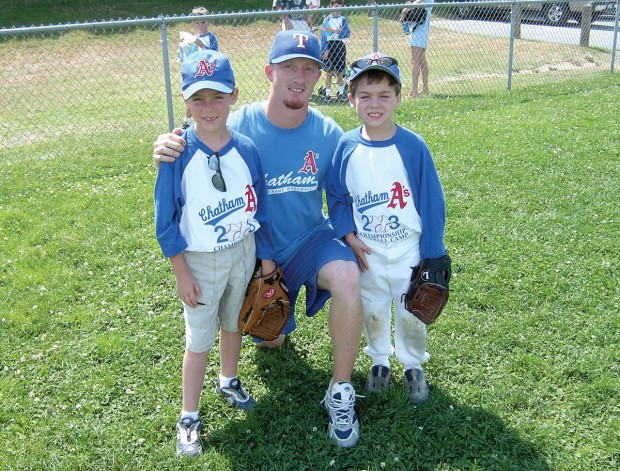 One of the nation's premiere summer leagues, the Cape Cod Baseball League is a training and recruitment ground for some of the country's most talented college players, more than a thousand of whom have gone on to play in the Major League; the Donaldsons and the Marnoys love going to see the Chatham Anglers, the local team.
"The games are free to watch and the whole town comes out," said Evi.
"It's like Little League on steroids – it's beautiful," added Steve.
For the Blasios, childhood memories with Andrew, now 27, and Mitch, 22, include going to the beach, playing Wiffle ball and going to the Chatham Penny Candy Store and the Ben Franklin five-and-dime for cap guns, Wiffle balls, color-by-number kits and toys; both stores are still there. 
A favorite family pastime for many is to pack up a picnic and a blanket and gather on Friday nights around the old-fashioned bandstand in the city park to listen to the Chatham Band. Tunes from the Big Band era blend with contemporary tunes, and soon everyone's up on their feet dancing around the bandstand. 
Also nostalgic are the town's popular Fourth of July celebrations, when the town puts on one of the country's oldest Independence Day parades, where there are huge clam bakes at neighborhood parties and beach clubs and fireworks from a barge in the bay. In the wintertime, First Night Chatham is a celebration of the New Year, families and the arts.
Chatham's charming downtown is an attraction in itself. Ellen loves the Chatham Candy Manor, where the Turner family has been making their own artisanal chocolates since 1955, and the quaint local Chatham Orpheum Theater, founded in 1916 but closed for 25 years before being restored and reopened in 2017. 
For Evi and Steve, entertaining at their summer retreat with family and friends is a highlight. "For people from Texas who have never been to the Northeast, it gives them a chance to explore an area that is so different," said Steve. Sometimes they'll take a ferry to Nantucket, especially for people who have never been there.
"Nantucket is lovely – but it's three or four times more expensive, and significantly more crowded," said Steve. 
Fortunately, there's no shortage of activities right there in Chatham, with a wide range of fine dining options, two first-rate resorts and excellent golf courses, as well – without even taking into account the expansive beaches and the Monomoy National Wildlife Refuge, a hiker, walker and birdwatcher's hotspot as it is a haven for many kinds of migratory birds and a year-round home for many others.
Ellen has become an avid birdwatcher. With two bird feeders in her yard and a pair of binoculars, she can often be found watching the birds and tending her hydrangeas. You can frequently find her kayaking the area's waterways, enjoying the lighthouse, the beautiful homes on the water, the seals, birds and other wildlife. 
More experienced kayakers might ply the area's ocean shoreline, but Ellen contents herself with the approximately four miles of waterway between the Oyster Pond and Mill Pond on the Oyster Pond River, which opens up into Nantucket Sound. "It's just beautiful, beautiful scenery, and it's very protected there," she said. 
Favorite restaurants for the three families include the one at Chatham Bars Inn, which serves farm-to-table cuisine on a veranda overlooking the sea. When the Blasios have more guests than they can accommodate in their home, they send the overflow to Chatham Bars Inn, one of the two luxury resorts in Chatham. 
Other favorite downtown haunts include the Impudent Oyster, Buca's Tuscan Roadhouse, Del Mar Bar and Bistro, and Bluefins Sushi and Sake Bar.
For Evi and Steve, having the opportunity to enjoy all four seasons is something they've missed in Houston, and Chatham affords that opportunity. Springtime with the tender haze of green and then the burst of color from local gardens and wildflowers; breezy summers where nobody sweats unless they want to; fall with brilliant displays of foliage; and winters with their wild nor'easters; each season in turn is a different opportunity to marvel at the power and beauty of nature.
Speaking of nor'easters, for a better sense of Chatham's history and culture, The Finest Hours, a 2016 film starring Casey Affleck and Chris Pine, chronicles the true story of the most daring rescue in U.S. Coast Guard history. Three men rescued 32 crew members of the SS Pendleton after the ship split apart during a nor'easter off the coast of Chatham. 
While not as close to Texas as some other summer destinations, Chatham's simple, enduring charm and quaint, relaxed atmosphere continues to bring a number of Houston families back year after year.  
"We always can't wait to get back," said Evi. "The flavor of it is just delightful, and we're always a little bit sad when we leave. It's a unique special little place, and we really enjoy sharing it with friends."
Want more buzz like this? Sign up for our Morning Buzz emails.
To leave a comment, please log in or create an account with The Buzz Magazines, Disqus, Facebook, Twitter or Google+. Or you may post as a guest.