A No-Fly Adventure
4538.2 miles in an RV
Click the Buzz Me button to receive email notifications when this writer publishes a new article or a new article in this column is published.
Facebook, May 10: Nothing like a serious seatbelt hickey to prove my road warrior status. Momming freshly hatched adults in the time of pandemic – ideally Katie needs her car for her work/study in Maine which starts June 1 – and she has to shelter in place 2 weeks after crossing Maine's border. Soooo – today we each drove 675 miles of the 2,000 – she in her car and me in the RV – so there would be no indoor public spaces including airports, restaurants and hotels. While I LOVE driving the RV and "camping" – at 53, 500 miles is my preferred limit. Goodnight from Alabama.
So began Christy Craig's documentation of a 2,100-mile RV/car caravan from Houston to Portland, Maine, with her 22-year-old daughter, Katie.
Christy, who works part-time at the needlepoint shop Needle House, had some experience with RVing in Texas. A few years ago, she converted her 2006 Honda minivan into one.
"Yeah, I know," she says. "This 'picking up six kids from River Oaks Elementary' van turned into a 'now I'm going to music festivals and sleeping in my RV' van. There's no bathrooms or shower, but you have a fold-out cot, and you can fit plastic drawers underneath it. Think dorm room. You can lift up a tailgate. You can put a table outside to cook on. So for my 48th birthday, I spent $128 and converted my Honda minivan into an RV. If you decide that's interesting to you, you can do it. You just have to be bolder than your West U, River Oaks self."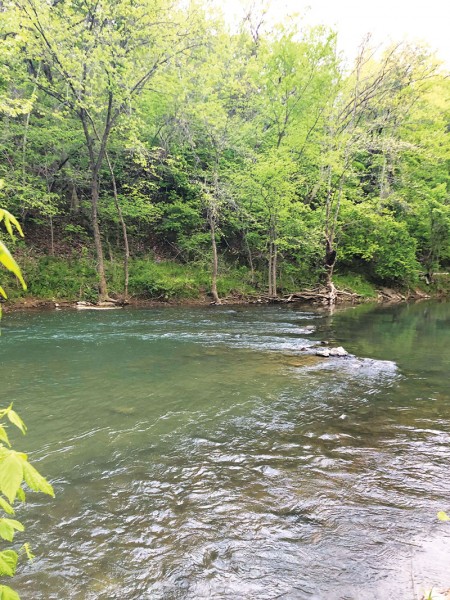 When she turned 50, on the day, Christy and a friend drove to a music festival in Austin in her minivan-RV. "I love going to music festivals, and unless you camp you don't get the full experience. So I put a sign on my windshield that said, 'Hello, it's Christy's birthday. Come say hi!' And everyone was so friendly. And that's when I knew I loved this, and I wanted to do more."
RVs with bathrooms and kitchens called, but Christy's husband was about to retire, and she had two girls in college, making the cost prohibitive – until a friend in Austin who owned a large RV started talking about downsizing. "My friend said, 'What if we look for something together and take it for six months each and rent it out when we don't want it?'"
So two years ago, Christy and her friend split the cost of a 2008 Winnebago View. "It's kind of like a timeshare," Christy says. "She paid 75 percent, I paid 25 percent, we parked it here in Houston, and I cleaned it out when people rented it." (They are not renting their RV during the pandemic.)
All the while, Christy was gaining confidence. "You have to be comfortable knowing that you don't know everything right off," she says. "But I think you need to know this: All it takes is a screwdriver. Most of the time." And, Christy says, if you ever need help, there are always friendly travelers nearby willing to help you plug into electricity or hook up the sewer hose.
"Otherwise it's really easy," she adds. "You have to get used to wide, and you have to get used to long. This is not diving into the Mariana Trench or something."
Still, until this May, Christy hadn't taken a motorhome any farther than the Texas border. But Katie needed her car in Maine, and Christy didn't want to stop at restaurants and hotels during the pandemic. "So," she says, "I packed two weeks' worth of food, and on Mother's Day, we peeled away."
Facebook, May 11, 2:25 a.m.: Christy posts a new cover photo, a wedding picture to commemorate her anniversary. 
"The day after we left was my wedding anniversary," Christy says. "Mark left me a card for Mother's Day and another one for our anniversary inside the RV. Isn't that dear?"
The coronavirus quarantines presented some scheduling challenges. "It would have been seamless in normal times because I would have had everything planned out meticulously," Christy says. "But this took a little more map negotiation. Normally, I would have stayed in New Hampshire, but New Hampshire was not open to people who weren't there full-time. When I realized there was nowhere else to stay, I called Walmart and made sure it was okay to park there overnight. They were very nice. Walmart isn't my favorite choice, but I knew I was going to have some off-the-grid moments. We had to be Covid-flexible."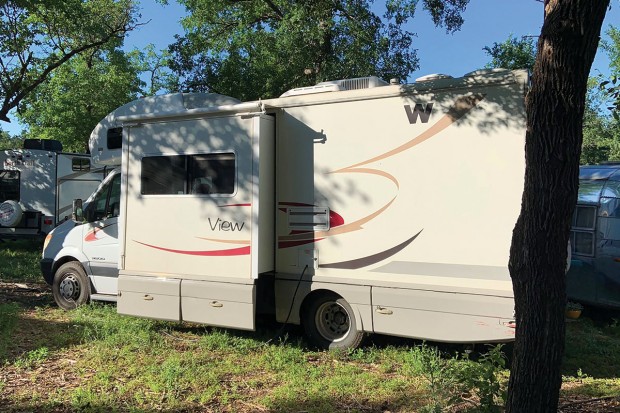 Facebook, May 12: So glad I had 1,700 miles to practice with the RV before taking a wrong turn off the GWB and driving through the Bronx until Waze directed me onto the Hutchinson Parkway where I cleared the bridges with 4 inches to spare before being stopped by a NY cop. All while wearing my Astros baseball hat.
In Virginia, the RV's oil change light lit up. While Christy hadn't planned on driving at night, the maintenance stop put them behind schedule. The next night, they drove to New York, by way of Delaware, so that Katie could add the state to her list of those she's visited (she's been to 40). "It was three hours extra," Christy says, "but that's just what we do."
The darkness made things difficult. "We got separated on the New Jersey Turnpike," Christy says. "I missed a turn, and Waze had me drive through Brooklyn and then through the Hutchinson Parkway, which did not have any signs at the entry saying that it got down to 9-feet, 4-inches high. My RV is 9-feet, 2-inches. I am physically ducking, which obviously is not going to help. All of a sudden, flashing lights come up behind me, and a very nice New York cop asked, 'Ma'am, are you okay?' and I said, 'No, I'm not!' He very kindly gave me directions. 
"Driving through Brooklyn in an RV was not on my bucket list, and I never need to do it again."
Facebook, May 15, 10:15 a.m.: Had a great time helping Katie get set up. Just on the road – Portland to a cute campground near Oneonta, NY. Maybe like Joseph Smith, I'll find some golden tablets!
Christy and Katie caravanned 2,100 miles in 3.5 days. "We were really glad we weren't in the car together," Christy says. "We would have hated each other by the end of the drive! This way, by the time we got off the road and made dinner, we were really enjoying each other's company."
While space in the RV is tight, Christy has figured out how to maximize comfort. "There's one big bed over the cab, but it's like a loft with about 8 inches clearance to the roof. Then there's a double bed. And the dining room table can make into a bed. So officially it will sleep six," Christy says. "I never want to be in a position that I have to wake someone up when I'm ready for breakfast. That's going to piss everyone off, and they hate you all day long. This is supposed to be fun. So even though the manufacturer says it sleeps six, I will never take out more than three."
In Portland, Christy spent a couple of days settling Katie into her new apartment.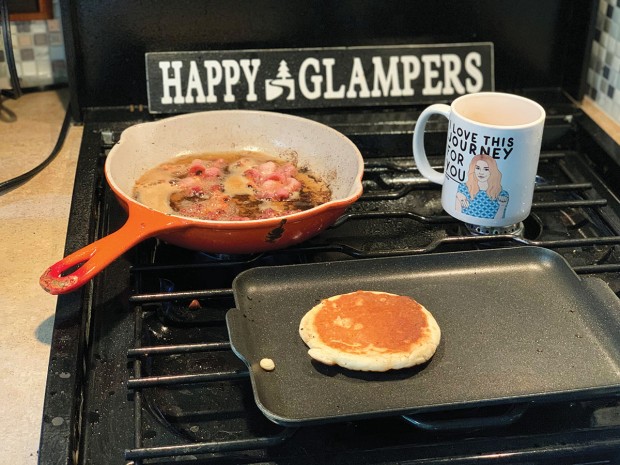 Facebook, May 15, 4:28 p.m.: Parked and plugged in here in Central NY. When the last of the Texas tamales come out of the freezer, the RV points toward home.
The way home included a stop in Chicago, where Christy picked up her younger daughter, Claire, 20. "It was the farthest she could fly to meet me without having to change planes." Christy happily drove two days solo to get to Chicago. "I put on a Spotify 'Best Road Trips' playlist, and then 'Best Road Trips of the '80s.' It's so comfortable up there you feel like you're in a chair instead of driving a long way."
Facebook, May 17: 2,100 in 5 [days] tandem. 1,100 in 2 solo. Now looking forward to a "pokey" 1,200 in 6 with Claire. So happy the other princess has joined me in the rolling castle.
"The second I pulled up to Claire, she washed her hands, and then we went to a parking lot, where she stripped and took a shower," Christy says of her daughter flying during the pandemic. "We double-bagged her clothes and put them in storage under the RV. We were being freakishly cautious."
Facebook, May 21: And we are home – 4,538.2 miles.
A friend responds: You were kind of insane to do this.
Along the way, Christy met a college friend outside Albany "for a socially distanced lunch at a picnic table." She and Claire met a friend in Chicago, "where we had lunch in a grocery store parking lot, under the RV's awning." They saw her sister in St. Louis, and they spent two nights swimming and relaxing outside Hot Springs, Ark. 
"I got five great days with Katie, and six great days with Claire," Christy says, her love of RV travel bubbling over. "I'm here in my RV. I have a down comforter and Egyptian cotton sheets. If this isn't grand for you, find your own grand. But this is grand for me."
Want more buzz like this? Sign up for our Morning Buzz emails.
To leave a comment, please log in or create an account with The Buzz Magazines, Disqus, Facebook, Twitter or Google+. Or you may post as a guest.