Q&A with Author Elise Hooper
Click the Buzz Me button to receive email notifications when this writer publishes a new article or a new article in this column is published.
Historical fiction is one my favorite genres – I love learning about an era or particular people (often less well-known) while also reading an entertaining story. Elise Hooper is a master of this genre, and her latest novel, Fast Girls, is out this week. I included it in my recent Page Turners article highlighting the best historical fiction books coming out this summer.
Fast Girls' release was originally coordinated to coincide with the 2020 Summer Olympics in Japan, but unfortunately as with many events and plans this summer, the Olympics have been postponed. Thankfully, her publisher did not postpone the book's publication, and I highly recommend the book; it addresses numerous timely issues including both gender and race parity in the sports arena.
Tell me a little bit about Fast Girls.
Fast Girls is historical fiction about three trailblazing American women track stars of the 1930s who come together to compete in the 1936 Olympics in Nazi Berlin, and it's inspired by a true story.
How do you do research for your books?
I usually start off reading a bunch of biographies and non-fiction books pertaining to my topic and then I start searching for primary sources and sometimes even travel to my settings to better understand what I'm writing about. In the case of Fast Girls, I started off reading a few biographies about my Olympians and also a few non-fiction books about the Olympics with a focus on the 1936 Games, because there's so much to understand about that part of the story. I also read quite a few articles and books about the history of women's athletics.
After I understood the basics of the story I wanted to tell, I started reading old newspapers from the 1920s and '30s so I could get a feel for the language of the times; I read the official Olympic reports so I knew details from weather to venue capacity; I studied maps and read menus; I interviewed people who knew these women and I traveled to where they had lived so I could get a feel for the places. All of this helped me build the characters and story in my mind's eye.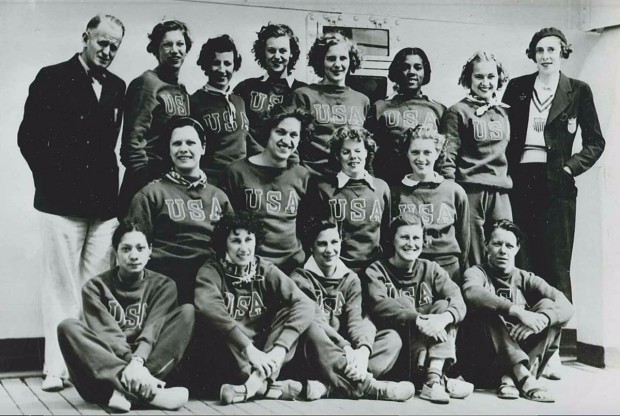 Of your three books, do you have a favorite?  A favorite character?
Ha, this is such a good question. It's kind of like asking which is my favorite child! (For the record, I love my daughters equally.) Honestly, each book represents something special from my past and my interests so it's impossible to pick a favorite. Whenever I finish a book, I think there's no possible way I can come up with a new idea that I'll love as much, but somehow the ideas keep coming. I think that you must be completely absorbed in a story and feel passionate enough to spend the years it takes to bring it from initial spark to finished book. Fortunately for us, there are many wonderful sources of inspiration - interesting people and places - to produce many stories.
Can you share something with me about your book that is not in the blurb?
Something that felt very special about Fast Girls is that the idea came from my younger daughter. Back when she was in fourth grade, she picked Gertrude Ederle, the first woman to swim the English Channel, for a biography project. While I helped her research Ederle, I became increasingly interested in learning more about other trailblazing women athletes and the idea for Fast Girls was born.
What were the key challenges you faced when writing this book?
Writing about three different Olympics presented me with learning A LOT about three very different settings. And then the weaving of the three main characters and their stories proved to be tricky too.
What was the highlight of writing this book?
The highlight for me is always in connecting with readers so I'm looking forward to the opportunity to talk about Betty, Louise, and Helen with others who are interested in uplifting stories.
Are you working on anything at the present that you would like to share with me?
I'm currently at work on a novel about the Angels of Bataan, a group of women from the US Army Nursing Corps who were taken as prisoners of war by the Japanese Imperial Army in the Philippines during World War II.
What are you reading now?
I'm currently reading The Almost Sisters by Joshilyn Jackson and loving it.
What do you like to do when you are not writing or reading?
I play a lot of tennis. Some in my family might say too much, but there's no such thing! 
Share something your readers wouldn't know about you.
I've always been a runner and a dream of mine was to qualify for and race the Boston Marathon. I accomplished this back in 2001, and although I haven't done any races longer than half marathons since then, I still remember so many things about the course of Boston that day. I'll never forget running up Heartbreak Hill with "Eye of the Tiger" blasting from the sidelines. Seriously, it was the best feeling ever.
If you want to learn more about Elise and her writing process, her title and cover selections, her research trips and other fun facts, check out my podcast interview with her here.
Fast Girls published this week and is an incredible read that will keep you occupied during these tense and stressful times. Her last book, Learning to See, is about Dorothea Lange and is equally entertaining. Please support your local indie bookstores or indie bookstores in general at bookshop.org if you decide to purchase them!
Conversations from a Page is hosting a Curated Book Discussion over Zoom for Just Mercy by Brian Stevenson on Wednesday, Aug. 2 at 11 a.m. CST. (cost-$5 or $30 for an annual pass). For more book recommendations and bookish thoughts, see @ThoughtsFromaPage on Instagram, the Continuing the Conversation newsletter, or Cindy's Reading Recs.
Want more buzz like this? Sign up for our Morning Buzz emails.
To leave a comment, please log in or create an account with The Buzz Magazines, Disqus, Facebook, Twitter or Google+. Or you may post as a guest.