Road trip: Texas state parks
Click the Buzz Me button to receive email notifications when this writer publishes a new article or a new article in this column is published.
Breaking out of isolation is sweet, especially when you're with your best buddies and headed for the great beyond. 
Luke Cantrell, Jake Sylvester and Jack Reichert had been friends since they went to school together at Horn Elementary. After high school, Luke and Jake went off to Texas A&M, and Jack went to Georgetown University, and when they'd come home from vacation they'd look each other up. Now newly graduated, they were ready to celebrate. And it turns out one of the best ways to celebrate in a pandemic is to head for the wilderness. 
When the friends heard the news that Texas was reopening most of its state parks, that was all they needed. "Once we got the go-ahead, we were so antsy. We were ready to get out and do stuff," said Jack.
"We talk about going on road trips all the time and doing things together," said Luke. "At this point in time I think it actually happened because we really truly weren't doing anything, and we knew it's an easy road trip down I-10 to get to Big Bend."
Big Bend National Park was closed at the time due to the pandemic but Big Bend Ranch State Park was open for day use. The friends packed up their gear and headed down I-10 for an invigorating five days in the wilds of Big Bend Country. 
Most state parks reopened in late April under certain precautions. Advance day passes were required, and walk-ins were not allowed; day passes and overnight reservations could be made online through the parks reservation system or over the phone by calling the customer service center at 512-389-8900.
"Existing social distancing standards and public health recommendations remain in effect, including the recommendation to wear face coverings and bring one's own supply of hand sanitizer," said Stephanie Salinas Garcia, press officer for the Texas Parks & Wildlife Department. State parks also required a six-foot distance from individuals outside of their party and prohibited the gathering of groups larger than five that were not part of the same family or household. 
As of press time, operational changes still in effect at parks included the suspension of all transactions, equipment rentals and in-person interpretive programs. All headquarters, visitor centers and nature centers were closed. Some parks were open for camping; at the time of the friends' visit, Big Bend Ranch was not, so they camped at a nearby private campground. 
Taking a road trip during a pandemic is an adventure in itself. When they would stop along the way for gas and supplies, they observed a wide range of responses.
"In some places people seemed really concerned about it; in others, we got funny looks for wearing masks and social distancing," said Luke.
For all three of them, it was their first time in Big Bend Country, and they weren't sure what to expect.
"I was surprised how big the mountains were," said Jake. "I've spent a lot of time in Colorado, and I always thought the mountains in West Texas were baby mountains – but they were actually reasonably large, with some peaks nearly 8,000 feet."
Luke also expected a somewhat different terrain. "I was surprised it was as deserty as it was," he said. "I sort of knew New Mexico and the West Texas area, but I figured Big Bend would have more greenery because of the river that goes through there."
They did find splashes of green here and there, however, in the deep canyons where they hiked and along the Rio Grande, which they saw a lot of since the only way to reach the interior of the park is via an hour and a half drive from the east entrance along the scenic FM 170, otherwise known as River Road.
The first part of their trip was marked by exceedingly high temperatures, but they decided to hike anyway – the first day it topped 103, and though the lack of humidity kept it from being too oppressive, they started running out of water after 45 minutes and had to turn back. 
"We drank a lot of water – we went through six packs of water bottles," said Jake.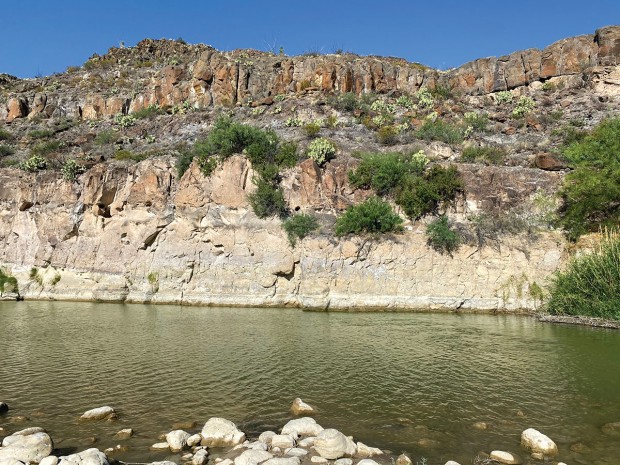 They will never forget that first night. It was the night of the Super Full Moon, and they could barely sleep. The sound of the yipping coyotes all night long, sounding like they were just at the bottom of a nearby arroyo, combined with a moon so bright they didn't need flashlights, kept them on edge. They were also surprised to see the lights of Ojinaga, a city of more than 30,000, just beyond the Rio Grande – a stark contrast with the tiny town of Presidio and the vastness of the empty desert on the U.S. side.
Fortunately, it clouded over a couple days in, and the temperatures dropped dramatically, into the upper 70s. That's when they did an 11-mile hike along the Dome Trail, passing the old cinnabar mines and Contrabando Mountain, named for the illicit cargo of the banditos who once traversed them. 
"There were stops along the way where you see places where they used to mine – a couple of abandoned areas where they had been mining for quicksilver," said Luke. "They had old buildings that had fallen down, old abandoned outposts from the 1800s."
Jake was taken aback by the sight of rubbish scattered about – old bottles and cans and other random items.
"I was surprised the park was so poorly maintained," he said. "Then we saw this sign that explained that this was not trash — these are artifacts." 
People were scarce – one time they went the whole day without seeing anyone at all – but they were far from alone. Wildlife was everywhere, from the roadrunners to the millipedes; there were deer, fish, birds of all kinds and jackrabbits, and Jack saw a bighorn sheep. 
"A lot of the park was closed; you'd see a cone at the trailhead, and I guess it meant that trail was closed," said Luke. "A lot of the park staff is furloughed, so it was weird to not see any park rangers anywhere. We stopped by park headquarters, and it was all closed up, with the maps laid outside."
They didn't mind at all.
"It was kind of cool; we got to do our own thing without having to interact with people," said Jack. "The trails were empty. It was kind of nice, actually, but it was a little weird."
They camped outside the park at a Hipcamp private camping facility, so they were able to avoid the long drive out each night. And they were able to stock up on spicy Mexican chorizo and corn dogs at the little border town of Presidio. 
All too soon, the time came to break camp and head home. The trio had one more adventure left in them, however. The Monahans Sand Dunes was an hour-and-a-half detour that Jake called "totally worth it... it was awesome. You're in a parking lot, and then it's like you're on the set of Star Wars."
Asked what advice they might have for those who might be contemplating a road trip to a state park these days, particularly one as remote as Big Bend Ranch, the trio had a two-word bit of advice: Just go.
"I think everyone's going crazy being cooped up inside," said Jake. "Just to have the opportunity to go do an activity that's, by definition, socially distant – yet still fun, like it's supposed to be socially distant – it was a surprisingly nice bit of normalcy, like the way things used to be."
Hidden Gems: State parks ideal for social distancing
Asked to choose some of the least-visited state parks for people who might like to do some exploring while minimizing exposure risks, the Texas Parks & Wildlife Department's Stephanie Salinas Garcia pulled together a list of "hidden gems." The Buzz calculated travel times to give you a head start. Because of quarantine restrictions, remember to make reservations, even for day passes, ahead of time. Call 512-389-8900 or reserve online at tpwd.texas.gov.
● Franklin Mountains State Park, El Paso (11 hours west via I-10)
● Kickapoo Cavern State Park, Brackettville (4 hours west to Brackettville via I-10/U.S. 90, then 20 minutes north)
● Lake Somerville State Park and Trailway (Under 2 hours northwest of Houston via U.S. 290 W.)
● Lockhart State Park (2 hours west on 1-10 to Luling, then half an hour north)
● Meridian State Park (under 4 hours northwest on U.S. 290)
● Mission Tejas State Park and Historic Site (2 hours, 15 minutes north via I-45 and TX-19)
● Possum Kingdom State Park (5.5 hours north via I-45)
● San Angelo State Park (6 hours northwest via TX-71)
Editor's note: Buzz travel columnist Tracy L. Barnett is a Lowell Thomas travel journalism award winner and longtime travel and environmental writer. 
Want more buzz like this? Sign up for our Morning Buzz emails.
To leave a comment, please log in or create an account with The Buzz Magazines, Disqus, Facebook, Twitter or Google+. Or you may post as a guest.