Love Blooms
When the wedding went on
Click the Buzz Me button to receive email notifications when this writer publishes a new article or a new article in this column is published.
Sometimes a love story is so meant to be it starts to take root on the day a couple meets. Such is the case for Meredith Clark and Aaron Taylor, who were introduced by a mutual friend three years ago and whose love has blossomed exponentially over time.
In the midst of a pandemic, their romance continued to grow. This spring, their commitment was celebrated by a unique and socially distanced wedding in the garden of Meredith's childhood home in River Oaks.
Back in 2017, with more than 1 million people in attendance at the downtown parade for the World Series-winning Houston Astros, it's a statistical wonder that two people could meet, much less fall in love. But that's what happened with Meredith and Aaron, who have matching outgoing personalities.
"We had a mutual friend who invited us with a group to the parade, and it was love at first sight," Meredith says. After the parade was over, they did not want the day to end. "Aaron walked me back to my car at the Lofts at the Ballpark, and we stayed on top of the parking lot and talked for five hours and watched the sunset." Once the sun set, they still did not want the night to end, so they decided to go have dinner at El Tiempo on Navigation. The pair reluctantly said good night to each other at midnight. 
They had each other's names, but not their phone numbers. In a modern-day Cinderella move, Aaron found Meredith – not with a glass slipper, but with an Instagram post. He posted a video on Instagram of the sunset they watched together and tagged Meredith's account. From that post onward, Meredith and Aaron have been together. 
They continued to bond over their shared interest in music, worship and cooking. "Aaron grew up in the church, and his dad was a pastor in Ohio," says Meredith, who is a family-law attorney. "I am in a Bible study at The Story, and I have had an amazing faith journey that has been paralleled by the love of this wonderful man. He makes me feel so loved and secure in myself and that allows me to feel God's love for me, and that has been a life-changing experience."
This past Super Bowl Sunday, the couple decided their love was for keeps. They started planning: an out-of-town engagement and a big, in-town winter wedding. Meredith found a wedding dress. Aaron got a tuxedo. The calendar was stretched out in front of them – and then coronavirus put a stop to all the planning.
"We were gonna get married in December, and we had a deposit down on a place," says Meredith. "Then Covid started hitting, and we were not able to travel and do our engagement trip since it was April and we were supposed to travel in May, and it started looking like we could not get on a plane in May. And even though we had plans for December, we did not know if they could go on then. That's what happens with people in the time of Covid."
Unsure of where they would be able to celebrate, the couple was sure of one thing: They wanted to be married. Instead of waiting for the world to open up, they decided to just go for it.
"I was like, 'Well, Aaron went out and got rings, and I had the dress and he had the tux – we could get married!'" says Meredith with a broad smile. And so they did, on Monday, April 20, with help from Meredith's mom, Martha Jamison, who planned their wedding in record time. 
"They told me they were getting married in five days!" laughs Martha, who says she was up to the challenge of pulling the wedding together. To turn her yard into a wedding oasis, she enlisted the help of friends and husband Bruce Jamison.
"Stephanie Jamison, my sister-in- law, recently retired as a floral designer, but she still  had a big floral arch that she lent us, and Bruce brought that home," says Martha. "Then I called Adele Spalding, my old college friend, and asked her to help with the flowers. At the time, it was so hard to get flowers, but she had one wholesaler, and she ended up doing the whole arch, beautifully. She clipped a few things from my backyard, and she also made a really pretty wreath on the front door. She did a wonderful job."
With the flowers checked off the list, Martha turned to music, food and drink – and monogrammed face masks. The social-distancing requirements at the time dictated that they have 10 people or fewer, so family and friends had to do double duty. "One of Meredith's good friends is a worship leader at St. Luke's United Methodist, and we wanted to have live music," says Martha. "So we told her if you are going to be one of 10 or fewer who can attend, you have to sing! She was also the wedding coordinator."
Meredith says she was especially grateful for her friend Ashley Hymel. "I called her and said we are going to get married in my mom's backyard on Monday. Will you sing a song? And she said yes and she brought her fiancé to play piano," says Meredith. "And she even curled my hair for me too!"
Martha, a retired judge, got help from some of her former judge friends. "I had been on a Zoom call with Judge Ken Wise, and wouldn't you know that Ken knew they would have to go to Galveston county for a wedding license," says Martha. "And Alistair Dawson, who was also on the Zoom call, told me that Elizabeth Harvey makes wedding cakes. So I called Elizabeth, and she was able to put together a beautiful, appropriately sized cake for Monday when I called her on Sunday. It all lined up!"
Martha and Bruce met and married at St. Luke's United Methodist Church, so it was a joy for their entire family when they found out that a St. Luke's minister, the Rev. Katie Montgomery Mears, could officiate in their backyard.
When it was time for the ceremony to start, Martha was put in charge of emceeing for the guests who were tuning in via Zoom. "I was really glad to do that," says Martha, smiling. About 160 friends and family tuned in to her broadcast. "I carried the laptop around so everyone could see the wedding." 
Even more people watched via Aaron's Instagram Live from his phone, which was propped up next to the musicians.
"It was so precious watching Bruce walk Meredith down the aisle, even though that aisle began at our mudroom door," says Martha of the path out their back door onto a flower petal-strewn walkway through their grassy backyard to the altar. At the end of the ceremony, Meredith's brother Matt, a musician in New Orleans who drove in for the ceremony, sang Can You Feel the Love Tonight? for the in-person and virtual crowd.
Martha continued the Zoom connections after the wedding for virtual guests to make toasts. The highlight of the wedding, she says, was Aaron's father, William Taylor, giving a toast with wife Alecia from their home in Ohio. "My heart broke because they could not be here because they were quarantined there," says Martha. "But he gave the most heartfelt, tear-filled speech, out of the computer. Oh, it was adorable. Meredith and Aaron hovered over the computer and leaned in – it was tender all around."
"You know, I think I did have fun because with a regular wedding, something goes wrong, and you do not want it to," says Martha. "Well, with this one, if anything went right, it was the opposite. It was beyond expectation. The day itself just had God all over it. This is what was supposed to happen, where it was supposed to happen and how it was supposed to happen."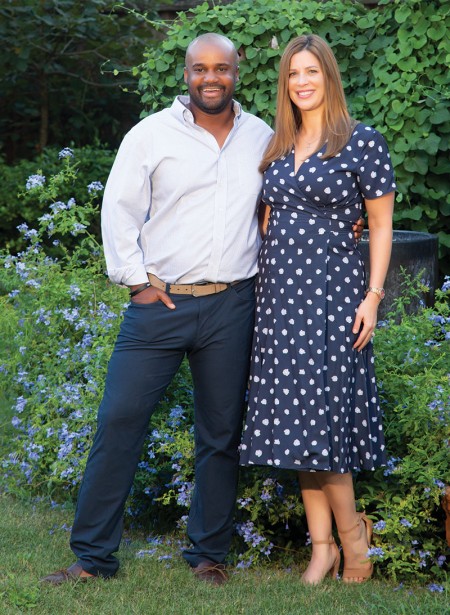 Meredith and Aaron agree. "My mom did everything," says Meredith. "It was the most special – nothing will ever compare to how that day felt."
Aaron, a regional sales manager for Vivint Smart Home, looks back on the day with gratitude. "I never really believed in love at first sight until I met Meredith, and I never felt I would meet the woman of my dreams, but she is way better than the woman of my dreams. Her family is amazing, and for what they did to make this wedding happen during Covid, I am so grateful."
Once the ceremony was over, a "drive-by" reception took place in front of the house. People arrived via foot, car, bicycle and even Vespa. "I was completely surprised by everyone's enthusiasm," says Meredith. "These were the most enthusiastic wedding guests! Car after car was honking, and people had balloons, posters and even a life-size Mick Jagger cutout! Everything was so cool and unique, and they all had authentic joy."
Meredith and Aaron stood in the street and waved at everyone passing by. Meredith's other brother, Sam, handed out party favors to the drive-by guests: individually wrapped cookies and small pots of herbs with tags that read: "Meredith and Aaron – Let Love Grow."
And grow it has. Meredith and Aaron are expecting a child this winter.
Want more buzz like this? Sign up for our Morning Buzz emails.
To leave a comment, please log in or create an account with The Buzz Magazines, Disqus, Facebook, Twitter or Google+. Or you may post as a guest.