The Coaching Duo
Football and friends for 25 years
Click the Buzz Me button to receive email notifications when this writer publishes a new article or a new article in this column is published.
They are loud, demanding and competitive – the intense type of youth-football coaches that parents on opposing teams love to hate. But Murphy Graham and Kelly Bennett see tackle football as more than just a game. For the last 25 years, the coaching duo has tried to lead teams of boys to not only win football games, but also to grow and mature off the field.
Murphy and Kelly have coached teams in the Spring Branch-Memorial Sports Association (SBMSA) for just about as long as anyone can remember, but this year will be their last. After years of coaching each of their sons, this fall marks the final season for the youngest boy, Kelly's son, Westy, to play SBMSA football. It's a natural time for the pair to step down.
For Murphy, a semi-retired manufacturing representative, and Kelly, a homebuilder, football is a metaphor for life. The obvious goal is to win games, but they say the bigger payoff is the opportunity to help mold boys into young men. "The formative nature of youth tackle-football is miraculous," says Murphy.
The Graham-Bennett football tradition has a history that goes back even further than 25 years. It began with Murphy's dad, Bill Graham, now 88, who coached SBMSA football for nearly 20 seasons. Bill coached his own sons, including Murphy, and several years later had Kelly on his team. Today, Bill still comes to all of the games and is a proud spectator with a dedicated end-zone seat.
SBMSA is the go-to neighborhood sports league for kids who live in the Spring Branch, Memorial and Tanglewood areas. All children are welcome to join teams, regardless of their athletic prowess, but the league has a reputation for fierce competition. Football is arguably the most competitive, with all teams eyeing the ultimate prize: a championship win at the Tully Bowl, which is the SBMSA equivalent of the Super Bowl.
Murphy followed in his dad's footsteps, and began coaching SBMSA football as a young adult. Several years in, he got a new co-coach when Kelly joined him. The two men are separated by 16 years, and Murphy has been a mentor for Kelly. They are both friendly and perhaps more nurturing than football coaches would like to admit, and their styles complement each other. Murphy is known as the more chatty of the pair while Kelly is often more introspective.
Their football philosophy is simple: Facing and overcoming adversity is a good thing in football and in life. "We truly believe the best thing a boy can do is play tackle football," said Kelly. "Tackle is really hard, and it's really scary, and when boys learn how to overcome that and thrive in it, it can change their life."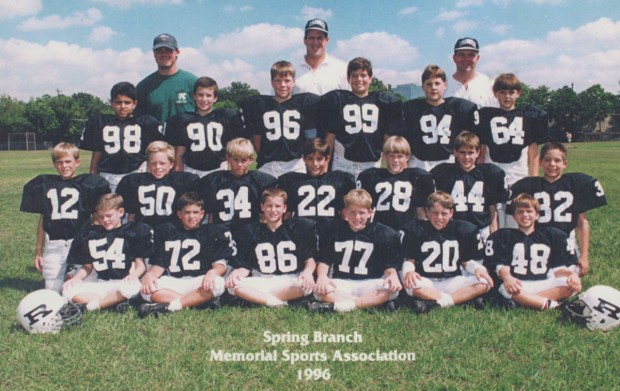 Murphy and Kelly's first SBMSA season together was in the mid-1990s when they coached the Rummel Creek Raiders. In 1999, they changed the team name to the Irish (a la University of Notre Dame), and it has stayed the same for each season since then. Their reason for choosing the Irish doesn't have anything to do with the school. They just liked the color scheme. Each Labor Day, they paint the helmets gold to get ready for the season.
Over the years, they have claimed several Tully Bowl titles, but the win in 1999, the inaugural year of the Irish, was one of the most memorable. "It was the biggest win we have had," said Kelly. After an undefeated regular season, the Irish met the Mustangs, who were also undefeated in their division, at Tully Stadium. "Both teams won their regular seasons pretty easily, so it was a big deal," Kelly said. "We scored on a sweep with no time left."
Murphy and Kelly have coached their own sons and nephews, and even stayed during seasons when neither had a kid in the league. They know each other well and function sort of like a married couple who can practically finish each other's sentences. After their 10th season together, their wives, Ann Graham and Caroline Bennett, threw a party to celebrate. They had cups printed with "Murphy and Kelly, 10 years," which they all joked looked like a wedding anniversary.
Their relationship extends beyond football practice, and they talk on the phone just about every day, with a decent amount of bickering. Murphy says they agree on 90 percent of everything. "But there's always that last 10 percent," he said, laughing. "We've had arguments, but there's nothing philosophical about football we disagree on." The couple is even aging together. In the old days they would demonstrate tackling techniques for the boys, but they decided that was no longer a good idea after they could barely get their older selves up off the field.
The Graham-Bennett coaching style can be summed up as old school, and they are unapologetic about pushing each kid to his limit. "We coach like we learned to play in the old days. We're pretty rough and we push them really hard, but they know we love them," said Kelly. "We have high expectations and the kids always rise to the occasion."
These guys love to win. After all, they are coaches. "Our goals each season are to be the hardest-hitting team and to win the Tully Bowl," said Kelly. "But those are really just vehicles to teach the more important stuff like effort, resilience and determination." The best praise they receive is when a player's parent says their son has changed for the better from the discipline learned at football practice. "To hear a mom say, 'I can't believe he's making his bed and taking out the trash,' makes it all worth it. That's what tackle football can do," says Murphy.
The coaches concede that football isn't the only sport that teaches the value of hard work and responsibility, but they do believe it delivers the strongest message. The physical nature of tackle football means each player must learn to do his specific "job" on the field, not only to score points but to protect the teammates. Team bonding happens pretty easily when you have to work together to keep from ending up face-down in the grass.
The duo says kids really haven't changed over the last 25 years, but the environment has. "Football is under assault. We live in fearful times," says Murphy. He says injuries do occur, but in lower numbers than many people realize. Murphy refers to a study that he says found tackle football, in the under-13 crowd, is actually one of the safer sports, and smaller kids are less likely to get hurt. This all changes when kids grow older and bigger, however. "It flips when boys hit high school, and then it's one of the most dangerous sports. That's when you really see the injuries," said Murphy.
Helicopter parents are pretty common these days, but Murphy and Kelly continue to coach the same way they always have. "All the parents want their kids to have good self-esteem, but that's not something you can just gift to them. It comes from facing hardships. From getting knocked down and getting back up," said Murphy.  
The lessons they teach have a lasting impact. Kelly's wife, Caroline, happened to meet a former Irish player who has since grown up, gotten married and still lives in the area. His comment to her sums up what the coaches hoped to accomplish: "Murphy and Bennett made men out of us at age 11. We learned a lot more than just football," he said.
Now that they are in their final coaching season together, both men admit they don't know what they will do with their time next fall. "We really don't hunt or play golf. This is what we do," said Murphy. Whatever they end up doing, they expect to spend time together. Murphy hopes to do some travelling with Ann, and the couples might make more trips to the Grahams' farm, where Kelly proposed to Caroline many years ago.
"How many people do you spend 25 years with doing anything?" asked Murphy. "It's a real blessing to have a compadre."
Want more buzz like this? Sign up for our Morning Buzz emails.
To leave a comment, please log in or create an account with The Buzz Magazines, Disqus, Facebook, Twitter or Google+. Or you may post as a guest.