Cooking Through It
These guys have a new quarantine hobby
Click the Buzz Me button to receive email notifications when this writer publishes a new article or a new article in this column is published.
Wayne Kearney is not a cook. He's a father, husband, Rice University graduate and managing director at Aon, but he is not a cook. Still, during the pandemic, he was intrigued when his Rice buddies Joe Reilly, who lives in Los Angeles, and Jay Williams, in Houston, took up pizza-making. 
"Joe started getting into cooking and found this website called BakingSteel.com, which is like a steel version of a pizza stone," Wayne says. "You put it in the oven, and the theory is that it holds heat more consistently than a stone. Joe got into making pizzas and got our friend Jay involved. Then Jay started making pizza, which evolved into making sourdough, English muffins….  Joe even just sent me a picture of beignets he made. They started getting into this baking, and I was like, 'I want to do that.'"
Now, Friday nights are pizza night at the Kearneys'. 
"The Baking Steel was backordered, so it took about six weeks for me to get one. In that six weeks, I started studying recipes online. There's a thing called a 72 Hour Pizza Dough, so that's what I started with. The problem is since I was in Colorado, I had to research how to modify the recipe to bake at 9,000 feet." Wayne and his family live in both Houston and Crested Butte. 
"Now I make the dough on Tuesday night, and then Thursday night you cut it up, knead it into dough balls and put it into plastic deli containers." The dough then goes through a rising process, and Wayne makes the pizza on Friday.
"The first time, I made a mess – the inside of the oven was a disaster. I basically was using too much flour," Wayne says. "The second time was much neater. 
"I don't cook that often, and the pressure was not to disappoint everybody. I didn't want to screw up and have to order pizza. It's not Star Pizza, but it's remarkably easy to do and actually doesn't take that much time. 
"Now I'm thinking, 'I can do pizza, so what else can I do?' Joe and Jay and I keep sending pictures about what we're doing. Now we're all trying to one-up each other."
From Baking with Steel
7½ cups bread flour 
4 teaspoons fine sea salt 
½ teaspoon active dry yeast
3¼ cups water 
In a large bowl, whisk together the bread flour, salt and yeast. Slowly add the water, and mix with a wooden spoon just to combine. Once the mixture is moistened, lightly flour a countertop or large cutting board and remove the dough from the bowl with lightly oiled or wet hands (to discourage sticking). Knead for 2 to 3 minutes to remove clumps. The dough won't become elastic but should easily form a loose ball.
Place the dough in a lightly oiled bowl and cover with a damp, clean kitchen towel or plastic wrap to prevent it from drying out and developing a skin. Place it on the counter and let sit 24 hours at room temperature. It will double in size, and you may see bubbles forming on the surface.
Lightly flour a large cutting board or your kitchen countertop, and place the dough on it. Wet or lightly oil your hands again. Divide the dough into seven equal portions and make dough balls. Place the dough balls into oiled cylindrical airtight containers (deli takeaway containers are ideal), date the containers, and place them in the fridge for 48 to 96 hours.
Remove from the refrigerator at least 1 hour before use to allow the dough to come to room temperature; this lets the gluten relax and makes the dough malleable.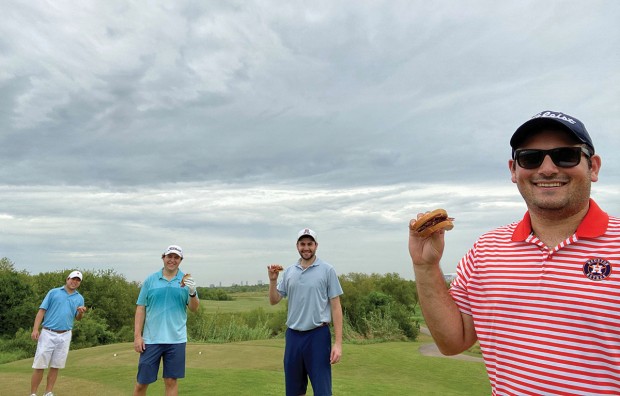 Like Wayne, Brandon Jalnos, a 30-year-old tax attorney, is also not a cook. But during quarantine, he found himself bored. 
"A lot of hobbies were eliminated, and I couldn't see my friends all the time," Brandon says. "I was thinking about what I could do that would consume eight hours of my time."
Brandon's solution to all of it – filling time, developing a new hobby and seeing friends – was teaching himself to smoke pastrami.
"The first time I tried to use my smoker was last year, and it was not a really good result," Brandon says. "So I thought, I've got nothing but time. I've always wanted to try something like this."
Brandon started with some YouTube research. "I use a pellet grill [a grill that uses hardwood pellets], a Traeger," he says. "They have an app and a website with all these recipes, so I started with their recipe and adapted it based on more research, trial and error and friends' comments."
The comments come often. Brandon makes his pastrami once a week, starting on Sunday, and on Friday evening he portions it out, puts it in Ziploc baggies and drops it off to family and friends. 
"Friday morning, after [the brisket has] brined all week, I wake up at 3:30," Brandon says. "I take it out of the fridge to get to room temperature, and I'll set my smoker up. I have it on the grill by 4 a.m. Then I work all morning and have a perfectly cooked hot pastrami ready for lunch."
He has a specific plan for the rest: First, he sets aside two pounds for himself and his three golfing buddies. "I put [the] pastrami in four Ziplocs, half a pound each, to make this activity Covid-friendly. Someone will pick up rye bread from Three Brothers. I put it in a cooler and give everyone their separate bag at the driving range before we play. Some of the guys make a breakfast sandwich, but we generally try to see if we can make it to the eighth or ninth hole before eating it."
The rest goes to a route of 10 to 15 houses Friday evening. "I drop the pastrami in their mailboxes. I'll see my friends from a distance, and we'll talk for a minute.
"I use my friends as guinea pigs. They let me know what I can do better, and it's a good way to see my friends. And my friends are loving getting all this free meat."
So much so that Brandon now has friends asking to be on his route. "Every couple of days, they're asking for it," he says. "I've been sending out pictures, and I'll tell them first come, first served. The first 20 people to text me, I'll have it for them.
"I would add more houses, but I'm going to need a bigger smoker."
Brandon Jalnos' Smoked Beef Pastrami
Oak wood (do not use hickory or mesquite)
6 quarts water
1 cup kosher salt
¾ cup sugar
2⁄3 cup light brown sugar
3 Tablespoons pink salt or other curing salt
1 Tablespoon pickling spice
1 teaspoon mustard seeds
8 cloves garlic, crushed
1 7-pound flat-cut beef brisket, fat cap trimmed to 1⁄3 inch
Spicy brown mustard
¼ cup whole black peppercorns
2 Tablespoons coriander seeds
Equipment: 1 box Ziploc 4 X-Large Big Bags; zip ties
In a large pot, combine the water with the kosher salt, sugar, brown sugar, pink salt, pickling spice, mustard seeds and garlic. Simmer over medium-high heat, stirring occasionally, until the salts and sugars have dissolved. Pour the brine into a large bowl and let it cool. Refrigerate until chilled.
Using a metal skewer, poke holes all over the brisket. Pour the brine into the Ziploc Big Bag, then add the brisket. Squeeze all the air out of the bag, and twist the top of the bag. Use a zip tie to keep the top of the Ziploc twisted. The goal is to have the brisket fully submerged in brine. Then put the bag, with all the contents, into a large roasting pan. Put the roasting pan with the bagged brisket in the refrigerator. Let the brisket cure for 5 days, turning it once a day. 
Remove the brisket from the brine and rinse the surface of the brisket to remove the excess salt. Pat dry with paper towels. Place the brisket fat side-up on a rack set on a rimmed baking sheet. Refrigerate uncovered for 24 hours.
Remove the brisket from the refrigerator and bring it to room temperature. When you are ready to cook it, preheat a smoker to 225 degrees. Rub the entire brisket with spicy brown mustard. In a spice grinder, coarsely grind the peppercorns with the coriander seeds. Cover the fat side of the brisket with the peppercorn-coriander mixture.
Place the brisket directly on the grill grate, spiced side-up, in the center of the grill. Close the lid and smoke the meat at 225 degrees until an instant-read thermometer inserted into the thickest part of the brisket registers 160 degrees. This will take 3 to 4 hours.
Remove the brisket from the smoker and wrap it in foil, making sure to seal it very well. Place the wrapped brisket back on the smoker and continue cooking for another 3 to 4 hours, or until a thermometer inserted into the thickest part of the meat registers 204 degrees. 
Remove the brisket from the smoker and let it rest, wrapped in foil, for at least 30 minutes before slicing. If you want cold pastrami, allow it to cool completely, then refrigerate it. Slice and enjoy!
Want more buzz like this? Sign up for our Morning Buzz emails.
To leave a comment, please log in or create an account with The Buzz Magazines, Disqus, Facebook, Twitter or Google+. Or you may post as a guest.