Golf pilgrimage to Ireland
Click the Buzz Me button to receive email notifications when this writer publishes a new article or a new article in this column is published.
The Keating family is about as Irish-American as it gets. St. Patrick's Day was a day (and long night) of craic. Growing up, the seven children were more familiar with The Clancy Brothers than The Beatles. William Butler Yeats has been recited for generations of eulogies.
The family is from Counties Cork and Wexford, and if you drive around southeast Ireland, you'll see car dealerships, pubs, real estate agencies and other businesses carrying the family name.
Brothers John Jr. and Michael grew up in Spain, not Ireland, but as kids, they got to travel there, kiss the Blarney Stone, see The Cliffs of Moher, toss a penny from the Ha'penny Bridge in Dublin, get outfitted in the ubiquitous wool sweaters, and do other tourist things that are expected of a visitor to Ireland.
But it wasn't until John Keating Sr. retired that the family's flirtation with Ireland became a long-term commitment. Indeed, as John Jr. wrote years later, the annual odyssey would become sacrosanct, "a borderline religious pilgrimage."
It all began casually enough. "Dad called me up after retiring and said, 'Hey, want to do a couple weeks in Ireland and Scotland?'" recalled John.
The year was 1987, and the trip was beautiful. They putted their way through the region's best golf courses, ending at Ballybunion. The name refers to a tiny town of about 1,600 people, but it also refers to the adjacent golf course, a piece of visual poetry on the shores of southwest Ireland. But as enjoyable as the journey was, John never dreamed it would be the starting point of a 33-year love affair – not just with Ireland, but with an Irish town, its traditions and all its inhabitants.
"Dad decided we needed to resolve whoever the Keating champion would be every year," said John. "He joined the Ballybunion Golf Club, and the second year my brother, Dad and I went all together. Then, a few years later, a couple brothers-in-law came along."
By the sixth or seventh year, more extended family and friends joined in, and the Keating Championship took on a life of its own. After a day on the links, they would spend their time walking around town and visiting the Ballybunion pubs, getting to know the townspeople. John Keating Sr., with his larger-than-life personality, became a regular, and some said he became more popular than the town's mayor.
"For one week each year, hundreds of the town's residents knew the mayor as John Keating Sr.," wrote Michael Keating, now the publisher of GolfStyles, an international golfing magazine.
Their favorite hotel, the Cliff House, has become the official locale for the championship events. Proprietors Kevin and Fiona O'Callaghan became fast friends, as did local musician Noel Nash, who came to Houston periodically to play at the Mucky Duck.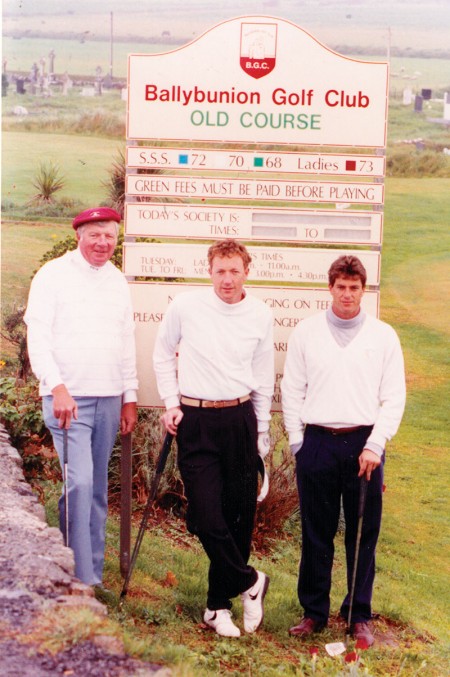 The Irish-American Challenge began in 2011, when members of Ballybunion played their U.S. visitors in a one-day match. It became an annual day of intense competition, followed by a night of international camaraderie.
"That's become a big deal in the town," said John. "It's evolved from being a bunch of Americans over there to us becoming a part of the town and a part of the club. It's very much a family situation. We go over there, and we feel like we're home.
"In Ballybunion, we walk into a pub, and we're talking to Les or Jimmy, and they're just fellow citizens living in a small town," said John Jr. "The Irish really appreciate that. They see a lot of tourists coming through a day or two, but then they never see them again. We're there all week and renew friendships every year."
This year was a strange one for the Keating clan. It was the first year in 34 that there was no pilgrimage to Ballybunion. No championship, no late-night pub crawls, no regaling one another with memories of years past. In part, it was because of Covid-19. But there was something else, too.
John Keating Sr.'s last round was in the summer of 2019. At 79, he was still going strong – even with 10 vertebrae fused after a terrible accident just seven years ago. He was looking forward to 2020's event and working to prepare for the physical demands of an oceanside links course. But he died Nov. 2 in his Houston home. 
An Air Force fighter pilot, Lt. Col. Keating was laid to rest in Arlington National Cemetery. The funeral home saved some of his ashes for the family, though. And next year, when the Keating Championship resumes, John Jr. will carry a small urn in his suitcase, and he and his brother will sprinkle a bit of their father's remains on the greens of his beloved Ballybunion. 
"To give you an idea of what kind of a dignitary my dad is in Ballybunion, we were going to have a memorial service there, and Noel Nash was going to play," said John. "Covid put an end to those plans. But the show will go on next year.  We plan on keeping it going as long as we're alive."
Ireland's west coast is notoriously known for its wet and windy conditions. Still, despite occasional hurricane-force winds and torrential rain, no round of the Keating Championship has been cancelled, much less postponed, spanning some 170 rounds over 33 years. It's a very serious tournament played by USGA rules regardless of the weather.
"You can get all four seasons in one day in Ireland. You could have sun and beautiful weather, and suddenly a storm comes in from the Atlantic, then 10 minutes later you'll see a rainbow," said John.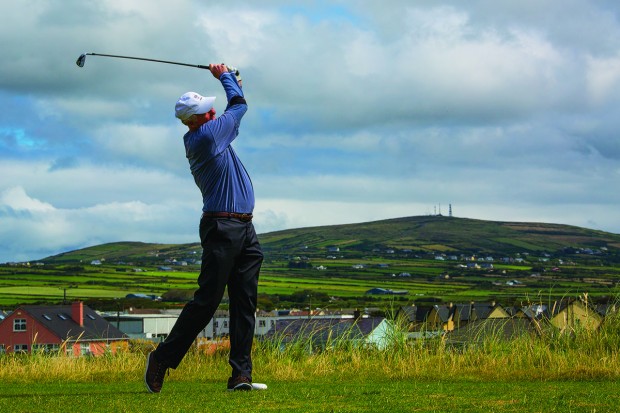 They never missed a round, even with 70-mph gusts of wind and rain – "because that's why we're there. It's not like we can say, 'Let's do it next week,'" said John.
Of the 60 contestants who have played in the Keating Championship, they own more than a combined 100 holes-in-one on other courses – although most would trade all aces for one on the world-renowned Ballybunion.
Meanwhile, this year, in honor of the founder of the Keating Championship, we share a few anecdotes. First, a few from John:
One year they were on the fifth hole, and it started raining. By the time they got to the sixth hole, "marble-sized hail was coming down, and we were in the fetal position. When it passed, we were on a par 3, and the green had two inches of ice from hail. It was still 60 degrees. We waited 10 minutes, it melted, we putted out and moved on."
One of the stories they love to tell is about a group of goats that lived on the course. If the goats came in and huddled under the overhang of the roof, you don't play golf. "The goats would go to the same place anytime the weather got bad, but we would keep playing," said John. "They said the goats were smarter than we were."
Michael, for his part, owes the game and its tradition to a reconciliation with his father after a few years of estrangement. Now, he's become the patriarch of planning for the trip, just as his father was.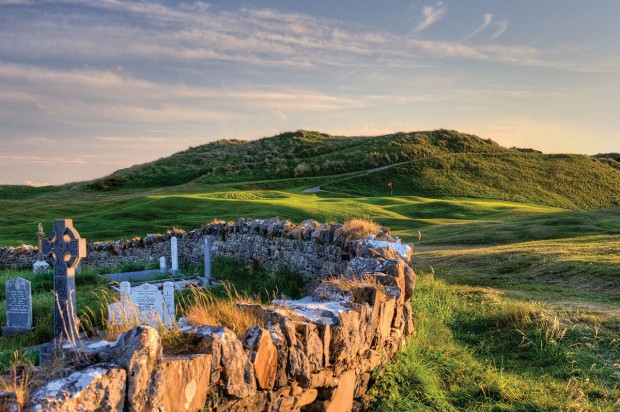 "Golf was a way for them to come together. I think if he didn't have that it would have been hard to put aside the less important differences they had," said John. "It was a platform for them to come together."
Asked to share a few anecdotes, Michael, the golf journalist, submitted his in writing.
"In our less enlightened days, one participant decided to do a pub crawl, not knowing the small town had 37 of them. He didn't make them all, but he tried. He went from his last pub to the first tee, drilled his opening shot down the middle then whiffed his next five attempts. He was ordered back to the car, where he was found five hours later, to put it politely, sound asleep.
"The Cliff House hotel is the annual host to the Keating Championship contingent. The proprietors have noted that they sell more wine the week Keating & Co. are in town than any other week (and most months) of the year.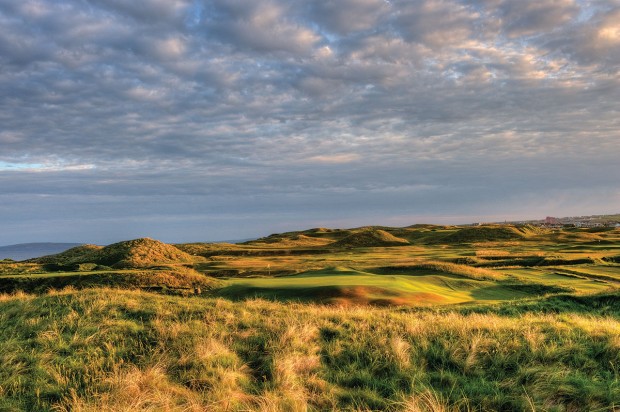 "We're not saying the Keating Championship is a big deal, but in 2002, there was a disagreement over a rules infraction during the tournament. When the issue was finally resolved, on the day of departure, the pilot of our U.S.-bound United Airlines flight announced the decision mid-flight.
"A ritual of the Keating Championship was enjoying a few pints at the bar and discussing current affairs or days of past. An oft-trivial disagreement could last hours. Then one year our most tech-knowledgeable participant brought a Google machine with him. Now, when disagreement arises, two or three will simultaneously look toward gadget-man and say, "Larry . . .", who is already getting the answer from Google. And within a minute, the sustenance of the debate and the certainty of being right is gone.
"John Keating Sr. joined Ballybunion in 1988 for $1,500. A few years later, John and I tried to join but we're put on a decade-long waiting list. In 2004, we were welcomed as fellow members – for $15,000. For most, that's a high price for a once-a-year (sometimes twice) visit to a golf club. For three-plus decades of memories, friendships, and an unbreakable bond with our father, it's peanuts."
Editor's note: Buzz travel columnist Tracy L. Barnett is a Lowell Thomas travel journalism award winner and longtime travel and environmental writer. Email her at [email protected] to share your own travel tales.
Want more buzz like this? Sign up for our Morning Buzz emails.
To leave a comment, please log in or create an account with The Buzz Magazines, Disqus, Facebook, Twitter or Google+. Or you may post as a guest.