Rumor Has It - October 2020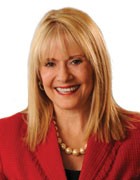 Click the Buzz Me button to receive email notifications when this writer publishes a new article or a new article in this column is published.
In the mountains. A family trip in Colorado celebrated Amy Richards' birthday, arranged by her husband, Brad Richards. They stayed at Glen Eyrie Castle and Conference Center, a peaceful Christian retreat with many hike-and-bike trails. Appropriately, it is near the Garden of the Gods in Colorado Springs. Other surreal experiences came from their trip to The Stanley, paranormal central and site of a couple of notorious films, The Shining and Dumb and Dumber. They also met up with Kelly and Clark Mapes. Amy and Kelly were in each other's weddings and were college roommates at Colorado State University. They discovered they had not changed a bit. Family members Jennifer Rossi and Neal and Emery (Gullickson) Richards, with children Ennie and John, enjoyed the change of pace.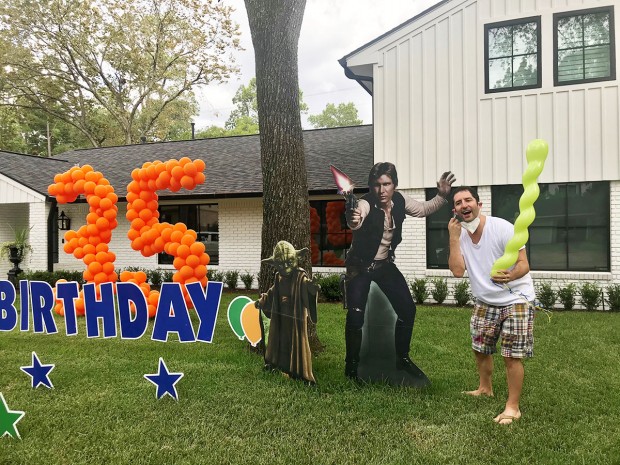 Help me, Obi-Wan Kenobi. When Ali Hoffman planned weeks in advance for her hubby and Star Wars fan Austin Hoffman's 35th birthday surprise, this New Jersey gal didn't know hurricanes could get in the way. The drive-by parade to wish Austin the happiest of happy was canceled due to The Force of another nature, the projected Laura-cane. The plan got more complex as this modern-day Leia hero got 30 friends to upload a video of wishes to a site for her Luke Skywalker guy, Austin, to watch on TV. The drive-by was still a surprise because Ali postponed it a week. Your focus determines your reality. 
Choice decision. With the new reality, Harriet and Bill Choice decided to move Marie, their monohull, from Fort Lauderdale to the Lakewood Yacht Club in Seabrook to take advantage of it more. Bill and a friend sailed it to The Keys first but had to wait out bad weather, about a week. It took another five days to get Marie home. Months later, Bill had to cut a trip in Colorado short, when hurricanes threatened, to secure Marie further. As long as Harriet is first choice, Marie can come in second.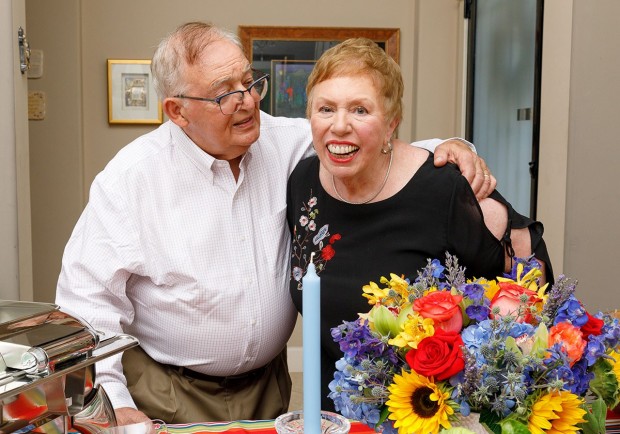 Relatively speaking. With relatives so scattered about in Canada, New York and Israel, it was a joy for Sheila Train to celebrate with 35 of them on Zoom for her 80th birthday, arranged by two nieces in Toronto. It was the first time that some of the cousins had ever seen each other. Sheila's husband of 60 years, Dr. Louis Train, had a cake and balloons for the 11 a.m. Zoom (7 p.m. in Israel). That evening, he treated her to a sumptuous dinner on the gorgeous patio by the pool at the Bloom & Bee at the Post Oak Hotel. 
Boing! Luke Kinsel bounced into his 5th birthday in his front yard with a bouncy house to start off the day. The Camp Kinsel playground is always a hit with the neighborhood children, who frequently find their way there. It was the same tribe of children that joined in to share giggles with Luke on his birthday. The cake, a Mario Kart theme, was enjoyed by all the adults as well. Parents Angie and Scott Kinsel, Max and Penelope (Poppy) and new pet Cosmo, a Havanese, had giant balloons for the party boy. 
The good doctors. There can never be enough thanks for those on the front line of fighting the Covid-19 pandemic. Dr. Bruce Edison, president of the Retired Physicians Organization of Harris County (a membership of over 600 retired physicians), Becca Kerr of Little Kitchen, and Courtney Hoyt of Tangible Gifting/Harris Health System organized 80 lunches to sent to three hospitals (LBJ, Ben Taub and Memorial Hermann Greater Heights) for their workers. A doctor do-good deed indeed. 
Be a hero. Consider sponsoring a family that's had unexpected expenses with a child battling cancer. You can help with presents at the Holiday Heroes Celebration Dec. 13. Many more children this year will be impacted, with parents losing their jobs. Last year, 114 families were helped. A donation of $150 supports gifts for a family of four (add $50 per extra person). If the party is not live this year at the Merfish Teen Center, a pickup location for the families will be created. The families are selected by social workers in partner hospitals. Sponsors shop, wrap the gifts, and present them to their "adopted" family at the festive party with food, arts/crafts and activities. Families have fun and try not to think about cancer for a couple of hours. Some of the volunteers are James Miller, Jackie Sheahan Miller, Lauren McCulloch and Karen Wiseman. To participate, see heroesforchildren.org or call 214-256-5616.
Mask-erade. Fifteen treasured family members and friends joined Ariana Grinblat in a private room for 80 on the 32nd floor of her building, with sweeping views of Uptown, to celebrate her 35th birthday. A highlight was the bright, colorful and coordinated masks guests wore, including medical masks hand-decorated with custom messages. Her fave casual food from El Topo and delectable desserts shipped from Milk Bar brought back memories from her time as a restaurateur in New York. She tossed in some of her own cooking and a signature cocktail. Enjoying being socially correct at the soiree were Bobby Yazdani, Lia Vallone, Bryan and Mollie Apgar, Gregory and Irina Grinblat, and Elliott and Julia Gorog.
Luck of the draw. When Lynn and Justin Cooper lived in Tokyo, Lynn met an interesting expat, Jacqueline Wein, who knew absolutely everything about Japanese artifacts and antiques. Lynn became a tag-along to the various antique markets around Tokyo as they bonded. Back in the U.S., Jacqueline owns a quaint beach cottage along the Jersey Shore, and Lynn, a budding sketch artist, drew this cute house. Soon after Jacqueline received the drawing, she was asked for her house and the unique interior furnishings to be featured in Sotheby's. They used the watercolor as part of their feature. "House" that for a surprise?
Summer escape. While Houston was 103 degrees, Rabbi Steve and Beckye Gross took their sons and daughter for some cool nights in Angel Fire for two weeks. They hiked, visited a natural hot spring, rafted, and rode horses without pandemic panic. As of early September, there were only 20 cases of Covid in Colfax County and possibly no cases in Angel Fire. Everyone they encountered wore masks. 
Have some good news to share? Email us at [email protected].
People in this article:
Amy Richards
,
Brad Richards
,
Kelly Mapes
,
Clark Mapes
,
Jennifer Rossi
,
Neal Richards
,
Emery Richards
,
Ennie Richards
,
John Richards
,
Ali Hoffman
,
Austin Hoffman
,
Harriet Choice
,
Bill Choice
,
Sheila Train
,
Louis Train
,
Luke Kinsel
,
Angie Kinsel
,
Scott Kinsel
,
Max Kinsel
,
Penelope Kinsel
,
Bruce Edison
,
Becca Kerr
,
Courtney Hoyt
,
James Miller
,
Jackie Sheahan Miller
,
Lauren McCulloch
,
Karen Wiseman
,
Ariana Grinblat
,
Bobby Yazdani
,
Lia Vallone
,
Bryan Apgar
,
Mollie Apgar
,
Gregory Grinblat
,
Irina Grinblat
,
Elliott Gorog
,
Julia Gorog
,
Lynn Cooper
,
Justin Cooper
,
Jacqueline Wein
,
Steve Gross
,
Beckye Gross
Want more buzz like this? Sign up for our Morning Buzz emails.
To leave a comment, please log in or create an account with The Buzz Magazines, Disqus, Facebook, Twitter or Google+. Or you may post as a guest.