The Big Red Truck
From Round Top to River Oaks
Click the Buzz Me button to receive email notifications when this writer publishes a new article or a new article in this column is published.
Big Red was tired. For more than a half century, it had done its job. The 1955 Chevrolet 3100 Apache had hauled barbed wire, pulled horses in trailers, and lent a seat and a steering wheel to beginner drivers.
The Big Red Truck was primarily a country truck, resting at the end of the work day under a shady oak tree at the family farm in Round Top. Throughout the decades, it would sometimes become a city truck and get called in to ferry friends and run errands around town.
But by age 59 – with timeworn parts and a rusted frame – the pickup was about worn out. Many would have turned that truck in for scrap. Others would have kept it locked away in a garage.
But not the Cochran family, who felt a connection to that old truck. Which is why Steve Cochran gave Big Red to son Frost for his 50th birthday. And with that gift in November 2014, the truck got a new lease on life.
To understand how far this truck has come, you have to go back to the beginning, to 1966, when Steve walked onto a used car lot looking for a truck for his farm.
"I had bought this property and did not have a lot of money, and I needed a pickup truck, so I went over to Jack Roach Ford," says Steve, who now calls himself "almost retired" from his job in commercial real estate.
"When I got there, I saw a career Navy man, dressed in uniform, who had just dropped the truck off. I observed him, and then I inquired about the truck. It was for sale for $800, not negotiable, so I bought it. The speedometer was stuck at about 65,000 miles, but it probably had a heck of a lot more than that! I immediately drove it to my farm, where it initially was used to pick up barbed-wired trash around the farm. In its first days, it saw a lot of hard work around the farm."
Over time, the truck also saw a lot of fun when Steve and wife Betty brought their kids, Frost and Wendy, out to the property. "As the children started growing, just like my father did with me, I put the kids in my lap to teach them the standard shift," recalls Steve with a smile. "They drove in circles and circles and circles around the farm." 
Betty became especially fond of the truck. "My wife claimed it for herself, and I was under orders to not trade it or sell it," Steve says. Many people offered to buy it, but he always refused, saying, "My wife won't let me!" and ensuring the memories would continue being made.
"We would sit on pillows to be able to reach the pedals, and we could barely see over the dashboard," says son Frost. "It's not an easy truck to drive. If you can drive it, you can drive anything. It was just a work truck before there were ATVs or anything like that, so if you wanted to fish or do anything, you were not gonna take Mom's station wagon. You were gonna take the truck. It's been stuck many times. It's been around going fishing, pulling hay rides, rabbit hunting and taking people out."
As decades passed, the truck continued to do double duty. "It went back and forth between Round Top and River Oaks," says Frost, managing director of Post Oak Energy Capital. "It spent many nights and weeks on Ella Lee, parked by the circle in the late '60s and early '70s. But since the '80s it stayed in Round Top because it was no longer road-worthy."
And it was there at the farm that Frost and wife Lisa, taught their kids, Kelly, 26, Shelley, 25, and William, 20, how to drive the truck. "I was 10 years old when I learned how to drive it at the ranch," says William, a sophomore at Ole Miss. "My dad was in the car teaching me. Even as a rusted-out truck that it was, with holes in the floorboards, a bashed-in fender and an engine that was misfiring, I thought it was the coolest car in the world. It was loud, and I had never heard a car like that before, and I thought it was beautiful."
William's interest was immediate and constant. "When I was 12 years old, I told my Dad, 'Let's change the oil and get a paint job. It will be like brand new,'" says William, unaware of how much work restoring the truck would take. "It was just an old beat-up truck. For more than 50 years it was never in a garage. It was parked up under a big oak tree. The tree would try and protect it from the weather and the hail, but eventually the oak died because the truck leaked too much oil. And the mice – they loved it and lived inside of it and would chew through wires."
At the time, Frost did not seriously consider taking William up on his refurbishing idea, but the seed was planted. "For my 50th birthday, my Dad asked me what I wanted," says Frost. "I said, 'How about the old truck in Round Top? And I will restore it.' And he said, 'Done!'"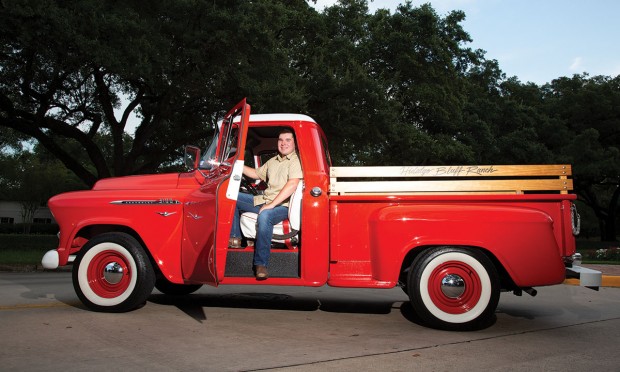 His dad was thrilled. "By the end, the truck was not safe to drive, so I parked it in the equipment shed, where it sat, accumulating dirt, dust and mice. It was literally farmed out," Steve says. "But then it was resurrected by my son and grandson. It had to be given a new life. I was delighted to pass it on to him, since it was the first vehicle he ever drove."
Frost and William spent the next five years working with mechanics who specialize in car restoration to give Big Red a new outlook. Given that William was so enthusiastic, Frost let him take the lead in the restoration process, which took longer than anticipated. The restoration was filled with mishaps and delays, none of which deterred William, who learned everything about that model.
"Chevrolet, in 1955, introduced the Chevy small block, a 283 cubic-inch V-8 that was shared on the platform of the Chevy Bel Air," he says. "It made it, at the time, a very, very powerful work truck. The normal base engine for that truck was an in-line 6 cylinder, and when that truck was new, it was optioned to have a V-8. These trucks were mostly used as farm trucks and work trucks. They did not have turn signals and brake lights because they were used solely on farms and ranches."
Almost every inch of the truck was refurbished. "The only things that are original to the truck are the body panels and the engine block," says William. "The main thing is that the engine was converted from a carburetor to fuel-injection to make it more reliable, and the whole front end of the truck was changed from a solid front axle to independent suspension for better ride quality and better handling."
William and Frost are especially proud of the fact that they added air conditioning, brake lights and a radio – things the truck never had in the first place.
"These are fairly common trucks, but you never see them how they came from factory, like we restored it," William says. "We added air conditioning, a bluetooth radio, turn signals and brake lights. The truck looks old but performs like a modern car."
An important family deadline gave them impetus to complete the restoration. "My dad and William worked on fixing up the truck for many years, and when I got engaged, they set a goal to have it finished before the wedding," says Kelly, who married Samuel McAllister in 2019. "The wedding was the grand debut of the finished truck. William was the biggest factor in deciding to use the truck as the 'getaway' car."
The finished truck looked wedding-ready: shiny, bright fire-engine red, with red wheels and whitewall tires. Guests cheered when the couple drove away from the reception.
For Kelly, that moment was more than just a ride away from her wedding. "Most of my memories of the truck are from when I was really little driving around the farm," says Kelly, who now works in Denver doing energy corporate development. "I remember frequently squealing because there were a few mice that lived under the seat of the car. Most of the time the mice would scurry out when we opened the car door, but sometimes they would pop out as we were driving! Although I miss the mouse family living under the seat, it is a lot more comforting knowing that nothing is going to jump out when you open the door or sit down." 
William laughs. He made sure that the Big Red Truck is in mint condition. "Now it is absolutely perfect," he says with a wide grin. Big Red is now a city truck and lives full-time in River Oaks. "When I do drive it around, I am always being flagged down by people who say, 'This is the coolest car ever!' My mom loves it, too, and she likes it when I drive her around, and she waves to people!"
Lisa says she likes to catch rides in The Big Red Truck with the family around the neighborhood. "The red is so appropriate," she says. "It looks like a heart to me. You look at the red, and you feel something. I mean, you feel passion for it. It signifies life and all that it has been through generationally."
Steve says the truck links the family across the years. "It is fun to think the truck could survive that long: a testament to its durability," he says. "Three cycles within the Cochran family. I am not really a car man, but that truck has been a longtime part of our life. Vehicles come and go, but this one had to be saved."
Want more buzz like this? Sign up for our Morning Buzz emails.
To leave a comment, please log in or create an account with The Buzz Magazines, Disqus, Facebook, Twitter or Google+. Or you may post as a guest.