Christmas-tree traditions
Click the Buzz Me button to receive email notifications when this writer publishes a new article or a new article in this column is published.
Buzz Baby is a column about life with babies. Writer Annie McQueen is a mother of four children under the age of 6.
All year long, Elizabeth Shackouls looks forward to gathering on Christmas morning around the family's Christmas tree with her husband Scott and their four young children. They have two sets of twins, Charlie and Caroline, 7, and Annie and Cate, 5.  
They put up a large artificial tree before Thanksgiving each year. The two reasons they choose artificial over real is that, first, "well, it would be dead before Christmas because we put it up so early," says Elizabeth, whom Scott nicknames "Captain Christmas." The second is that when Charlie and Caroline were crawling babies, putting everything in their mouths, having a real tree dropping needles became a challenge.  
This year, they are putting up two Christmas trees. The first, which her 7-year-old son Charlie has coined "the adult tree," is adorned with the family's extensive silver-ornament collection (special ones the kids get each year) with white lights. The second tree is what he calls the "fun kid tree," covered in bright, multi-colored twinkling lights and kid ornaments.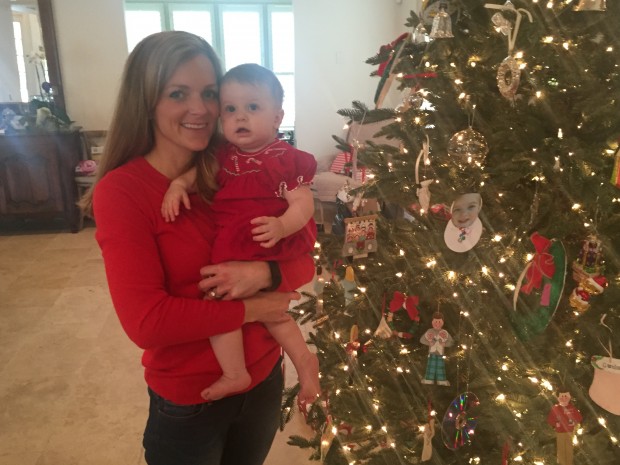 Elizabeth says Christmas-tree traditions have always been an important part of her life. She recalls Christmas mornings growing up in Columbia, South Carolina. She, along with her four siblings, would sit on the top stair of her childhood home's staircase. The kids would smell the grown-ups' coffee brewing and bacon sizzling and feel the warmth of the fire filling the living room. They waited for their parents to give the "go" to run down the stairs to see what Santa had left under their tree.
Their childhood Christmas trees had brittle needles from being put up so far in advance in the excitement of the holiday. Elizabeth recalled her dad putting sugar in the tree water every day one year. "Someone told him to do that, but you're apparently only supposed to put sugar in one time, he did it every day, and the tree turned brown by Christmas," she said, laughing. The family ran to the Piggly Wiggly store on Christmas Eve and got the last tree in their lot. 
Sitting atop the pine needles and branches was a dried mixture of cake batter, Ivory Snow laundry-detergent flakes and water. Yes, that is right. Elizabeth's mother – and her mother's entire side of her family – put laundry detergent in the tree to make it look as if it had real snow sprinkled on the branches. 
"We would put it in a bowl with warm water and stir with a cake mixture, where it would thicken like icing," said Elizabeth. "We would take handfuls of it and brush it along every branch we could reach. It would harden and then look like real snow had fallen on the tree." 
That tradition is no longer around, but there is a special one from her childhood that has been passed on to her kids now. On Christmas morning, each child opens a special sterling-silver tree ornament. 
When Elizabeth was growing up, she received a handmade Christmas ornament every year from a local, now-retired artist. Each one was relevant to the happenings of her life – from pre-teen to post-marriage. 
"I remember getting an ornament one year of a girl talking on the phone, then one year on rollerblades," said Elizabeth. Scott and Elizabeth received a bride-and-groom ornament the year they married, followed years later by an expectant mother eating pickles and ice cream, and the last ornament from the artist, a mother holding a baby.
The newest Shackouls tree tradition is their handmade and colorful Christmas-tree skirt, which Elizabeth had made by an artist she found on Etsy. The tree skirt fills up their family living room with the story of their family.
"The tree skirt has sewn onto it the church in South Carolina where we were married, the church where we attend now, our colleges, our first home, our current home, our three dogs, the star flower of Hawaii where we honeymooned, dunes and a dock and the state bird of South Carolina, where I was born and raised," said Elizabeth. Also on the tree skirt are ski slopes to represent Colorado, where they have a family house, along with reindeer holding packages with everyone's names on it.
"It is just a neat thing to pull out each year and explain to children what each part represents," said Elizabeth. "Family traditions have always been important to me. There is something so fulfilling about looking forward to the same things each year."
Want more buzz like this? Sign up for our Morning Buzz emails.
To leave a comment, please log in or create an account with The Buzz Magazines, Disqus, Facebook, or Twitter. Or you may post as a guest.