Collaborate and Create
Women in visual and literary arts inspire each other
Click the Buzz Me button to receive email notifications when this writer publishes a new article or a new article in this column is published.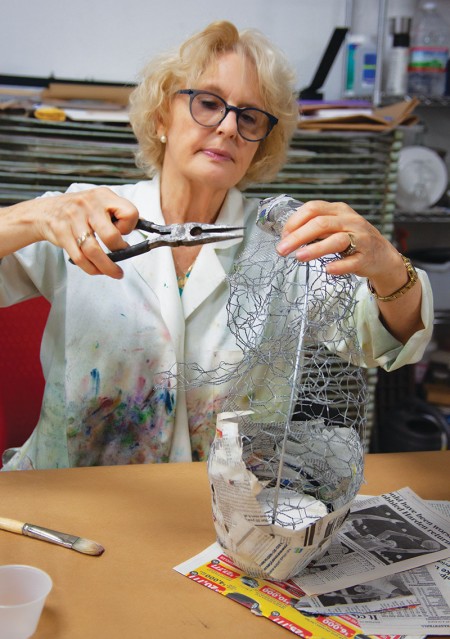 Playwright Kay McStay and artist Judith Shamp met for tea over several months and talked about the meaning of compassion. McStay brought definitions of the word from the major religions. Shamp shared newspaper pictures of refugees.
Inspired by their conversations, McStay wrote a play about compassion, while Shamp created art using paper, cloth, ink and paints. "We got deep and emotional with each other," says McStay. "Judy really inspired me."
During early meetings, McStay jotted down words and phrases – refugees with baggage, circles, empathy. Then the two women spent hours in Shamp's home art studio. Surrounded by rolls of fabric, precious stones, beads and sewing machines, McStay gave feedback on her partner's work-in-progress.
"Seeing her piece helped me realize I was on the right track with mine," says McStay, who lives in the River Oaks area. "We really wanted our pieces to be about action. If you have compassion in your heart, you have to act. For me, these collaborations give me impetus and energy. It's a beautiful sharing."
McStay's play features two spouses or long-term friends – McStay keeps their identities ambiguous – struggling with bad news and anxiety and searching for hope. Shamp's artwork features silhouettes of refugees with their belongings on their backs. 
The women are among 19 pairs of female artists and writers in a project by the non-profit Women in the Visual and Literary Arts, or WiVLA. The art and excerpts of writing are now on virtual display on the Holocaust Museum Houston website. 
Sally Worthington and Maria Brown were another one of the pairs.
Worthington created a sculpture of a large figure with outstretched arms beckoning to smaller figures that represent the maimed, dispossessed, indigent and all those in need. The West University resident made her art out of plaster, papier-mâché, chicken wire and images found online, and then used her home oven to bake the figures.
Her collaboration partner, Maria Brown, made three of the smaller pieces and wrote, "I am you. I am your neighbor. We need to care for one another," in her piece.
"So, it wasn't, 'She wrote and I visualized,'" Worthingon says, "but a true collaboration. Making art can be a solitary pursuit. Meeting and collaborating with other artists opens you up to new ideas, techniques and the art of compromise."
In Bellaire, Mollie Gordon, an artist who is a psychiatrist at Baylor College of Medicine and medical director for the Anti-Human Trafficking Program, created a sculpture with an antique mirror from Goodwill, wood, milk, chalk paint, gold leaf and barbed wire.
Gordon's partner, Gail Plunkett, wrote about compassion: "Is it a human thing, or is it a whole-world thing? Or is it other-worldly? Could it be all of these at once?"
WiVLA was founded in 1994 by a group of women that include River Oaks-area novelist Karleen Koen. The women met at a women's networking event where most attendees worked in banking, business or law. They wanted a similar group that would support women artists and writers. 
"It came about because it's so darn lonely to make your living off of creativity," says Koen.
WiVLA hosts a monthly meeting – currently over Zoom – featuring artist and writer speakers. Past speakers have included Houston muralist Anat Ronen, the women behind Zine Fest Houston, and physician-mom crafters. There are also "Circle of Five" meetings. Five women sit in a circle and share their words and art – an excerpt from a novel-in-progress, a piece of jewelry, or quilt square. 
Each year, WiVLA gives $1,000 to a member who is an artist and another $1,000 to a member who is a writer. One artist installed a septic system so she could safely use special dyeing techniques. When McStay won, she took a trip to San Antonio to see the work of Mexican cement artist Dionicio Rodriguez for another play she's working on. Over the years, WiVLA has given out more than $44,000.
"Creativity in some ways is so single," says Koen. "You're so alone in it, and that means self-doubt. WiVLA is a place for women to see other women who are doing it. It's so much fun to watch women blossom in their creativity."
Editor's note: You can see the Compassion exhibit online at hmh.org. To join WiVLA, see wivla.org. Buzz writer Deborah Lynn Blumberg is a board member.  
Want more buzz like this? Sign up for our Morning Buzz emails.
To leave a comment, please log in or create an account with The Buzz Magazines, Disqus, Facebook, Twitter or Google+. Or you may post as a guest.