Passion for Polo: Horses, Mallets, Champagne and More
Click the Buzz Me button to receive email notifications when this writer publishes a new article or a new article in this column is published.
When someone says "polo," what word pops into your head? Water? Collared shirts? Marco? How about the sport? Yes, I'm talking about the kind of polo with horses and long-handled mallets. Saddle up and gallop on to read more about Houston's oldest sports franchise that you may not have known existed. 
One local polo player is Bellaire native Cara Kennedy, a recent graduate of Episcopal High School. Cara will compete in the handicap division of the upcoming 2020 Houston Women's Polo Championship at the Houston Polo Club, which draws competitors from around the world. 
From a young age, Cara had a special connection with horses. She began riding lessons when she was four years old and, starting in third grade, participated in hunter jumper competitions.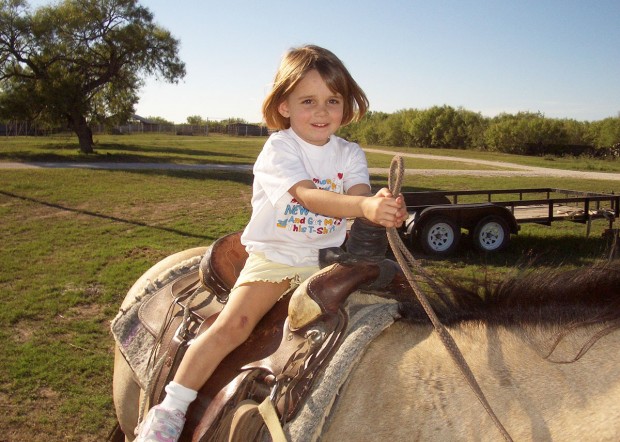 The summer after fifth grade, Cara met Joanie Jackson, a fellow happy camper at Camp Ozark. The girls were thrilled to discover that they both lived in Houston, loved horses and rode and jumped at some of the same places. 
Joanie, who attended Second Baptist School, mentioned that she was attending polo school in the fall and told Cara it would be fun if she joined, too. And as they say, the rest is history. 
Both girls clicked with polo from day one. The past seven years, Joanie and Cara have enjoyed learning the sport, competing together as polo teammates - including participating on the same team at the upcoming championship event - and celebrating some great wins, such as the 2019 Houston Women's Open Handicap. They look forward to participating in the 2020 US Open Women's Handicap this weekend. When it comes to playing polo, these girls don't horse around!
Cara said, "Usually, when I tell people I play polo they aren't familiar with the sport, so I explain that it's similar to field hockey or ice hockey… but on a horse." She said some of her favorite aspects of the sport include meeting people from all over the world, being around horses and she loves the game itself.
Now college freshmen, Cara and Joanie are thrilled to be on the Texas A & M Women's Polo Team. 
When she's not riding a horse, Cara keeps busy working toward her Chemical Engineering degree and practicing saying an Aggie-worthy, "Whoop!"
Kim and Dan Cooper are also big fans of polo and live near the Houston Polo Club. Kim shared, "We have been box holders for years and, every week, look forward to Sunday Polo. It's been especially great during Covid since it's outside. We enjoy taking friends and family, including our children Sara, Zach and Megan Cohen, Megan's husband Jay, and their 3-year-old daughter (and our well loved granddaughter), Caroline."
Kim explained a favorite polo tradition. "During half time of a match, spectators are invited to go onto the field to enjoy socializing and Champagne Divot Stomping. All the participants get a glass of champagne!"
Divot stomping helps smooth down the grass and dirt torn up by the horses' hooves. 
Cammie, Cara's mom, added, "Often, people who have never been to a polo game don't know what to expect. Some people do dress up, but jeans are fine, too. The matches are fun to watch and family friendly. The kids can look at horses and sometimes they even have bounce houses."
Polo is one of the oldest sports in recorded history. Today, women are the fastest-growing segment in polo in the United States, said Tammy Beeson, executive business director at the Houston Polo Club. She said, "Polo prides itself in being one of the only professional team sports whose handicap system has long enabled men and women to play together on the same field, at the highest levels. For the last 26 years, in the culmination of its fall season, Houston Polo Club has hosted the largest women's tournament in the world, the Houston Women's Polo Championship. This year is no exception with 102 women registered to play, the highest number of participants in the history of the tournament!" 
Twenty-seven teams will compete Nov. 10-15 with the final of the Texas Women's Open 16-20 goal match on Sunday, Nov. 15 at 1:30 p.m.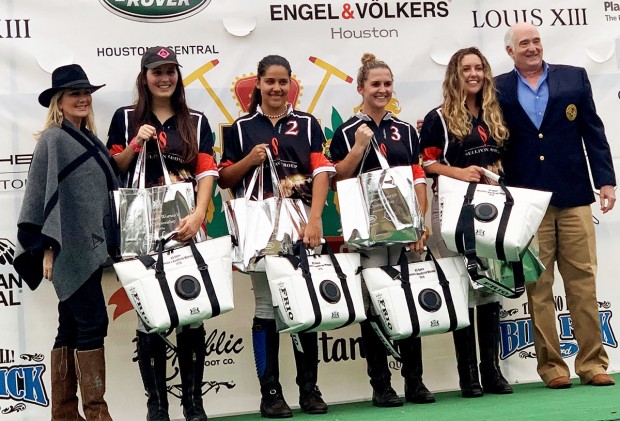 Last year, Cara and Joanie played on the BCI/Sullivan Group Team, which won the 2019 US Open Women's Handicap. They will be playing for the same team this November and are looking forward to defending their title at the 2020 US Open Women's Handicap. Find tickets here.
Polo Crash Course
If you're not familiar with polo, here are some basics: A polo match is divided into periods called chukkers. Each chukker lasts 7 and a half minutes. An outdoor polo playing field is 300 x 160 yards (about 10 acres or the size of 9 football fields!). Teams score by using a mallet to wallop a wooden ball between an opponent's goal posts. Players ride multiple horses during the game and use different length mallets based on the horse's height. Find more information about the sport here.
Want more buzz like this? Sign up for our Morning Buzz emails.
To leave a comment, please log in or create an account with The Buzz Magazines, Disqus, Facebook, Twitter or Google+. Or you may post as a guest.