Dry January
Festive drinks, minus alcohol
Click the Buzz Me button to receive email notifications when this writer publishes a new article or a new article in this column is published.
It all started with candy corn. Then came the sweet potatoes, then the ham, then all the cookies, then the peppermint bark. And right there next to it all, in the hands that weren't popping bourbon balls and cheese straws, were the cocktails.
It's time. Time for a reset. Because this year, more than ever before, we need a healthy start. That's why we are doing a Dry January (Drynuary, if you're one of those).
Dry January is a phenomenon that has grown in popularity over the past several years. The idea is that, as a way to kick off a new year in a healthy way, you'll abstain from drinking alcohol for a month. Some choose to take this a step farther, maybe doing a Whole30 (omitting alcohol, dairy, grains, sugar and legumes). But for many, just quitting the booze for a little while feels like enough to recalibrate and reset for the new year.
Dr. Stephanie Coulter is a longtime women's health advocate and assistant medical director and founding director of the Women's Center for Heart and Vascular Health at Texas Heart Institute. She says a dry January is a heart-healthy way to begin the new year.
"I'm all in," she says. "It'll help people lose weight, improve their sleep, reduce their risk for AFib [atrial fibrillation, a heart rhythm disturbance], reduce their risk for becoming diabetic. Brings down blood pressure. Holiday Heart Syndrome goes down."
[Holiday Heart Syndrome arrhythmia occurs when otherwise healthy people binge drink over the holidays. That's defined as men under 65 drinking more than five drinks in a day, and men over 65 and women drinking more than three drinks a day. A drink is defined as five ounces of wine, 12 ounces of beer or one and a half ounces of liquor.]
"You'll see benefits within the first few weeks," Dr. Coulter says. But what happens when you start drinking again?
"None of that Mardi Gras stuff, and I can say that because my family is from Louisiana," she advises. "You have to keep everything in perspective and moderation. If you're somewhere social where everyone is drinking, drink a water or a Coke every other drink."
In the meantime, our Dry January calls for drinks that feel a little more exciting than a glass of water or a Coke. Even during a dry run, we want to sip something festive. Some neighbors in-the-know graciously shared their ideas on how to create a little liquid sparkle in the midst of a Dry January.
Marcia Smart, proprietor of the website and cooking school Smart in the Kitchen, says she loves a January Whole30, which makes hers a Dry January. "It feels so good to reset," she says. "After the string of holidays, starting with Halloween and ending with New Year's, I am always ready for a reset in January. It clears the cobwebs and makes your thinking sharper, helps you sleep better, decreases cravings and, of course, helps you drop a handful of those extra holiday pounds. As long as I can continue to have my morning shot of espresso, I'm all in!"
Marcia likes a Paloma Mocktail: "Grapefruit is a winter fruit, so it's seasonal," she says. "I've also done a Kombucha Smash, with ginger kombucha, sparkling water, mint and a splash of pomegranate." Dry, but not boring. If you are adding a Whole30 to your Dry January, know that both of Marcia's recipes are compliant.
Marcia Smart's Paloma Mocktail
You can always add a splash of tequila (an ounce or two is perfect) to this cocktail, but it's refreshing and alcohol-free on its own.
¼ cup fresh grapefruit juice
1 Tablespoon fresh lime juice
1 teaspoon agave (omit for Whole30)
¼ cup club soda or sparkling water
Ice
Optional garnish: A small grapefruit or lime wedge or fresh mint or rosemary
Combine the grapefruit juice, lime juice and agave in a glass; stir until the agave is dissolved. Stir in sparkling water and add ice.
Place the grapefruit wedge, if using, on the rim of the glass and add a sprig of fresh mint or rosemary.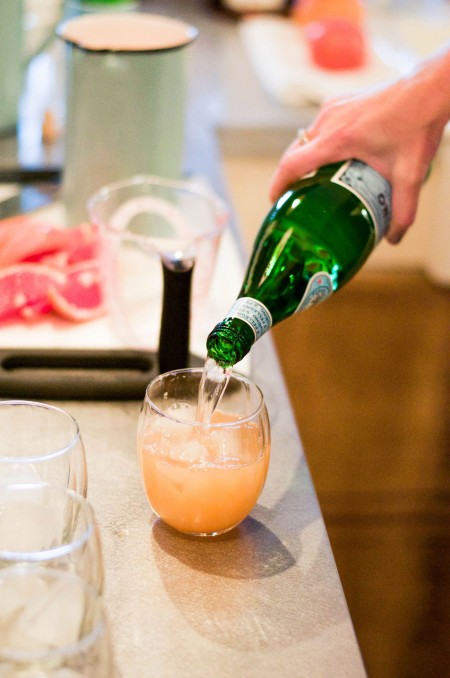 Marcia Smart's Kombucha Smash Mocktail
¼ cup ginger kombucha
¼ cup sparkling water
2 Tablespoons pomegranate or cranberry juice (Marcia uses "no sugar added")
Ice
Garnish: Lemon wedge and rosemary
Add the ingredients to a glass and stir. Garnish with a squeeze of lemon and a rosemary sprig.
Josh Saphier started bartending when he was at Suffolk University looking for a job to help with tuition. "I never anticipated it to be a career, but when I start a job, I go all into it," he says. "I fell in love with it. Ten years later, here I am, and it's become a passion versus a job."
Josh has been a mixologist in Boston, Los Angeles, Portland, Oregon, and now Houston, where he is the director of beverages at Eighteen36. Through a lot of what he calls "self-teaching," he's developed "cocktail programs" for restaurants and bars in each city, which means he builds their cocktail menus. He also consults, helping make bar buildouts bartender- and guest-friendly, and training staff. That's how he came to Houston.
"I was flying back and forth from Portland, helping Eighteen36 with their cocktail program and training, and by the third time, they offered me the position to run the bar." 
Josh says that Sobertober (sober October) and Dry January have become a trend. "People pick months without major holidays in them that would incline you to drink," he says. And after the holidays, kicking off with the Wednesday before Thanksgiving – the day that boasts the largest alcohol consumption of the year – is the perfect time.
Josh prefers the terms "zero-proof cocktails" and "free spirits" to "mocktails." "The name 'mocktail' can be seen to demean or mock the bartender or the drinker," he says. "Used to be, we would give you orange juice, cranberry juice, pineapple juice in a glass and call it good." Now, he and others are developing zero-proof cocktails that can be just as exciting as their alcoholic cousins.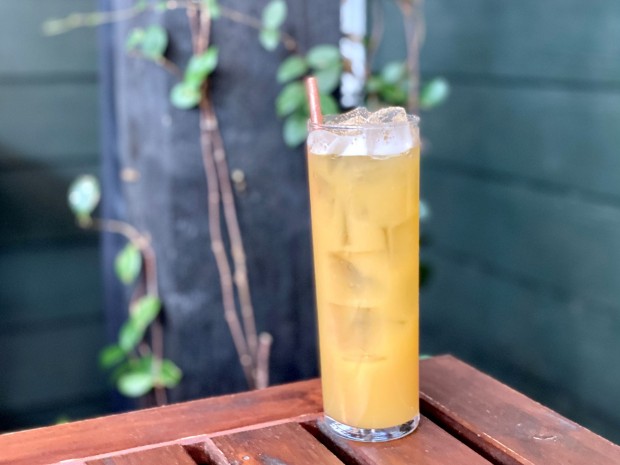 Josh Saphier's Grandma's House Zero-Proof Cocktail
For Eighteen36 and The Buzz Magazines 2½ ounces orange juice
½ ounce freshly squeezed lime juice
¾ ounce Honey Spice Syrup (recipe follows)
3 dashes Fee Brothers Aztec Chocolate Bitters
Ginger beer
Freshly grated nutmeg
Pour the orange juice, lime juice, Honey Spice Syrup and bitters into a shaker, and add ice. Shake for 30 seconds. Strain into a glass over fresh ice. Top with ginger beer, stir with a straw or spoon, and a sprinkle of nutmeg.
Honey Spice Syrup 1⅛ cup honey
½ cup plus 6 Tablespoons water
1 cinnamon stick
1 teaspoon ground cloves
Combine all ingredients in a small saucepan over medium heat. Simmer for 20 minutes. Strain.
Kelli Bunch worked as the personal chef to the late President George H.W. Bush and the late First Lady Barbara Bush, and she is the owner of KB Table, a catering and event-planning company. Kelli says she's always wanted to do a Dry January but has found it difficult in the past. "I have made it 17 days without a drink, and then I caved when I had an event or a tasting," she says. "It's hard! My way of winding down at the end of the day is having a glass of wine. It's a stress-reliever, and I look forward to that glass."
Still, she says, "I do know a lot of people talking about doing [a Dry January]."
Even though Kelli says mocktails never used to make the menus at restaurants or events, "now I have some go-tos for events. We make them up according to the season. We have gotten more friendly to the idea, and sometimes they look better than the actual cocktails!"
Kelli Bunch's Blackberry Mint Mocktail
12 ounces fresh blackberries, rinsed
⅓ cup fresh squeezed lemon juice
⅓ cup fresh squeezed lime juice
½ cup fresh squeezed orange juice
¼ cup simple syrup
½ cup mint leaves, chiffonade
Ice for serving
In a glass pitcher, mix together all of the ingredients. Pour into a martini shaker with ice and shake well, about 30 seconds. Pour into a glass over fresh ice and garnish with fresh mint sprigs.
Whatever you're looking forward to this January, be it a full-on Whole30, a two-week I'll give this Dry January thing a shot, or an I'll try these drinks, but I'm adding vodka, we wish you a happy, healthy start to 2021!
Want more buzz like this? Sign up for our Morning Buzz emails.
To leave a comment, please log in or create an account with The Buzz Magazines, Disqus, Facebook, Twitter or Google+. Or you may post as a guest.