Farewell, TaB: Nostalgic Soft Drink Discontinued
Click the Buzz Me button to receive email notifications when this writer publishes a new article or a new article in this column is published.
After 57 fantastic "How can one calorie taste so good?" years, the Coca-Cola Company recently announced the 2020 year-end retirement of the legendary hot pink Grand Dame of diet cola, TaB!   
A multitude of TaB's fellow retired '70s and '80s iconic brand stars sent their best wishes including caffeinated bad boys New Coke and Jolt Cola as well as minty-fresh-breath friends Certs and Freshen-Up Gum. All My Children's Erica Kane sent best wishes from her home in Pine Valley. Polaroid cameras are standing by to capture all the festivities during an Andre Cold Duck sparkling wine toast once TaB officially has her last moment on the grocery store shelves!
Coca-Cola's first-ever "diet" soft drink, TaB began its career in 1963 and was marketed to consumers who wanted to "keep tabs" on their weight. The successful one-calorie drink became the best-selling diet cola until the release of Diet Coke in 1982. At that point, TaB's sales declined but continued to have a loyal following over the years.
TaB paved the way for the "diets and lights category," Coca-Cola group director Kerri Kopp said in a statement. "If not for TaB, we wouldn't have Diet Coke or Coke Zero Sugar. TaB did its job."
For thousands of fans, TaB isn't just a diet soda in a fun pink can - it's also a nostalgic walk down memory lane. 
Take a sip of these local TaBaholics' memories and stories:
One anonymous Buzz neighbor laughed remembering her daily lunch at St. John's during high school in the '80s - a candy bar and a can of TaB.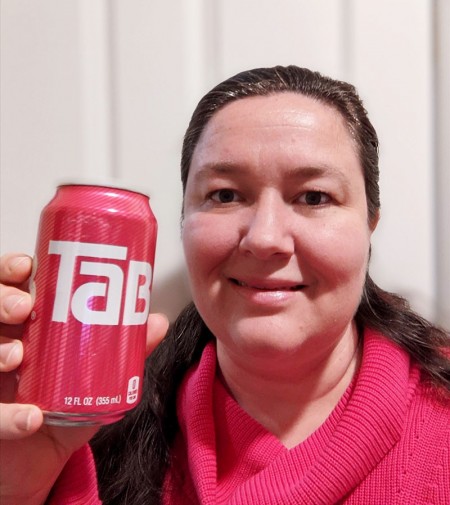 Marguerite Radhakrishnan explained her love of TaB: "Why do I like TaB? Partly because it's fun to drink it in public, see people do a double take and say they haven't seen that pink can since the '80s, of course! But also for the flavor. I don't have a huge sweet tooth, regular Coke tastes sickly-sweet to me, and even Coke Zero tastes a bit too sweet. TaB doesn't taste like it's trying to be imitation Coke; it's its own animal, striking me as tasting a bit more salty with pretty strong metallic overtones. I know that doesn't sound like a ringing endorsement, but it's what I like - it's what a dedicated group has long liked. I hope someone else manages to make something like it!"
For years, Marguerite could only find TaB in six-packs, but over the last few years, she started finding it in twelve-pack boxes and became hopeful that TaB would defy the frequent rumors of being discontinued. Marguerite added, "In early March this year, I bought out all the TaB they had at the store, as I did every few months, and that was the last time I saw it for sale. I have only one can left and I'm not sure when I'll bring myself to drink it." 
Julie Aronstein Malin said she vividly remembers her mom, Donna Frey Aronstein, drinking two to three TaBs a day. "TaB is a huge part of my brother, Scott Aronstein, and my special childhood memories. Our mom always had a TaB. It was just part of our life. If we went to the beach in Galveston, you always knew it would be in the cooler. It brought us comfort."
Julie doesn't share her mother's love for TaB, but she is true to Coke and the soda gene has continued with her daughter, Dana Malin, whose beverage of choice is Sprite. 
Jodie Huddleson's friends and relatives know she is a diehard TaB lover. Jodie's cousin Ellen Chandler, who lives in West University, called Jodie to offer her condolences when she heard TaB was being discontinued. 
Jodie has been drinking TaB since the '70s when she was dating her now-husband. Her future mother-in-law introduced her to the diet cola and Jodie has loved TaB ever since. 
For three decades, Jodie taught elementary school and her daily routine included drinking a TaB at 10 a.m. during recess and then another after lunch, usually carrying the pink can and taking sips all day long. Friends and family have been known to leave TaB "happies" on Jodie's porch if they see 12-packs at the store. 
"I'm sad they are no longer making TaB," Jodie shared. "There is nothing like a sip of TaB rolling down your throat on a hot day." 
Quench your "just one calorie" thirst with this catchy 1978 "TaB for Beautiful People" commercial.  
TaB, thanks for making us "feel like beautiful people" one hot pink can at a time. Here's a toast to all the memories! Cheers!
Want more buzz like this? Sign up for our Morning Buzz emails.
To leave a comment, please log in or create an account with The Buzz Magazines, Disqus, Facebook, Twitter or Google+. Or you may post as a guest.