January is for Ethiopian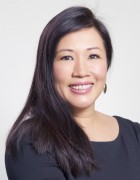 Click the Buzz Me button to receive email notifications when this writer publishes a new article or a new article in this column is published.
Every January, Eshetu Hailemarial feels homesick. Like many Ethiopian Orthodox Christians worldwide, he celebrates Christmas on January 7 in accordance with the old Julian calendar. There is no Santa Claus or gifts. Instead, he recalls magnificent processions and Masses with celebrants dressed in white garb while being led by church leaders holding elaborate, colorful umbrellas and wearing red-and-gold robes. 
Frankincense, myrrh and merriment waft across the crowd. "I can't even begin to describe how wonderful and beautiful Christmas is back home, or Ganna, as it is called in Ethiopia," says the 33-year-old father of two. 
Living in Houston, the restaurant owner and his family enjoy the benefits of celebrating Christmas in December and January. Hailemarial and brother-in-law Aman Awefa operate the cozy Bahel Ethiopian Mart & Dining in a nondescript shopping-strip mall on Chimney Rock near Bellaire Boulevard. Here, small groups of friends gather for fresh coffee in the main dining areas while homemakers scoop up bags of green coffee beans on the market side. In the kitchen, Hailemarial's wife, Uhana Asefa, busily prepares injera, a bread as thick as a Swedish pancake and as wide as a medium-size pizza. Injera is the heart and soul of every Ethiopian meal. 
Uhana works nonstop to make injera and braised doro wot with chicken for families to feast on Christmas Day. With the delights of the holidays still in the air, exploring Ethiopian food in January is fun. While the Ethiopian population in Houston is small, from 3,000 to 10,000 depending on whom you ask, the Ethiopian restaurant scene is vibrant. 
Several Ethiopian options have sprouted near the Gulfton area west of Bellaire and West University Place. Less than a half mile south of Bahel Ethiopian Mart & Dining are Nazareth Café and Sheger Ethiopian Restaurant. Go about four miles west, and you'll find Lucy Ethiopian Restaurant & Lounge, which is less than seven minutes from Horn of Africa. However, the grande dame of them all has to be Blue Nile Ethiopian Restaurant. 
A perennial favorite,  the 26-year-old Blue Nile has elicited heaps of praise for chef-owner Tina Ameblue, whose warmth, along with her dishes' flavorful depth, keep the wood beam-ceilinged space intimate. Here, surrounded by apricot-colored walls and colorful wide-bottomed woven baskets, guests can partake in a treasured tradition.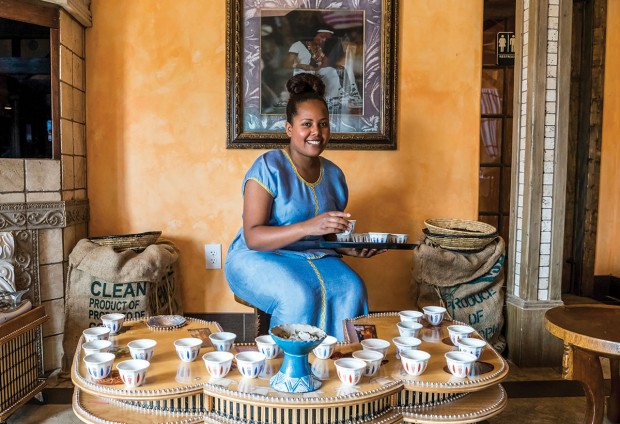 The coffee ceremony, or jebena buna, starts with the roasting of green beans. On the far-left corner near the faux fireplace at Blue Nile, a young woman is roasting green coffee beans over a propane fire. Typically, the beans are roasted in the kitchen, but for parties of 10 or more, it is demonstrated in the dining room.
The woman shifts a small pan back and forth to ensure even roasting. She eyes the beans closely to avoid burning them. As is customary in Ethiopian style, she roasts the beans to an espresso hue. Once the beans glisten with natural oil, the coffee is ready to be removed from the open fire and poured onto a mat to cool. 
Ethiopia calls itself the birthplace of coffee. According to legend, a ninth-century goat herder, Kaldi, noticed how lively his flock became after grazing on some round, red berries. He took the fruit to the local monastery, where the monks eyed the berries suspiciously until they ate a few and realized they helped them stay awake during prayers. Of course, this is one of many versions of the story. In the 15th century, coffee made its way to the Arabian Peninsula and Turkey, thanks to Arab traders, then to Europe in the 17th century. 
Several Ethiopian restaurants around town offer the coffee ceremony, but few are as elegant as Blue Nile's. After the beans are ground up, they are placed in a long-necked black-clay ceramic pot called  jebana. As the coffee steeps, steam rises from the top until black liquid bubbles up, signaling that it is almost ready. 
The piping-hot coffee pot then is placed on the kofmobelee jebana, or a chair of sorts that tilts the vessel at an angle to allow the coffee grounds to sink to the bottom. The Blue Nile waitress serves the coffee in diminutive cups and asks guests whether or not they would like sugar. A teaspoon of sugar is typical, she says. 
Owner Ameblue hands me a sprig of rue. Seeing my confused look, she instructs me to "first, smell it and then put it into the coffee." This was something new. The herb smelled strong and aromatic, almost like perfume. Ameblue says tena adam helps soothe upset stomachs and also removes bitterness from the coffee. 
Back at Bahel Ethiopian Mart & Dining, I saw a trio drinking coffee while snacking on popcorn and roasted barley, or kolo. "They will be here for hours," says the waitress, adding that the dreamy smell of burning frankincense, the lively conversation, and the buzz of high-octane caffeine make everyone more likely to linger. 
In the kitchen, a stew, known as wat or wot, simmers on the stove. Wot is made with lamb, but can be made with chicken, beef or a variety of vegetables. If an Ethiopian stew arrives brick-red in color, it likely was seasoned with berbere, a spice blend that includes medium-hot red chilies, cloves, cinnamon and cardamom. 
Berbere provides the zest and tang to a dish, and each family has its own secret recipe. The mixture is spicy, but not blisteringly hot, like its orange-colored cousin, mitmita, flavored with dried oregano and thyme. 
Bahel's chef, Uhana Asefa, started cooking at age 8 and recalls her mother teaching her the all-important lesson of portioning the chicken into 12 pieces. Doro wot made with berbere and long-simmering onions is referred to as the "queen of the festive table." Ethiopians eat lamb, goat and beef on a daily basis, but chicken stew is reserved for special occasions, like Christmas. The chicken is carved into exactly 12 pieces to represent Christ's 12 disciples. The national dish also comes with 12 hard-boiled eggs, which symbolize eternity.  
Another celebratory dish is kitfo, often described as Ethiopian-style steak tartare, topped with spicy butter and warm spices, such as cardamom. But honestly, its texture and taste are closer to delicate cheese than steak tartare. It is a favored dish, but one that most Ethiopians haven't been allowed to eat for the past month. 
The 40 days prior to Christmas on January 7 are observed with a vegan fast, which usually means one meal per day, in the afternoon or evening. The Nativity Fast prohibits meats, dairy and eggs, but it isn't the only time Ethiopians fast. Most of the population comprises Orthodox Christians, followed by Muslims. This translates to numerous days of fasting, and Ethiopians have mastered the art of flavorful vegetarian cooking out of necessity. 
Injera is a staple served at every meal. Typically, restaurants drape this spongy, mildly tart bread over a large platter, then pile vegetables and meat dishes on top. To eat, you tear off a bite-size piece of injera, then use it to scoop up the food. It's fun, but I always ask for a fork to help shovel my food onto the injera. 
Injera is considered an art form. Properly mixing the batter, made from teff flour, takes cooks many years to master. These days in the United States, most families are short on time and prefer to buy their injera, says Suzani Asmelash Grant, who owns the popular, upscale Lucy Ethiopian Restaurant & Lounge. To meet the growing demand for injera bread, she opened the Horn of Africa on Renwick. The quick-bite restaurant bakery sells about 150 bags of injera daily. During Christmastime in December and January, that number triples. 
Here are a few places to kick off your Ethiopian food adventure, including some suggestions on what to order. You'll rarely go wrong trying out the sampler vegetable plates available at almost all Ethiopian joints:
Blue Nile Ethiopian Restaurant (3030 Audley St.); bluenilerestaurant.com. Open since 1994, Blue Nile moved to its new location in River Oaks about two years ago. What to order: doro wot (chicken stew); yebeg alicha wot and yebeg key wot (lamb stews); and fish tibs, or No. 43 (cubes of fish simmered in a tomato sauce).
Bahel Ethiopian Food Mart & Dining (6509 Chimney Rock Road); bahelmart.com. Opened about three years ago, this tiny nook quickly expanded to include a cozy and colorful dining room that is right "Out of Africa." What to order: The veggie combo No. 2, with six kinds of vegetable dishes, or the veggie combo No. 3, which has 12. Bahel also serves a breakfast combo that allows you to sample traditional Ethiopian morning fare. 
Lucy Ethiopian Restaurant and Lounge (6800 Southwest Freeway); lucyhouston.com. The dining room glows invitingly under round crystal chandeliers. A friend described this attractive dining room as Ethiopian with a dash of Las Vegas. After 11 years cooking in a popular Amsterdam restaurant, owner Suzani Asmelash Grant worked as a blackjack dealer in Vegas before moving to Houston and opening Lucy, named in honor of the 3.2 million-year-old fossil skeleton found in Ethiopia and believed to be the ancestor of modern-day humans. What to order: fish cotelelt (deep-fried whole fish with awaze sauce); fish dullet (fried and shredded tilapia with spicy tomatoey sauce); and girgiro tibs (cubed lamb sauteed with onions and jalapeño).
Ethiopian-food glossary
Ayip – Homemade fresh cheese
Awaze – A spicy dipping sauce made with berbere and a honey wine, called tej
Berbere – A red chili-based spice blend
Gomen – Collard greens
Injera – A savory Ethiopian bread made from teff flour
Kifto – Raw, minced meat
Mekelesha – A spice blend of cinnamon, cloves, black pepper and cardamom
Mitmita – A fiery spice blend that includes oregano and thyme
Niter kibbeh – Spiced, clarified butter
Shiro – Chickpeas
Tibs – Either beef, chicken or lamb, cubed and sauteed
Wat/wot/wet – Stews or curries
Editor's note: Buzz dining columnist Dai Huynh is a James Beard food-journalism award winner and longtime Houston-based restaurant writer.
Want more buzz like this? Sign up for our Morning Buzz emails.
To leave a comment, please log in or create an account with The Buzz Magazines, Disqus, Facebook, Twitter or Google+. Or you may post as a guest.