A Tale of Four Canines
When dogs and Covid foster friendship
Click the Buzz Me button to receive email notifications when this writer publishes a new article or a new article in this column is published.
If there's one conspiracy theory that Carol Winograd were to advocate for, it's this one: The coronavirus was invented by dogs.
"So they could have their owners home all the time," Carol explains with a laugh. "They're the ones who have benefitted the most from this."
Harry and Penny, two mutts from the same litter, would likely agree with Carol's assessment. From the corner of Teas Street and Avenue B, Harry and Penny spot – or smell – their best friends Sadie and Gabby, who are sniffing the ground on the opposite end of the block in Bellaire. As soon as the dogs sense their friends' presence, their owners swivel their heads right and left. If no cars are around, they let the leashes go, and the four dogs are off.
The mutts sprint toward each other like they are racing to meet their long-lost lovers. It's like a cheesy scene from a romance movie, only much better because the protagonists are endearing dogs instead of us flawed humans. Within seconds, the pups have each covered nearly 500 feet of ground and are united, tails wagging vigorously. They scurry around each other in circles, sniffing each other's behinds and playfully tugging on each other's legs.
This exuberant encounter is not a one-time occurrence. During the pandemic, it has been happening nearly every other day, offering a welcome distraction and sense of joy to onlookers. It happens so frequently, in fact, that residents on Teas Street all seem to know that Harry and Penny are inseparable from Sadie and Gabby.
"We'll be walking down Teas Street, and the neighbors will see we have a bottle of wine," says Gigi White, dog mom to Gabby and Sadie. "They'll say, 'Oh, you're going to see the puppies.'" 
This dog family – Sadie and Gabby, plus Harry and Penny – is a motley crew. All four dogs were adopted from the Houston SPCA, and none look alike. Harry and Penny are siblings, but even they are dissimilar in both personality and appearance. Harry, who Sandy Twyman describes as "more chill and independent," looks like a Shih Tzu – white and furry with floppy ears. His sister Penny, meanwhile, has short brown hair like a dachshund and ears like a chihuahua. Sadie and Gabby are each a blend of at least three different breeds, including terrier, Dalmatian, border collie and chihuahua.
This mixed-breed family started to form before Covid-19 even existed. It can be traced back to December 2018, when a 6-pound pregnant poodle mix named Calli arrived at the Houston SPCA, the city's largest animal-protection agency. Calli, who has fluffy, apricot-colored fur, was seized because her owner was not providing proper housing and medical care. She gave birth to three puppies on Jan. 11, 2019, and a week later, Carol Winograd brought the newborn puppies and mom Calli to her home for foster care.
Over the next five weeks, Carol watched in awe as Calli cared for her puppies' needs, feeding them, cleaning them and providing them with care and comfort. "It's like, you watch one of those nature shows on TV, but it was happening right in my house," says Carol, a retired dentist in Bellaire. "I learned a lot and had a lot more respect for what these dogs go through because it's a lot of work." 
As a foster pet parent, Carol's role is to temporarily care for animals who are not yet ready for adoption. In this case, Calli would be adoptable after the puppies weaned off of her, and the puppies had to reach a specified weight to be spayed or neutered prior to adoption. After five weeks, Calli was adopted by a family in West U, while the puppies continued to grow.
When Carol went out of town, the three puppies moved over to a new foster pet parent, Gigi White. That's where the dog family began to form. For the next several weeks, the three puppies stayed at Gigi's house, all the while enjoying the company of Gigi's own dogs, Sadie and Gabby.
"They're kind of funny in how they'll play together," Gigi says. "One hears something and barks and heads in that direction, and then all of them will have to go in that direction."
Once the puppies finally hit 4 pounds, they were ready for adoption. Gigi's friend Sandy Twyman had already claimed two of the pups, which her daughter almost immediately named Harry and Penny, and the third, Teddy, went to another Bellaire family.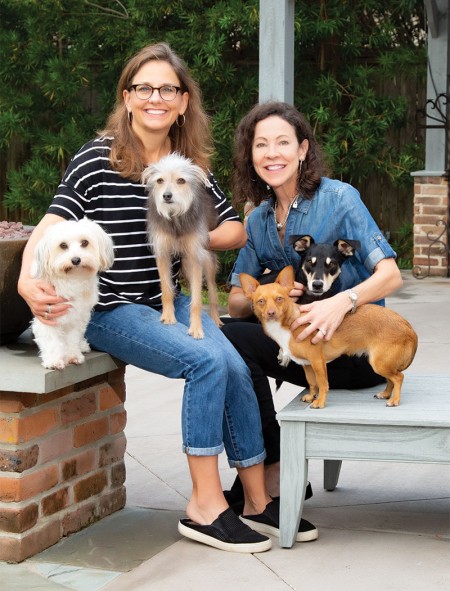 The dogs quickly settled in with their new owners, discovering where the treats were kept and learning to lure their owners into giving them extra pats on the head. While the dogs occasionally ran into friends Gabby and Sadie on walks, they mostly stayed in the comfort of their own homes. But as with everything else, all of this changed when Covid-19 forced everyone to restructure their lives. All of a sudden, people were walking their dogs more than ever, and at all hours of the day.
"We'd be walking in the middle of the day because you couldn't do anything else," said Sandy. "You were stuck at home."
As the pandemic wore on and weeks of quarantine turned to months of quarantine with no end in sight, Sandy and Gigi found themselves running into each other on walks more often than not. Sometimes they'd run into Teddy's family, too. The dogs were always thrilled to reunite with their old friends, playing out that scene of long-lost lovers meeting each other. In the middle of the street, Penny would plop down and roll over on her back, trying to get Sadie's attention. Gabby would take Harry's leg and start to tug.
Sandy and Gigi eventually decided to start coordinating their walks.  "We finally said, well, we're always together. We might as well play cards and have the dogs come over and play together," Sandy said. "So we'd just sit in the backyard and play cards and drink wine. We did that a lot."
Sandy and Gigi's husbands, Jerel Twyman and Brad White, would join in, too, playing guys vs. gals in games of bocce ball, dominoes, spades and hearts, while the dogs played together in the yard. Eventually, the couples formed what they call a "germ bubble," choosing to not wear masks around each other. Even now, the Twymans and the Whites continue to see each other about four times a week, sometimes binging a Netflix series, other times eating dinner together – always with their dogs in tow. 
"You can't take your dog to other people's house usually, but we can," Gigi says.
Both families credit their dogs and their friendship with making a mentally exhausting year a bit more bearable.
"I can't imagine if it was just my husband and I sitting here looking at each other," says Gigi. "I know there are so many people who are so isolated, and there are older people in homes who can't see their kids and families and it's so lonely. I feel very blessed that I don't have that." 
Perhaps because of this very loneliness, pet fosters and adoptions have soared nationwide over the past few months. According to BARC Animal Shelter, the city shelter in Houston that coordinates with a variety of rescue groups, the number of fosters has increased by 18 percent during the Covid-19 pandemic. Carol Winograd might use this fact as fodder for her conspiracy theory that the canines started the virus. They are, after all, benefitting from fosters who help find them new forever homes. But even if the pets are the winners in a practical sense, the humans receive the joy of their company. Carol will be the first to admit this.
"It's very time consuming, but they just bring so much joy to the house," Carol says. "Dogs give you all of this unconditional love. And who doesn't need more of that in their lives?" 
So you want to help pets?
Here's a list of local non-profit organizations with pet-foster programs. Foster-pet parents typically provide a temporary, loving home to pets who are not yet adoption-ready.
ADORE (All Dogs Official Rescue Enterprise) Houston: [email protected]
BARC Animal Shelter: [email protected], 713-229-7300
Friends for Life Animal Shelter: [email protected], 713-863-9835
Harris County Animal Shelter: [email protected], 281-999-3191
Homeless and Orphaned Pets and Endeavor: [email protected], 713-622-4673
Houston Humane Society: [email protected], 713-341-3318
Houston Pets Alive: [email protected] or [email protected], 832-786-9310
Houston SPCA: [email protected], 713-869-7222 ext. 121
K-9 Angels Rescue: [email protected]
Pup Squad Animal Rescue: [email protected]
Rescued Pets Movement: [email protected]
Want more buzz like this? Sign up for our Morning Buzz emails.
To leave a comment, please log in or create an account with The Buzz Magazines, Disqus, Facebook, Twitter or Google+. Or you may post as a guest.