Their happy places
Click the Buzz Me button to receive email notifications when this writer publishes a new article or a new article in this column is published.
For Terrie Hogan Turner, it's Villa Ercolano in a tiny village in Italy with the big name of "Città di Castello," or City of the Castle. For Ruth Peters and daughter Gayle Christie, it's the family farm in rural Kansas. For the Fisher family, it's Walt Disney World. For Carol Simon, it's Rosemary Beach, Fla. – and her own studio. For Virginia Mampre, it changes day by day. And for Stephen Fadem, it's no further than the balcony of his own River Oaks home.
Most of us have a place we like to go for peace and tranquility, to reflect and do what we most like to do, or to just get away from it all. Especially in these trying times, that Happy Place can mean more than ever. So we reached out to readers to ask them to share with us a little bit about their Happy Places, so that you can enjoy a little virtual travel with them.
Terrie worked for years in the retail fashion business, so Italy has always been a mecca for her. When she married Mike Turner in 2004, the couple honeymooned in Umbria, a region in Central Italy known for its deep green forests, truffles, wine, hilltop villages and classic cuisine.
"Something about it awakens all my senses," Terrie says. "It's beautiful – you can smell the lavender and jasmine, hear the birds singing and the bees buzzing, and then you're cooking … every sense is just highlighted when you're there."
That's when she first started thinking of buying a place there.
"We got to know a lot of the people in the area," she explained. "Oh my gosh – they are just so friendly! We were there for three weeks, and when it came time to go, they invited us to a restaurant and all the people we had met, they all came to say goodbye to us – they turned it into a little party."
Thirteen years ago Terrie found Villa Ercolano, an 800-year-old home at the top of a hill with a 360-degree view that took her breath away. It had some olive trees, wisteria and an amazing view, everything she had dreamed of. She loved it instantly, and she and Mike have been going ever since. 
"There's a serenity that's automatic; even though I've been coming to Villa Ercolano for 13 years, every time I come, I'm still astounded at the view – it's not like I'm ever tired of it. Sunsets are incredible, none are ever the same; I'm taking what is the same picture over and over again, but it always looks different – there's a different glow, a different color, a different magnificence or magic."
What especially appeals to her is the Italian respect for nature. Instead of using pesticides to protect their precious olive groves from a destructive pest, they use a solution of water, sugar and wine in homemade plastic bottle dispensers. The fly drinks the solution, gets drunk, falls in and drowns.
"That's their solution," said Terrie. "One year it was a very serious problem, and they thought all of the olives would be ruined. And so I was laughing and saying, 'Isn't there some kind of chemical you can use?' and they would say, 'Oh, no, that would hurt the Earth, and it's not good for the people, either.'"
Gayle Christie and her amazing 101-year-old mother, Ruth Peters, say their Happy Place is much closer to home – the home of Gayle's childhood, that is, in Ellinwood, Kansas. The Peters family farm has been in the family since 1882, when it was homesteaded by Gayle's great-great grandfather. Gayle's grandfather went on to discover oil on their land, which shifted the family's destiny on many levels – but there's still no place like home.
The house and barn were built in 1920 by Gayle's talented grandfather, while she and her mother completely remodeled the elegant, stone, ranch-style house and landscaped the grounds with a peaceful lily pond and a relaxing waterfall. They also had a pond constructed and surrounded by graceful willow trees and stately pines. It includes a gazebo on an island connected by a Monet-style bridge.
"We have several gardens, complete with butterflies and hummingbirds in season," wrote Gayle from her Kansas refuge. "Our rescue animals – three horses, 18 cats and three dogs – are happy and content from love, hugs and lots of yummy treats!"
Rachel Fisher and her family's Happy Place is at the opposite end of the spectrum. You might think that Walt Disney World in Orlando, Fla., is not the place to be during a pandemic. The Fishers, annual passholders who recently returned for the first time since the crisis began, would beg to differ.
"It was definitely different, but still magical," wrote Rachel, who works as a communications specialist at St. Luke's United Methodist Church. "Disney is doing LOTS of things to keep people safe… I always say, Disney is the most controlled environment in the free world … haha."
For one thing, proper face masks are required to be worn properly at all times, Rachel reported – even on rides – except while eating or drinking in a stationary, socially distanced spot. The other major protocol is that every ride queue has markers spaced six feet apart. Each party is supposed to stand on the markers throughout the line, so you're always a safe distance away from the people in front of and behind you. Once on the attraction, ride vehicles have plexiglass separating seats, or Disney keeps rows in between parties empty.
Cast members (Disney employees) were very good about enforcing these protocols, according to Rachel, specifically in asking people to pull up their masks if they saw them below their noses. There are also frequent announcements made in the parks about the safety procedures and that guests will be asked to leave if they do not comply.
There were no nighttime fireworks, few options for live entertainment, and no parades at the time of the Fishers' visit. Instead, Disney has "Character Cavalcades," which are unscheduled appearances by characters and entertainers that basically follow the parade route with much less hoopla (and no guest interaction other than waving) in order to discourage crowds.
"I would say, personally, we felt safe the majority of the time," said Rachel. "The only times we were made uneasy were due to other guests not observing the rules, in which case we usually asked them to please pull up their masks or give us more space in line."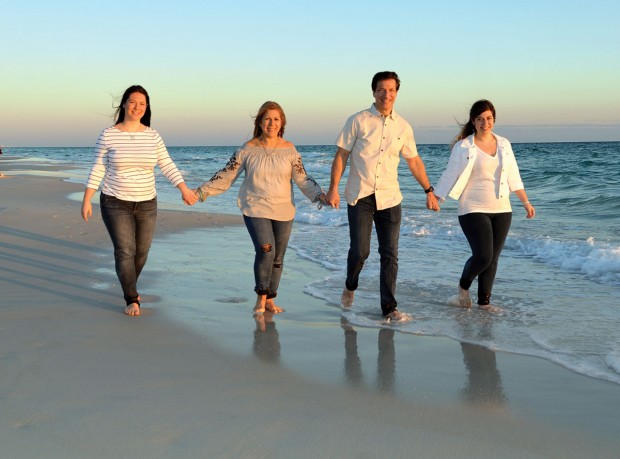 Mixed-media artist Carol Simon heads for Florida as well when she wants a break from her downtown studio, her Houston Happy Place – but she goes straight for the coast, to Rosemary Beach. There, in an idyllic seaside planned community, she paints to her heart's content, swirling mixed media paintings like a seagull's-eye view of the beach. Along the Florida Panhandle on scenic State Road 30A, the village boasts sugar-white sand and green-blue, crystalline waters like no other.
"The colors of the water speak to me a lot," said Carol.
Carol and husband Ken went to Rosemary Beach about six years ago for Thanksgiving and fell in love with the place. They ended up buying a second home there, and usually go six to eight times a year.
"It's like a community of people, a planned community, like the New Urbanism… Not like a beachfront property, where you have to walk to the beach. There's a whole town square where you can eat fabulous foods; there are boutique shops, coffee shops – everyone rides bicycles that you either rent or, if you own a house, you have your own. Everyone's out with their dogs – it's just like Mayberry R.F.D."
Stephen Fadem, a physician and photographer who takes his camera on the road with him everywhere he goes, had many plans for travel last year – Morocco, Portugal, Spain, Italy and some national parks around the United States. Like many people, he put them all on the shelf for the pandemic. Thankfully, his home is blessed with a balcony that has an unobstructed view of the Houston skyline, and it's been one of his biggest consolations.
"The only place I had to take pictures of was Houston," he said. "The beauty of that is that it's always changing.
"Some people keep a loaded gun around; I keep a loaded camera around, and when I see something cool, I take a picture."
On Halloween night, as he prepared to leave with his wife Joyce, she said, "Wow! Look at the moon!"
He grabbed his camera, and the result was stunning: a gorgeous blue moon coming up behind the skyscrapers. "That's going to be one of my treasures," he said.
"It's really interesting to see how the personality of a city changes hour to hour," he said. "One minute you can have this gorgeous red sunrise, the next minute you can have storm clouds, and it's really angry. And then the next minute it's a dark innocent sky with a full moon, and then the next time you look it's trucks starting to go to work and another brilliant sunrise."
Editor's note: Buzz travel columnist Tracy L. Barnett is a Lowell Thomas travel journalism award winner and longtime travel and environmental writer. Email her at [email protected] to share your own travel tales.
Want more buzz like this? Sign up for our Morning Buzz emails.
To leave a comment, please log in or create an account with The Buzz Magazines, Disqus, Facebook, or Twitter. Or you may post as a guest.