Beginning Again
A story of love and loss – and love
Click the Buzz Me button to receive email notifications when this writer publishes a new article or a new article in this column is published.
When it comes to matters of the heart, sometimes what feels like the end of the world turns out to be the beginning of something wonderful. For Jamie Broach Byrd and her husband of five years, Jeff Byrd, there is nothing more true. 
Both Jamie, a retired attorney who coordinates special projects at St. Luke's United Methodist Church, and Jeff, a marketing executive for an energy company, lost their first spouses at very young ages. 
Jamie's first husband, James, was just shy of 38 when he passed away after a three-year fight with glioblastoma, a deadly form of brain cancer. Diagnosed when their youngest son was 1, James left Jamie with three little boys – Parker, Harrison, and Oliver.
Jeff's first wife, Melanie, had cystic fibrosis. She underwent a lung transplant in 2008 and suffered from chronic rejection. A second transplant in 2011 proved too much, and Melanie passed away that year at 32. She left Jeff with twin daughters, Lila and Jentry, who were less than a year old.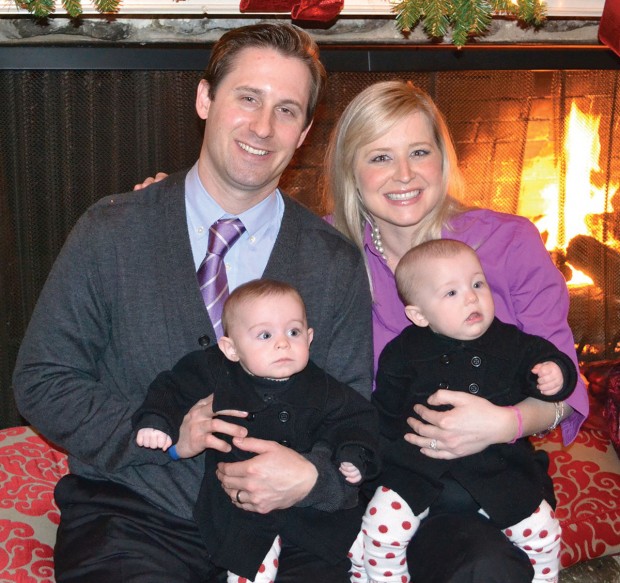 When Jamie had been single for a year and Jeff for almost three years, both decided it was time to begin dating. "I didn't know if I'd be married again," Jamie says, "but I thought it would be nice to have someone to do something fun with."
Jamie says she and Jeff shared a mutual friend who suggested the two connect. "They said, 'Yeah, y'all have the same story. You'll connect even if you're just making a new friend.' So Jeff asked me to coffee, and it all happened from there." 
When they met at Fellini in the Village, neither Jamie nor Jeff had dated in their adult lives. "Jeff and Melanie were high school sweethearts, and James and I met in college and dated all through grad school," Jamie says. "So neither of us had dated a whole ton of people to begin with. You forget what it's like to date."
"Obviously," Jeff says, "it's much different from what you recall when you were a teenager. We both had a better idea of what we wanted in a partner and what that would look like." 
"I kept telling myself I was just going to meet a friend," Jamie says.
Jeff is extroverted and loves meeting new people and coaching the kids' sports teams, while Jamie is more introverted and loves being with close friends, reading, and collecting art. But they both say the first-date chemistry was instant.
"A lot of what attracted us to one another was that our personal stories were so much alike," Jeff says. "We had years of being caretakers and understanding what each of us had been through. We just instantly connected."
"We stayed longer than we had planned," Jamie says. "I don't think I left that coffee saying, 'This is the guy I'm going to marry,' but I definitely left saying this is a person I really like and want to spend more time with."
Jeff remembers being impressed by Jamie, thinking she was a great mom and successful as an attorney. "We both went through difficult years and difficult times, and we had so much in common. The conversation was easy."
By then, fate had taken over. "He was the first person I talked to; we were each other's first date," Jamie says. "We went on this date and clicked and then married each other. I don't think that's the norm. God definitely had a hand in this."
Before meeting Jeff, Jamie had planned on waiting a year before introducing her boys to anyone new. But once they met, Jamie says she and Jeff "broke every rule we had given ourselves with those arbitrary timelines." They began dating in August, and by Christmas they had gotten together with all five children. Jeff's girls were 3, and Jamie's boys were 5, 6, and 8.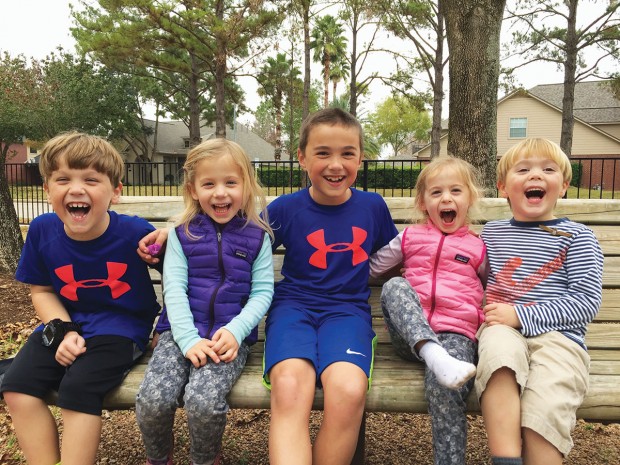 "We fell in love really early on, and we knew we were going to make a commitment," Jamie says. "I couldn't imagine marrying someone my children didn't like. I wanted to see him with his girls and how he parented. And because we were both single parents, but we weren't divorced with every other Wednesday and weekend free, we realized if we didn't include the kids, it was going to be hard to continue a relationship."
The soon-to-be family met at Jeff's and the girls' house in Katy. "We spent a couple hours at the neighborhood park, letting the kids play and feel it out," Jeff says. "We were both nervous and excited and hoping there would be no major meltdown."
"We knew enough about each other at that point that there were no big concerns," Jamie says, "but you're still nervous like, 'Oh my gosh what if this ends horribly and what if they hate each other.'" Of course, nobody hated anybody. "The boys were so sweet with the girls, and the girls loved the boys," Jamie says. She has a picture from that day – all of the children lined up on a slide – blown up and framed in the family's home.
Jamie and Jeff dated for a year before marrying at the Hyatt Lost Pines, during the Bastrop wildfires and a tropical storm. "It was small, with just our closest friends and all of our kids and their friends' parents, who are our friends," Jamie says. "It was as much about the kids as it was about us." Jeff remembers a massive candy bar, and Jamie says there were more kids on the dance floor than adults.
Five years later, "we have moody teenagers and preteen girls," Jamie says. "At any moment, someone is fighting around here." Still, "we pinch ourselves," she says. "It helps that I had boys, and he had girls because the boys wanted a dad, and the girls wanted a mom, and they stack up in age. As well as families can blend, ours really have."
Now, the boys call Jeff "Dad," and the girls call Jamie "Mom." All of them are athletic, and between baseball and lacrosse and Eagle Scout certification and violin and piano and school, the family is active and busy. All five kids make As; Lila, Jentry, and Oliver attend Mark Twain Elementary, and Parker and Harrison go to Pin Oak Middle School and graduated from West U Elementary. "At least for other people," Jamie adds, "they are all well-behaved."
"That's probably why blending has been as easy as it has," Jeff says.
Jamie's only semi-complaint: "I wish they would do their chores without grumbling more."
In the midst of the chaos, Jamie and Jeff make a point to schedule dates at least once a week. "It might be a breakfast, a lunch, a dinner," Jeff says. 
"Or a walk," Jamie adds. "Sometimes I feel like Jeff and I need a date in our car, just driving back and forth to all the activities. Our dating life really is dependent on sports schedules. When one season winds down and before another starts, we'll date a lot."
Parker is now 14, Harrison is 13, Oliver 11, and Lila and Jentry are 9. "Now we have a built-in babysitter with the almost-high-schooler," Jamie says. That means more freedom for a favorite date night: listening to live music at White Oak, The Heights Theater, or House of Blues.
Melanie and James are always in their hearts. "It's important for them to know they have these other parents who loved them tremendously," Jamie says. "We celebrate them all the time and help the kids feel as connected as they can."
Every year, the family celebrates their late mother's and father's birthdays with Melanie's favorite Chinese food and strawberry cake in her memory and James' favorite wings at Wingstop and Dessert Gallery's Big O cake in his memory.
"Really," Jamie says, "James' favorite was key lime pie. But he knew the boys hated it, so he always got the Big O cake. One of these years I might bust out with the key lime pie."
Want more buzz like this? Sign up for our Morning Buzz emails.
To leave a comment, please log in or create an account with The Buzz Magazines, Disqus, Facebook, Twitter or Google+. Or you may post as a guest.