Lifelong Valentines Renewing and I Do-ing
Click the Buzz Me button to receive email notifications when this writer publishes a new article or a new article in this column is published.
These Buzz sweethearts share romantic and fun ways they have vowed to keep saying "I Do".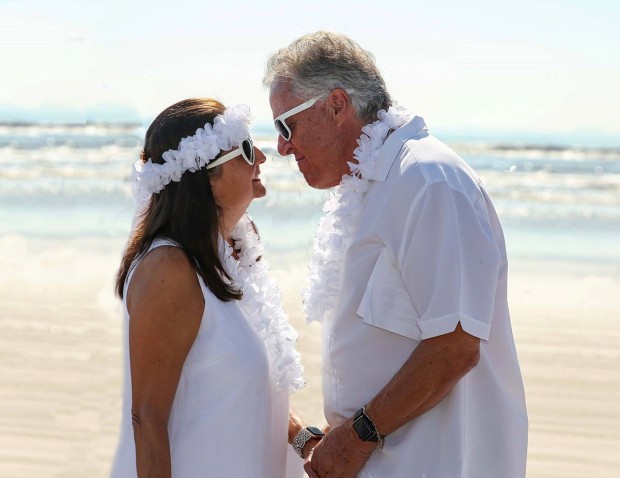 Michael and Melinda Wilhelm are vow renewal professionals. There was the private vow exchange at the Transco Waterwall, the Hawaiian ceremony on Kalapaki Beach, and the group renewal on an Italian cruise.  
"It was a beautiful ceremony with about twenty other couples," Melinda recalled. "Everything was in Italian, but the priest spoke English and translated at the most important times."  
Perhaps the world-traveling lovebirds' most exotic and memorable vow renewal happened this past fall. With sand between their toes and the Gulf of Mexico as their backdrop, Michael, Melinda and 19 other giddy couples renewed their vows on Surfside Beach.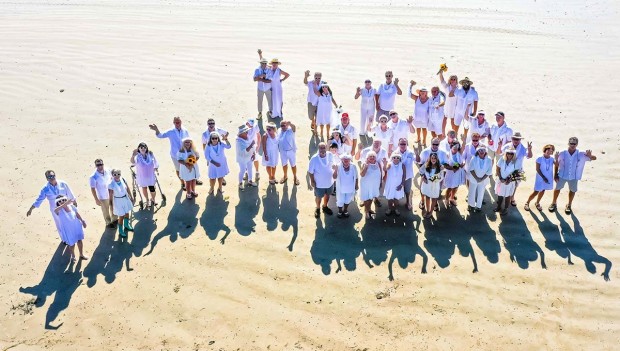 "Everyone was excited to be outside after being cooped up with COVID since March," Melinda shared. "Before we knew it, our vow renewal turned into a white party with everyone wearing white. We invited all the couples to participate. I think over 20 couples ended up renewing their vows."
Melinda's childhood friend, Alma Connor and husband Tim, were one of the couples. 
"I was excited when Melinda and Michael planned their anniversary beachfront vow renewal, and we were touched that they invited friends to participate," said Alma. "The celebration was lovely and the minister's blessing made it extra special. Whether you've been married a few or many years—renewing your vows is a reminder that just like the ocean we stood in front of, our years together will ebb and flow like the tide and weather any storm that may come through."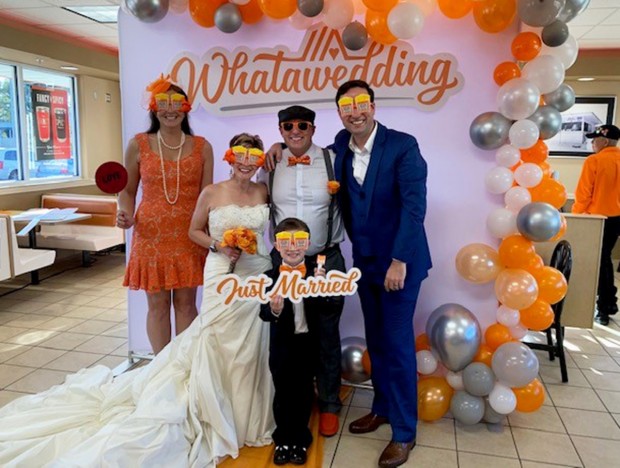 Polly and Lane Looper met on match.com in 2005 and started dating long distance as Polly lived near Green Bay, Wisconsin and Lane was in Houston. They married in 2010, and Polly moved to Texas. 
The Loopers hoped to do something fun for their 10-year anniversary, but they hadn't made any plans. Polly entered a Whataburger Valentines Day vow renewal contest. As hamburger fate would have it, she got picked!
"Our family tends to do things big, and this was no different," Polly shared. "It was fun finding orange accessories and having our son, Trace, with us. We had an absolute blast! Although a fun, cheeky way to renew - we were also renewed in our faith and our marriage. No doubt that has helped us endure and stay focused on what is important - our family."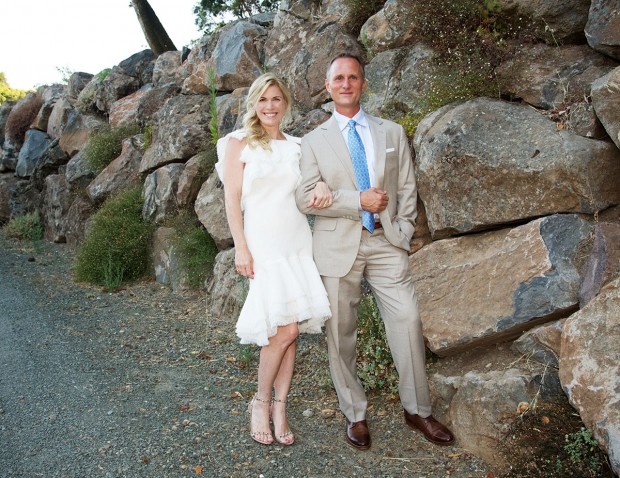 On their 20th anniversary, Bradley Sinor told his wife, Sherry, he was taking her out for a special surprise. 
"We ended up at a department store, with a huge walk-in dressing area lined with white dresses and shoes," Sherry revealed. "I was speechless. Bradley handed me a glass of bubbles and a card that asked if I would marry him again. I said, 'Yes!  Of course!' Then he left. The sales lady appeared and said 'Let's find you a dress!'" 
 
The surprises continued with the couple flying to Napa and staying at a villa. The next day Sherry got ready upstairs with a hair and makeup glam squad. Bradley waited at the bottom of the steps. And unbeknownst to Sherry, there was also a minister and photographer there.
"I think a vow renewal can be grand or small, but it's the message that matters," Sherry said. "We are thrown curveballs throughout life. Renewing your vows brings it back to the beginning. To the two of you and says, 'I'd do this again with you.'" 
In 2004, John and Suzanne Shelby "Viva, Viva, Las Vegas-ed" for their 10th anniversary.  
"We had the best time celebrating at the Little White Chapel in Vegas having Elvis sing 'Love me Tender' and 'Blue Suede Shoes' to us," Suzanne shared.
Both sets of parents, Vic and Cherry Corman and Carolyn and Herman Shelby, were celebrating their 40th anniversaries, so they joined in the fun. 
Suzanne smiled, "We had the giggles the whole time." 
People in this article:
Michael Wilhem
,
Melinda Wilhelm
,
Alma Connor
,
Tim Connor
,
Polly Looper
,
Lane Looper
,
Trace Looper
,
Bradley Sinor
,
Sherry Sinor
,
John shelby
,
Suzanne Shelby
,
Vic Corman
,
Cherry Corman
,
Carolyn Shelby
,
Herman Shelby
,
Donny Farmer
,
Darla Farmer
,
Sean Robertson
,
Christine Robertson
,
D. George Taylor
,
Debbie Taylor
,
JJ Plunkett
,
Lori Plunkett
,
Steven Forrester
,
Shannon Pierce
,
Chuck Chalifoux
,
Jan Chalifoux
,
Rich Lartigue
,
Molly Lartigue
,
Doug Fees
,
Joyce Fees
,
Mark Hollas
,
Carol Hollas
,
Gregg Bisso
,
Beverly Bisso
,
Bill Aust
,
Darlene Aust
,
Richard Dee
,
Tracy Lou
,
Bobby Herbert
,
Karen Herbert
,
David Whitley
,
Patti Whitley
,
Jeff Loock
,
Teresa Loock
,
Oscar Jalifi
,
Shelah Jalifi
,
Jimmy McPartland
,
Pam McPartland
,
Larry Vehar
,
Carol Vehar
,
Ken Friesen
,
Debbie Friesen
,
Stephanie Parrish
,
Zach Parrish
,
Shelly Young
,
Gary Young
Want more buzz like this? Sign up for our Morning Buzz emails.
To leave a comment, please log in or create an account with The Buzz Magazines, Disqus, Facebook, Twitter or Google+. Or you may post as a guest.