Herding Cats
And meeting lovely neighbors
Click the Buzz Me button to receive email notifications when this writer publishes a new article or a new article in this column is published.
This is a story about a musician who sees sound as color, a colony of cats, a dog named Peanut, and neighbors who found each other. 
Robbie Parrish isn't a typical West U neighbor. On a street lined mostly with big, recently built homes, Robbie lives in an original bungalow – the home where he was born – that his parents kept as a rental house after they moved to Meyerland. Robbie is an artist in a sea of doctors and lawyers, a musician with synesthesia (meaning he sees specific colors for specific sounds).
Being a synesthete gives this eclectic, purple-loving artist an unusually precise tuning ability. He has tuned drums for the likes of Olivia Newton-John, Etta James, and Prince, and he is an accomplished drummer himself.
Also, Robbie is an animal lover. Which, last fall, led to a predicament.
That predicament involved a nanny down the street who years ago gave Robbie a cat to keep him company. That cat had babies just at the time Prince died, so Robbie named the kittens Mermalicious, Lickadaceous, and so on, all names he thought Prince would have approved. From there, over the course of several years, the original cat multiplied into 42 of them – all living in Robbie's West U garage last fall. In addition to being an unhealthy environment for the cats, the situation was unpleasant – and unacceptable – for neighbors.
At some point, Patrick Hughes, also an animal lover, walked by while walking his dog. "I noticed a couple of cats outside Robbie's house, and something just looked off," says the recent University of Colorado graduate who is living in the neighborhood with his parents. "I grew up with dogs and cats always around, and on Sundays when I was in Boulder I would go to the Humane Society and help out. So I knocked on Robbie's door."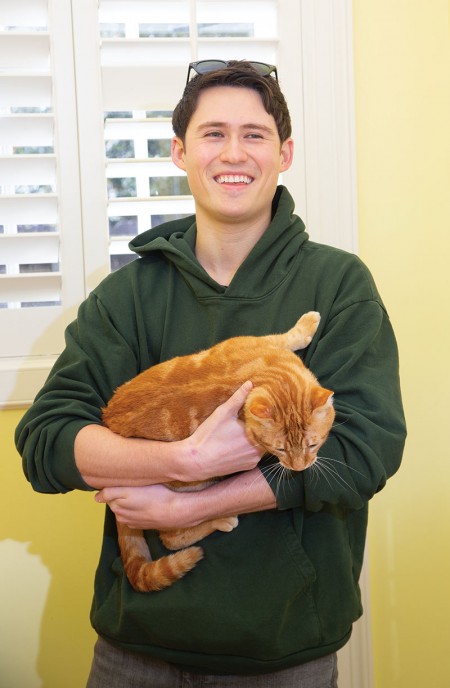 The two hadn't met before, but, as fate would have it, Patrick is a jazz drummer and had heard of Robbie. Robbie told Patrick he was having "an issue with a street cat problem."
"Patrick told me he was a volunteer with the Humane Society, and he offered to help," Robbie says. After their brief first meeting, Robbie wanted to accept Patrick's offer, but he didn't have Patrick's name or phone number. So Robbie left a note tacked to the front door of his West U bungalow. "I was trying to tell Patrick I'd like to find him."
That's when Barbara and Kevin Trautner, neighbors a block over, she an infectious disease specialist and he a lawyer, happened to walk by and read the note. "Barbara is a cat lover," Kevin says, "and I'm empathetic. We were worried about the cats."
Barbara called Robbie using the phone number he left on the note for Patrick. "I told her the story," he says, "that I was in trouble. People were not happy with the situation. I said, 'What would you think about calling Patrick and working together?'"
Robbie connected the Trautners and Patrick, also neighbors who had never met, and they teamed up. "Next thing I know, Barbara has her husband involved, and he and Patrick are running it like a business," Robbie says. "They're telling me we're going to rescue this many cats a day, and you can expect us at this time, and do not feed the cats except at this time. It's amazing what they turned this into."
That's not how things began. "We saw four or five kittens in Robbie's yard," Kevin says. "I thought there would be like four or five cats, and I ordered a cat trap off Amazon so that we could get them fixed. Little did we know, the house and garage were full of cats. It was a cat colony. I had never heard of a cat colony before, but if you adopt strays and don't get them spayed and neutered, they'll reproduce and build exponentially among themselves. It was a little overwhelming."
So they got to work. As Barbara puts it, "Kevin the lawyer put his organizational skills to full bore on the problem." 
Kevin and Patrick went to the city, who loaned them a couple more cat traps – large-ish cages that lure the cats in with wet cat food. "They love the wet cat food," Kevin says.
"Kevin and I started trapping the cats," Patrick says. "There were 42, including 17 kittens.
"I started looking at different nonprofits to see how to handle it. But I realized – I had never dealt with anything to this extent – there's not really an infrastructure or a one-stop shop to deal with stray cats and dogs. So Kevin and I would trap cats a few at a time and drive them to the low-cost vet to get spayed and neutered, and then they would have to heal at our homes."
Ethan Dearborn, a college student and nearby neighbor, pitched in to corral the cats at Patrick's house in order to socialize them. "Then we would go back to Robbie's place," Patrick says, "release them there, and contact the nonprofits to make deals for them to come in and take four or five at a time.
"It took a while to get everybody, but all the adults have been spayed or neutered, and they all have their shots."
The neighbors nearest Robbie's house got together to cover the costs of the cat surgeries. To mobilize the process, Patrick set up a GoFundMe account, which raised thousands of dollars to spay, neuter, immunize, and feed the cats.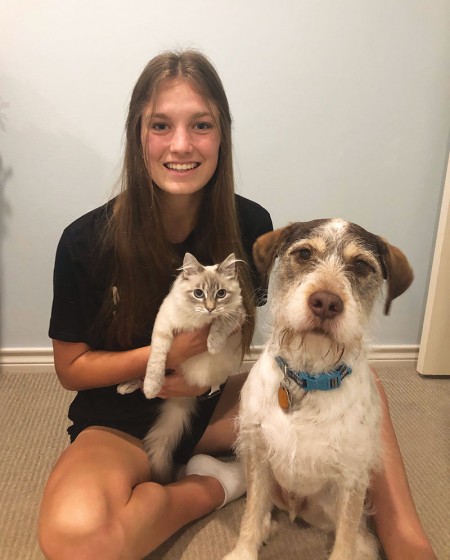 Robbie calls it a miracle. "I feel like I've been blessed," he says. "I'm not good with counting, but I knew it was going to cost a lot of money. This happened because of all these neighbors who are so kind." 
About that dog named Peanut …
Peanut is a shaggy rescue dog who belongs to the Nelson family, more neighbors who didn't know Robbie. Katherine Nelson, a high school student at St. John's School, happened to see a text string between her mom Amy and Barbara. They were texting about the cats at Robbie's.
While the Nelsons are traditionally dog people, Katherine saw her mom's text as her way in to becoming a cat owner. "She put together a PowerPoint presentation on all the reasons we should adopt a kitten," Amy says. "She included how much the cat would cost, who would care for it, and where it would wind up long-term, like seven years from now."
The PowerPoint worked. Katherine successfully persuaded her mom and dad Paul to meet the kittens. There was one caveat: Peanut had to like the cat.
So Fuzzy Wuzzy, the kitten Robbie knew Katherine would fall in love with (and vice versa) came to live with the Nelsons on a trial basis. The trial wasn't a trial for long.
"Peanut loved the cat," Amy says. "The dog wanted nothing more than to lick the kitten, and the kitten wanted nothing to do with him. Now, the kitten wants to play and pounce on the dog, and the dog wants nothing to do with him."
Obviously, Fuzzy Wuzzy (also known as Bean, as in Jelly Bean, as in Peanut butter and jelly) stayed. "He's part of the family," Amy laughs. "We sleep with our door closed because Bean likes to pounce in the night. When I open the door in the morning, Peanut and Bean are waiting for me, and they come downstairs with me and make coffee and get their breakfast."
The other 16 kittens also have been adopted, as have several of the adult cats, thanks to the neighbors and a group called Pet Connect. "They've been super-helpful," Patrick says. "I've been going to PetSmart on Saturdays and Sundays, and Pet Connect helps us try to get them adopted." Pet Connect uses PetSmart and Petco as the sites where they try to find homes for the cats.
Kevin and Barbara have two grown-up cats in their backyard. Patrick also has two adults, along with Ziggy, a kitten.
"He's a good guy," Patrick says of Ziggy. As for the adult cats yet to be adopted, he says, "they're great cats. I think they'll find homes pretty soon."
Robbie still shares his bungalow with several adult cats – now all spayed and neutered and in no danger of multiplying – along with photos and mementos from his years working alongside the world's best musicians and an ever-changing and extensive collection of small toys arranged on the front stoop.
"If you don't get to know your neighbors, you would have no idea all this existed," Kevin says. "That's the fun of it."
If you want to adopt a cat or volunteer, visit the GoFundMe page, or contact Pet Connect Rescue at adoptapet.com or petfinder.com.
Want more buzz like this? Sign up for our Morning Buzz emails.
To leave a comment, please log in or create an account with The Buzz Magazines, Disqus, Facebook, Twitter or Google+. Or you may post as a guest.