A Lucky Break
Road-trip-gone-south leads to home
Click the Buzz Me button to receive email notifications when this writer publishes a new article or a new article in this column is published.
Alexia Kazilas was on day two of what was supposed to be a two-month long road trip to California when a freak accident sent her back to a place where she never intended to live: Houston.
It was Labor Day weekend in the middle of the pandemic, and Alexia decided to hike Closed Canyon, a 1.8-mile scenic route in Big Bend State Park. It would be a relatively easy trek for Alexia, an avid hiker, and her dog, Osi. Alexia and Osi would then continue their drive up to New Mexico, and later, to California. Just the two of them.
"My way of normally dealing with anxieties or problems is by traveling and getting out in nature," says Alexia, a 30-year-old blonde, bold and seemingly fearless. "When quarantine started, everything was on pause, so I wasn't doing anything fulfilling."
It seemed like an opportune time for Alexia, who was living and working in New York City at the time, to take a road trip. She'd stay in Airbnbs – or even a makeshift bed in her car – and enjoy hikes with Osi (her larger-than-typical, 25-pound Pomeranian) along the way, all the while working her customer service job for Warby Parker remotely. She hoped the trip would relieve her from feelings of malaise, boredom, and what so many of us felt as the coronavirus pandemic swept the country.
But Alexia's efforts to escape her status quo were quickly halted. Just two days after she left Houston in her 2008 Land Rover – the same car she drove back in high school at Awty International School – she suffered an accident.
She and Osi had walked about half a mile into Closed Canyon in the noon desert heat when Osi wanted to head back to the car. "He started pulling me back the other way," says Alexia. "But I was like, this is such a beautiful hike, let's just hike 10 more minutes."
As she continued walking, Alexia noticed a rock that was slanted, and dotted with smaller rocks on top. "Knowing I didn't have the right shoes, I told myself to grip my feet down so I don't fall."
Alexia isn't quite sure what happened next, but she remembers a slow fall to the hard earth and then a sharp cracking sound.
"I was like, 'No, I did not just break my leg.'"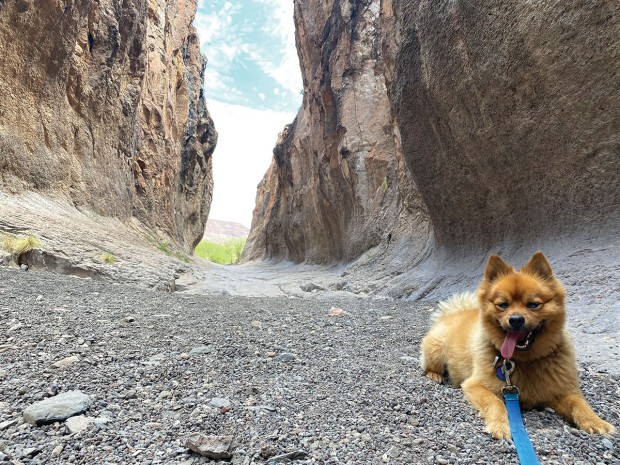 Next came the pain, and Alexia's attempt to ignore it. "I was hoping I just sprained [my ankle], so I tried getting up." 
But her left leg could not withstand any weight. And as Alexia looked down at her foot, she saw that it was turned inwards, seemingly detached from the rest of her leg. "When I moved my knee up, my foot was not moving. It felt like my foot could fall off," she says. 
Alone in the desert without phone signal or medical supplies and very little water – this, Alexia realized, was a hiker's worst nightmare. 
Before allowing panic to set in, Alexia calmed herself down. "I rationalized it in my head not to freak out. I was like, 'My car is outside. I registered it. I talked to a woman [in the park's registration office], she knows I'm here by myself with my dog. I'm not bleeding. No bones sticking out.' So rationally, I knew I was okay."
But Alexia also knew she and Osi were the only ones on the trail. When she parked her car at the head of the hike, it was the only vehicle there.
For the next 30 minutes, Alexia held her left foot in the air, holding it steady to avoid the sharp pain wrought by any slight movement. It was an arduous position, and as she sat there, she started crying. 
As if in response to her cries, Alexia began to hear footsteps and screamed out, "Help!" Two hikers approached. One of them, as luck would have it, a doctor.
"I remember I started hearing the screaming," says Dr. Diana Gonzales, who practiced internal medicine in Mexico before moving to Austin three years ago. "As soon as we got closer, we saw that she was laying on the ground and yelling and crying and holding her leg .... Her leg was just hanging."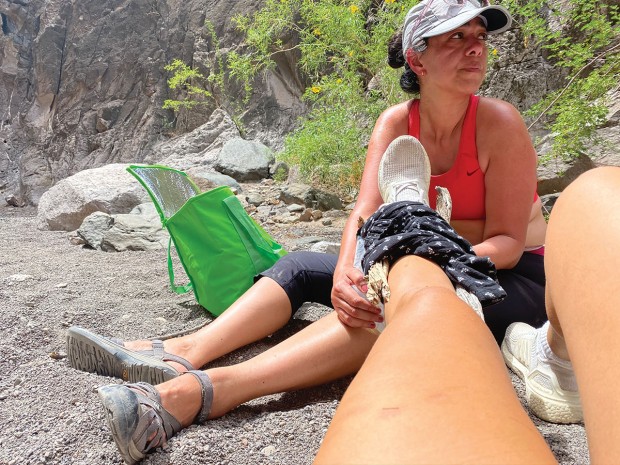 Diana, well-stocked for what was her own first trip into the desert, went back to her car to retrieve ice and painkillers. She then stopped two drivers on the road, instructing them to call 911 as soon as they could get phone service. Diana then tried to construct a makeshift splint using branches, while her husband, Maha Sardessai, comforted Alexia and made sure she was drinking water.
"We promised when we found her that we were not going to leave her alone," says Diana.
Maha, along with the driver who called 911, took it upon themselves to care for Osi, a protective dog who was perhaps as freaked out as Alexia. 
"He was jumping on us and jumping on [Alexia]," recalls Diana. "He was very nervous." 
More than five hours after Alexia started the hike, she was lifted onto a stretcher by a team of EMTs, who rolled her back through the canyon to the base of the hike and loaded her and Osi onto an ambulance. The ambulance took them to an airport, where the rescue team's private plane would transport her to a hospital.
"At that point," says Alexia, "they still didn't know if they were going to take me to El Paso or San Antonio or Odessa. They were just calling everywhere to find out where they had room." Because of the pandemic, many hospitals were overrun. 
The team ultimately flew Alexia – who was laying on a stretcher, morphine being pumped into her body, Osi laying on top of her – to El Paso, where she and Osi then proceeded to take a second ambulance to University Medical Center of El Paso.
The nurses, Alexia recalls fondly, were especially kind, offering to care for Osi. "One nurse was like, 'Hey I know you have surgery in the morning, and I know you aren't sure of what to do with your dog. I'll take care of him."
By that point, Alexia had alerted her family about the accident, and they were scrambling to make plans to meet her.
"I was at a small wedding in Mexico," says Amalia, Alexia's mother. "The day before I'm supposed to leave, I find out my daughter had an accident." Amalia found a flight to El Paso, by way of Houston, and would reach her daughter the following day.
By the time Amalia arrived, Alexia had already had emergency surgery in her left leg, where she had fractured both her tibia and fibula bones. The surgery involved creating an incision in her knee and then inserting a specially designed metal rod into the canal of the tibia to keep the bone in the correct position. Alexia will likely have this metal rod in her body for the rest of her life. "I'm like a bionic woman," she says with a laugh.
Three days after her surgery, Alexia was discharged from the hospital. She'd be unable to move her leg for weeks, and it would be several months before she could walk normally again. The doctor warned she may need another surgery.
As Amalia drove back to Houston, with her daughter laying down in the backseat for the whole 11 hours, she couldn't help but feel shaken. 
"It was horrible, just thinking that my daughter was alone for I don't know how much time." "The doctor who found her, she was an angel," Amalia continues. "Anytime I remember that, I'm freaked out – what could have happened to my daughter?" 
Just a few months after the accident, Alexia is sitting with her family on New Year's Eve. It's a strange New Year's celebration, to say the least. Alexia has recently progressed from a walker to crutches, but she's still living at home with her parents, with Osi always hovering nearby. Because of the pandemic, the Kazilas family is alone – just Alexia, her older brother Georgeos, and her parents, Amalia and Fivos. Usually, they'd be with friends and extended family.
It's a quiet evening, with wine, a nice dinner, and conversation, and mom Amalia asks each family member to reflect on both the good things and the bad things that happened in 2020.
"At first we laugh because we aren't the type of family to go around asking questions like this," says Alexia, "but my mom saw it as a form of therapy and a good conversation topic."
For Amalia and Fivos, the worst thing about 2020 is obvious: their daughter's accident. "It was one of my worst days," Amalia admits.
But when Alexia hears this on New Year's Eve, she can no longer see the accident as a bad thing, for it forced her to sit still and reflect, both on the accident itself and on her own career goals. 
"Yes, this fall was unlucky, but everything that followed after was extremely lucky," she insists, emphasizing how fortunate it was that a kind doctor found her and stayed with her until she was taken on an ambulance, that she wasn't bleeding, that she fell on her non-dominant leg, that her family is able and willing to help her back on her feet. "I don't want to take all of that for granted."
Today, Alexia, who attended West University Elementary School as a child, is planting the seeds for a business career. An entrepreneur at heart, she decided to quit her job in New York and to focus on launching her own socially responsible companies, a dream she's held since her college days at The University of Texas at Austin.
Alexia and her friend Elizabeth Quan are launching an event-planning venture that will raise money for various social causes. She's also working to build a channel that promotes sustainable fashion brands, and she's managing the marketing and design for a new cafe and event space her parents are working on. She's living at home and looking to move into her own apartment in Houston, a place she thought she said goodbye to when she left for college over a decade ago. 
"I grew up in the Southside area and was never a really big fan of Houston, to be honest," says Alexia. "Then when I had my accident, I saw how many opportunities I had around here." 
Despite the accident, Alexia remains an explorer. It probably won't be long till, to her parents' chagrin, she hops in her Land Rover, Osi in tow, and drives out west for another hiking adventure. This time, she'll be prepared: she'll wear the right shoes, she'll carry plenty of water and she'll even bring a satellite radio. 
"From my perspective, this was a freak accident. A one-off," says Alexia. "It's not something that should scare me. I love hiking, just me and my dog, and I look forward to being able to do that again."
Seeing Alexia's positive attitude and creativity over the past few months has even challenged Amalia to view her daughter's accident differently.
"Yes, [it] was very bad and very frustrating," says Amalia. "But also, it brought her here to Houston, and I've never seen her so happy in Houston as she is now… Between the bad thing came something not so bad."
Want more buzz like this? Sign up for our Morning Buzz emails.
To leave a comment, please log in or create an account with The Buzz Magazines, Disqus, Facebook, Twitter or Google+. Or you may post as a guest.