Rumor Has It - April 2021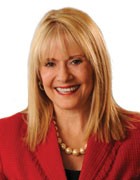 Click the Buzz Me button to receive email notifications when this writer publishes a new article or a new article in this column is published.
I dua. Although Sara Padua and David Cordúa had lived just over 2.5 miles apart during their childhood and family members were friends, they did not connect until later in life. They said "I dua" in Cuernavaca, at the 1500s-vintage Catedral de Cuernavaca. Each guest received a handmade wedding mask and a fun LED mask to light up the dance floor. The reception took place at Hacienda de Cortés which was the former home of Hernan Cortés and was also built in the 1500s. Parents of the couple, Francisco and Sara Padua and Michael and Lucia Cordúa, and family members Alex and Megan Padua, Fran Padua and Kaylee Scanlin, Tony and Katie Padua, Michelle Cordúa Mirshak, Elisa Cordúa Tavera, and Cristina Cordúa Yanez celebrated the family merger.
A very cool surprise. It was the first time out of the neighborhood since Covid came crawling around.  Josh, Jenni, and Lyrah Pratt adventured in Big Bend National Park for seven days. While the temperature was 70 degrees, the views were also awe-inspiring, with pig-looking creatures called javelina, mule deer, wild horses, and exotic plants. The biggest surprise? It snowed 18 inches, and the temperatures dropped to 20 degrees. Little did they know then that it was a prelude for February in Houston. 
A Valentine's dinner already planned for you – how divine. Just wear red and show up at your dinner table with your honey and a computer so you can zoom with other couples doing the same. This was a first for Memorial Garden Club members, who usually have a big to-do at their couples' friendship party. Backstreet Café provided the four-course dinner with four wines. The only effort the members made was to pick up their own dinner and heat it up. President Susan Diehl crushed it with sommelier Sean Beck, who blended his talk with flavored tidbits about the wine and with two winemakers from California and Chicago who also spoke to the group.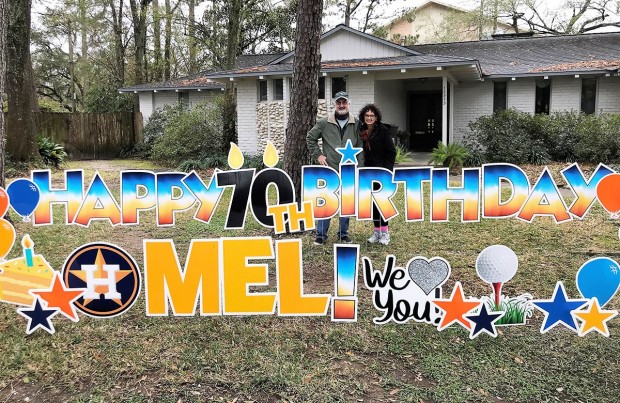 Aced it. Before the Arctic blast came to town, another blast hit for Mel Levine's 70th birthday. Not one for birthdays or surprises, Mel could not deny this one. When he stepped outside, his wife, Paulette, had giant letters with Mel's name and symbols designating his love for UT, golf, and other passions. Guy pals from poker, David Lebow, Richard Wolf, and Jeff Abrams, drove by to wish him well and receive homemade pink cookies in honor of the Levines' first granddaughter. A surprise video from friends' recordings, with a lot of golf and poker comments, made Mel smile.
Have friends, will travel. Two weeks after their second Covid vaccine, Mark and Nancy Reichek, who had not gone out to eat in Houston during the pandemic, hopped a plane to Florida with mask, face guard, and gloves. They met up with New York friends Gloria Talkow and Marty and Paula Domansky, whom they had met there in a bar 11 years ago and have traveled with many times since. They rented a new van and made Boca Raton Resort & Club their mainstay as they ventured to Bal Harbour, Palm Beach, and Miami for outings. The Reicheks made it back to Houston in time to save their pipes from the freeze.
A cold and starry night. The front door was decorated in red, gold, and black balloons, Hollywood-style, and movie stars Bradley Cooper, Tom Cruise, and Thor showed up in the form of life-size cut-outs in front of Arlene and Marshall Hoffman's home to toast Arlene's milestone 65th birthday as a surprise. The other surprises were the icy roads and snow in the air. Arlene, however, was lucky inside with the generator on for a quiet and warm birthday with son and daughter-in-law Austin and Ali Hoffman.  
Donuts shaped in letters spelled her name, Faye. Since Congregation Emanu El allowed only 10 people, the immediate family attended while others Zoomed Faye Harrington's bat mitzvah on her small but big over-the-top weekend. A lunch was held at grandparents Cindy and Brian Atlas' yard, with festive tables, flowers, and cookies, all in orange and pink. Gemma Huang and Margot Levy delved into a candy charcuterie at a sleepover Saturday with Faye with their own Sleepover Co tents and matching jumpsuits. Faye's parents, Zac and Kim Harrington, are proud she donated a portion of her monetary gifts to Interfaith Ministries. 
Sparkles. Houstonians were in a festive mood, as evidenced by their glittery attire when they tricked out for the Mardi Gras masquerade four-course dinner at The Houstonian. Purple and green, glitter and bling. Who was that handsome king in the long purple velvet robe and matching hat? Each guest received a masquerade mask and a mini king cake as swag. In their own krewe were Ron Juwa, Rosanne Kaufmann, and Jean Wilson, who jived to the jazz music, sampled the specialty spirits, and spoke French by the end of the evening. Laissez les bons temps rouler.
Have some good news to share? Email us at [email protected].
People in this article:
Sara Padua
,
David Cordúa
,
Francisco Padua
,
Michael Cordua
,
Lucia Cordúa
,
Alex Padua
,
Megan Padua
,
Fran Padua
,
Kaylee Scanlin
,
Tony Padua
,
Katie Padua
,
Michelle Cordúa Mirshak
,
Elisa Cordúa Tavera
,
Cristina Cordúa Yanez
,
Josh Pratt
,
Jenni Pratt
,
Lyrah Pratt
,
Susan Diehl
,
Sean Beck
,
Mel Levine
,
Paulette Levine
,
David Lebow
,
Richard Wolf
,
Jeff Abrams
,
Mark Reichek
,
Nancy Reichek
,
Gloria Talkow
,
Marty Domansky
,
Paula Domansky
,
Arlene Hoffman
,
Marshall Hoffman
,
Austin Hoffman
,
Ali Hoffman
,
Faye Harrington
,
Cindy Atlas
,
Brian Atlas
,
Gemma Huang
,
Margot Levy
,
Zac Harrington
,
Kim Harrington
,
Ron Juwa
,
Rosanne Kaufmann
,
Jean Wilson
Want more buzz like this? Sign up for our Morning Buzz emails.
To leave a comment, please log in or create an account with The Buzz Magazines, Disqus, Facebook, Twitter or Google+. Or you may post as a guest.