War Over the Board
Young chess players face off
Click the Buzz Me button to receive email notifications when this writer publishes a new article or a new article in this column is published.
Alexandra Simotas remembers the pivotal moment her 5-year-old son, Niko Laskaris, came home from a birthday party in kindergarten. He did not talk about the cake or the party favors. He talked about chess. And he wanted to learn how to play.
Niko had watched other children play with life-size chess figures and immediately became intrigued. Now age 11, Niko, along with sister Evie, 12, have become seasoned players who compete nationally in a sport that they both love.
The Laskaris siblings are not the only ones playing chess these days. Although the game was invented in the 7th century, chess is seeing a resurgence due to both widespread interest in playing online during the pandemic and the Netflix hit "The Queen's Gambit."
But there's a contingent of Buzz-neighborhood chess players who have been playing for years. They say they're thrilled to see chess have a new moment in the spotlight.
Alexandra and husband Aris Laskaris say chess became an important part of their children's lives after that initial birthday-party introduction. "They were fascinated by it, so I researched about safe chess sites and found one called chesskid.com, and that is how they learned how to play the game," says Alexandra, an ob/gyn. "I realized how much the kids loved chess one summer when we were at the beach, and instead of building sand castles they were making chess pieces out of sand. I love watching them play chess. All the elements of life come together: determination, patience, focus, and good sportsmanship."
The siblings played together at home but then they discovered an afternoon chess club at their school, River Oaks Baptist School. "After I had learned the basic pieces and how to play, a coach at school saw me, and he said I was ready for tournaments," recalls Niko, who is now in fifth grade. "At the time, I was 6 and in first grade, so my mom got a coach that showed me how to notate, which means writing down all of the chess moves of me and my opponent on a piece of paper, and how to use the chess clock so I could play in tournaments." Evie joined Niko in learning, and they quickly started playing in tournaments, both locally and out of state.
"People play chess in different ways," says Evie. "Some are very aggressive, and some play the middle game. Most people start attacking in the middle games, and other people play really slowly like me, and then you make some epic win. I love the nerve-wracking moments in the middle of a game, and I also like how good I feel when I win. Sometimes I am a move away, and then I lose. What I learn from chess is that one mistake should not be able to ruin your game, and slowly and steadily you can win your way back."
Niko and Evie have both earned a case full of trophies and have become rated players, a system used in chess to estimate the strength of a player, based on their performance versus other players. "I got my first rating for a tournament at age 8," recalls Evie, whose current rating is 1,201. "Ratings show how good you are, and the higher your rating, the better you are. In tournaments, ratings help you enter sections with kids around your rating. But chess does not care what your rating is, and it does not care if you are a girl or a boy, unlike in most sports. I would tell any girl that if she enters tournaments, there will be lots of boys but that's okay – it doesn't make them harder to beat. In fact, there are so many boys that I just crush in tournaments." 
Due to the pandemic, many tournaments have had to move online. Brad Raizner, a junior at St. John's School and vice president of the school's chess club, says online tournaments are how their club functions right now.
Brad picked up playing chess sophomore year. "I started playing with buddies at school during lunch. We played all our games online, and we sometimes played during free period. I think my friends started influencing a bunch of people to play, and soon it spread among our friend group. Whenever I'm playing chess, it's so easy for me to completely lose myself in a game and forget about all of my stresses. Chess can be a workout for my brain, but it can also make me feel relaxed and rejuvenated."
To learn how to play, Brad checked out multiple sources. "I started watching some YouTubers, and I read articles online about certain openings. I also play online at chess.com, which is free for everyone," he says. His family now also keeps a chess board set up on their kitchen table for practice. Brad says that he plays at least one chess game a day and that practice has made him more steady under pressure.
The St. John's School Chess Club meets virtually via Zoom, and the members play against one another for fun via chess.com. Brad says the club's membership has grown recently. "My friends and I always enjoy competing against one another because it gives us something to bond over," he says. "Plus, the banter is always enjoyable."
This past fall, he created a tournament for charity that he opened up to his friends and community. "One of my mom's friends said that some students at Blackshear Elementary did not have laptops for virtual learning, so I said, 'Let's do something about that!'" he says. "We were able to get five laptops for the children at Blackshear."
Mom Randi Raizner, a neuropsychologist, is all for chess. "I think it's a fantastic way to lose yourself in something that is challenging and relaxing at the same time," she says. 
Brad says chess is good for the mind. "I think I naturally look for things recreationally that are intellectually stimulating," he says. "Chess is like a constant and ever-changing puzzle, and that's why it will never get old."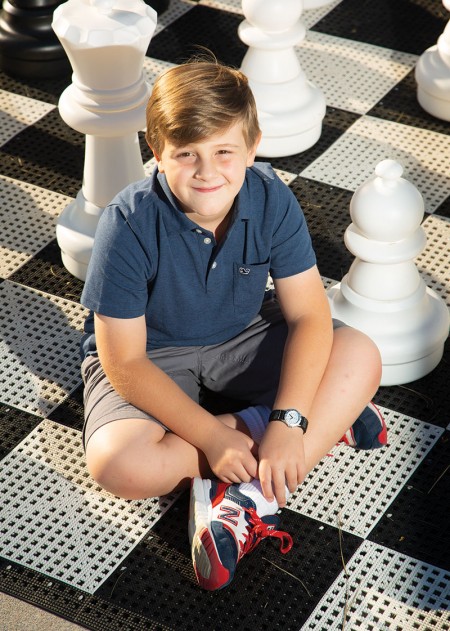 Heather and Parrish Kyle are fans. Their son, CarMichael, is a first grader at River Oaks Baptist School and has been taking chess lessons for the past four years. CarMichael became interested in chess at age 3 when his grandparents bought him a chess set made out of Legos. Later, the Kyles found a chess coach.
"CarMichael had a demonstrated interest in the pieces and set, so that was really positive," says Heather, who along with Parrish, are both architects. "His coach is so deeply passionate about chess, and that has made him a good resource. He can explain complicated things like en passant [a special pawn capture that occurs only after the opposing player makes a pawn move of two squares], which is not a basic beginner's move, so he is able to explain why and when it happens and when you use it."
"Chess is one of the few things that has successfully transitioned for us during the pandemic," says Heather, who notes that CarMichael's lessons used to be in person with his coach but then moved online. "It has been interesting watching how CarMichael moved from understanding how pieces move into strategy. His plan for play is beyond my understanding of the game, and he now has opening moves and end-game sequences."
The chess lessons teach sportsmanship as well. "CarMichael routinely beats both of us quickly," says Parrish, laughing. "The ritual of a handshake at the end of the game is more important than who won or lost. It's fun to see his problem-solving skills developing alongside his character."
CarMichael, 7, says he looks forward to his weekly chess lessons: "I like playing Coach John, and I like that he teaches me lots of different openings, like The London Opening."
Chess, it seems, is opening a lot of doors these days.
"I believe 'The Queen's Gambit' has been a game changer for chess," says John Hendrick, CarMichael's coach and a former Texas state junior champion, who has taught chess for the past 15 years. "It mimics the real story of Bobby Fischer very closely, except the main character is a female, which is great for chess. The character, Beth Harmon, had her own interesting battles to fight besides chess, just like Bobby Fischer in real life."
He says he is happy to see the game grow. "It depends on the maturity and personality of the child, but 5 to 8 years is a great age to start learning to play," John says, adding that if a child seems interested, introduce the game. "First of all, I would create an account on lichess.org. It is a non-profit site that offers a fun and easy method for adults and kids alike to learn the rules. After this, I would look for a basic chess puzzle book or a book or website that offers tactics puzzles. I would solve even just one puzzle daily with your kid. A chess puzzle is a position that  mimics a real game scenario, and in a puzzle the player has to find the best move or sequence of moves to gain an advantage."
Chess, he says, can mean different things to different people. "I believe chess is whatever feels best for that person," he says. "For serious competitors, it is a sport. For a casual player, it may be a hobby or game. And, for some, they appreciate the beauty of the puzzles, and it is more of an art form."
For 12-year-old Evie, chess has become her passion. "My chess goals are to help kids discover this brilliant game, and I would also like to improve my own skills and get better at chess," she says. "A lot of times I am thinking about chess when I am totally not playing it. I read that playing chess helps improve thinking skills and can help you make better grades. I think that life is kind of like a chess game, where you pick the best move to keep going forward. No matter how bad your position in a chess game or in life is, there is always a move that will make your position better."
Want more buzz like this? Sign up for our Morning Buzz emails.
To leave a comment, please log in or create an account with The Buzz Magazines, Disqus, Facebook, Twitter or Google+. Or you may post as a guest.