Your Favorite Recipes
The best of "Back Porch Table"
Click the Buzz Me button to receive email notifications when this writer publishes a new article or a new article in this column is published.
We are celebrating the second year of "Back Porch Table," a recipe-focused online extension of our "Back Porch" magazine column. As we did last year at this time, we are sharing our "best of" – the recipes readers loved most. 
We hope you will tune in every Friday, when "Back Porch Table" appears online at thebuzzmagazines.com and in the Morning Buzz e-newsletter. And let us know what you're cooking!
April 2020: Rosemary Mojitos happened in the early days of quarantine last March. The weather was perfect for an outdoor cocktail hour, and everyone really needed a drink. We suggested serving these with a bowl of Truffle Parmesan Popcorn.
Adapted from "Winter Drinks" by the editors of PUNCH
1 cup sugar
3 large sprigs rosemary
¾ ounce rosemary simple syrup
2 ounces white rum
1 ounce freshly squeezed lime juice
Soda water
Lime wedge
Place sugar, 2 sprigs of rosemary, and 1 cup of water in a small saucepan, and stir over low heat until the sugar dissolves. Remove from the heat and let the syrup sit for 1 hour. Remove the rosemary sprigs and store the syrup in a glass jar in the fridge for up to 1 month.
Combine the rosemary simple syrup, rum, and lime juice in a shaker. Add ice, shake, and strain into a glass over ice. Top with soda and garnish with a rosemary sprig and wedge of lime.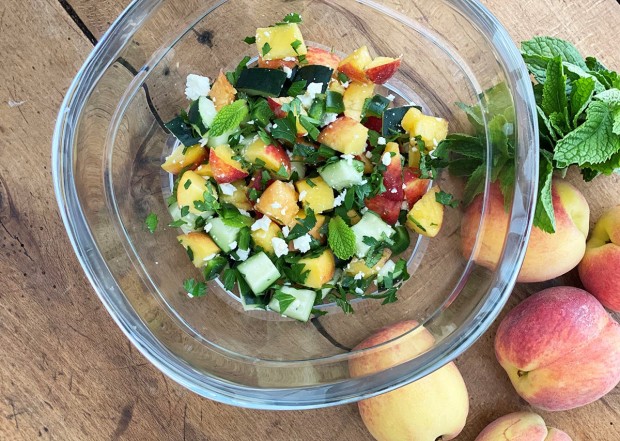 Summer Peach, Cucumber, and Mint Salad
June 2020: Summer Peach, Cucumber, and Mint Salad was the recipe that prompted people to stop us on the streets (literally – one woman was on a walk when she saw a Buzz editor) to tell us how much they loved this salad. It's cool, summery, and refreshing. That there's no cooking required puts this salad firmly in our regular rotation.
4 small peaches, still a little firm, chopped
1 cucumber, seeded and chopped
1 jalapeño, seeded and chopped
½ cup chopped fresh mint
¾ cup chopped Italian parsley
2 Tablespoons minced chives
¼ cup crumbled feta
Lemon Shallot Dressing (recipe below)
Toss all of the ingredients in a large bowl. Serve cold.
Lemon Shallot Dressing
1 small shallot, minced
Juice of ½ lemon
2 Tablespoons white wine vinegar
¼ cup olive oil
Salt and freshly ground pepper
In a small bowl, stir together the shallot, lemon juice, and white wine vinegar. Let this sit for 15 minutes. Whisk in the olive oil, and season to taste with salt and pepper.
Angel Hair with Roasted Tomatoes, Mozzarella, and Basil
July 2020: The lightest pasta marries a winning combination of creamy mozzarella, herby basil, and so-sweet-they're-addictive roasted cherry tomatoes. The star in this recipe might be the tomatoes, but the sum of the angel hair with these simple ingredients is heavenly.
Olive oil
½ pound angel hair pasta
Kosher salt
4 ounces fresh mozzarella, cubed
½ cup fresh basil leaves, cut into chiffonade
Cherry Tomato Confit (recipe below)
Sprinkle of red pepper flakes
¼ cup grated parmesan 
Cook the pasta in salted boiling water with a splash of olive oil for 4 minutes. Drain the pasta and place it in a large bowl. Toss gently with the mozzarella and basil. Pour the Cherry Tomato Confit over the pasta, including the oil in the bottom of the baking dish. Sprinkle the red pepper flakes and parmesan cheese over the top, then drizzle a little more olive oil over everything. This is good warm or at room temperature.
Cherry Tomato Confit
1 pint grape or cherry tomatoes
¼ cup olive oil
¾ teaspoon kosher salt
½ teaspoon fresh ground pepper
2 garlic cloves, smashed
2 sprigs fresh thyme
Preheat the oven to 275 degrees. Put the tomatoes in an 8-by-8 glass baking dish. Drizzle with the oil, salt, and pepper, and mix with your hands to coat the tomatoes in oil and seasoning. Nestle the garlic and thyme among the tomatoes.
Roast 2 hours. Use the tomatoes with their oil tossed in pasta, on grilled chicken, or as a topping for bruschetta.
Salmon with Edamame Herb Hummus and Lemon-Tahini Sauce
January 2020: Both satisfying and spa-like with clean, healthy ingredients, Salmon with Edamame Herb Hummus and Lemon-Tahini Sauce is the kind of dinner that makes January resolutions easy to stick to, even in March.
1½ pound salmon fillet, cut into 4 portions
1 Tablespoon olive oil
Salt and pepper
Edamame Herb Hummus (recipe below)
Lemon-Tahini Sauce (recipe below)
1 chopped scallion, green part only
Preheat the oven to 425 degrees.
Heat an iron skillet (or another oven-proof skillet) over medium-high heat. Rinse the salmon and pat it dry with paper towels. Rub the olive oil over and under the salmon, and season generously with salt and pepper. Sear the salmon: Place the salmon skin side up in the skillet, and let it cook, undisturbed, for 2 minutes. Flip so that the skin side is down, and let cook for another 2 minutes. Place the salmon in the skillet in the oven, and let it cook for 10 minutes. Remove from the oven, and let the salmon rest for 10 minutes.
Divide the Edamame Herb Hummus between 4 bowls or plates. Top with a piece of salmon. Drizzle the salmon and the hummus with the Lemon-Tahini Sauce. Sprinkle chopped dill, mint, parsley, and scallions over the top.
Edamame Herb Hummus
½ pound frozen, shelled edamame
¼ cup tahini
Juice of 1 lemon
1 small clove of garlic, chopped
¼ cup chopped fresh mint, plus more for garnish
¼ cup chopped fresh dill, plus more for garnish
¼ cup chopped Italian parsley, plus more for garnish
¾ teaspoon kosher salt
½ teaspoon fresh ground pepper
Combine all ingredients in a food processor until the hummus is smooth.
Lemon-Tahini Sauce ¼ cup tahini
¼ cup water
Juice of 1 lemon
Using a fork, whisk all ingredients together in a small bowl until smooth.
September 2020: I was told, "This might be the best cake you've ever made." There is not much more to say.
From Gramercy Tavern pastry chef Miro Uskokovic, published in the August 2020 "Food & Wine"
1½ cups plus 2 Tablespoons granulated sugar, divided
1¼ cups unsalted butter, softened
8 ounces almond paste, at room temperature, crumbled, divided
2½ teaspoons baking powder
1½ teaspoons kosher salt
1 teaspoon grated lemon zest plus 2 teaspoons fresh lemon juice, divided
4 large eggs
1 cup sour cream
1¾ cups bleached cake flour
1 cup all-purpose flour
4 medium-sized red plums, cut into ¾-inch wedges
Cooking spray
½ cup sliced almonds
Preheat the oven to 350 degrees. Combine 1½ cups sugar, butter, ½ cup almond paste, baking powder, salt, and lemon zest in the bowl of a food processor. Process until light, creamy, and smooth, about 45 seconds. With the processor running, add eggs, one at a time, incorporating fully after each addition. Mixture should look thick and fluffy. Add the sour cream, and process until fully incorporated, about 30 seconds, stopping to scrape the bowl as needed.
Whisk together the cake flour and all-purpose flour in a large bowl. Add the sugar mixture to the flour mixture; whisk just until all dry ingredients are incorporated. Using a rubber spatula, fold the batter to thoroughly combine ingredients.
Toss together the plums and lemon juice in a medium bowl; let stand 5 minutes. Line a 13-by-9-inch baking pan with parchment paper; lightly grease with cooking spray. Spread batter in the prepared pan, smoothing it with an offset spatula. Sprinkle remaining crumbled almond paste over batter. Arrange plums over top, and sprinkle with almonds and remaining 2 tablespoons sugar.
Bake the cake until lightly browned and a wooden pick inserted into the center comes out clean, 45 to 50 minutes. Transfer the cake in the pan to a wire rack, and let cool completely, about 2 hours.
Scout's Honor PB Sandwich Cookies
December 2020: The originals, from King Arthur Flour Cookie Companion: The Essential Cookbook, are a more complex, homemade version of a Nutter Butter. But Kathryn Wilson, an expert cookie baker who graciously shared the recipe, upped the ante by filling half the sandwich cookies with peanut butter and half with chocolate ganache.
1⁄3 cup unsalted butter
1⁄3 cup sugar
2⁄3 cup brown sugar
½ teaspoon baking soda
¼ teaspoon baking powder
½ teaspoon salt
1 teaspoon vanilla extract
1 large egg
¾ cup all-purpose flour
1 cup rolled oats
Filling: 1 cup creamy peanut butter
1 Tablespoon honey
¼ cup confectioners' sugar
Ganache: 4 ounces semi-sweet chocolate, chopped
½ cup heavy cream
Preheat the oven to 350 degrees. Lightly grease (or line with parchment) two baking sheets.
In a large bowl, cream together the butter, peanut butter, sugars, baking soda, baking powder, salt, and vanilla. Add the egg, beating until light and fluffy. Stir in the flour and oats. Drop the dough by the heaping teaspoonful (a teaspoon cookie scoop works well here) onto the prepared baking sheets. Use the bottom of a drinking glass, lightly greased, to press each cookie to about ¼-inch thick.
Bake the cookies for 8 minutes, or until they are a very light golden brown. Remove them from the oven and transfer to a rack to cool.
To make the filling: In a small bowl, cream together the peanut butter, honey, and confectioners' sugar until smooth.
To assemble the cookies: When the cookies are cool, spread half of them with the filling, or if you have a teaspoon cookie scoop, use it to drop the filling into mounds atop half the cookies. Top the filling with the remaining cookies, pressing together gently. 
Note: If you choose, as Kathryn did, to fill some of the cookies with chocolate ganache, halve the peanut butter filling recipe, and fill half of the cookie sandwiches with peanut butter, and half with ganache.
For the ganache: Place the chocolate in a medium bowl. Heat the cream in a small saucepan over medium heat until it just begins to simmer. Pour the warm cream over the chocolate. Let stand, undisturbed, for 5 minutes, then stir until smooth. To allow the ganache to firm up, chill it for 1 hour prior to filling cookies.
Want more buzz like this? Sign up for our Morning Buzz emails.
To leave a comment, please log in or create an account with The Buzz Magazines, Disqus, Facebook, Twitter or Google+. Or you may post as a guest.