Dock Diving
Leaping, wet, happy dogs
Click the Buzz Me button to receive email notifications when this writer publishes a new article or a new article in this column is published.
Could there be a happier sport? Take a happy human with a happy dog. Add a 40-foot-long dock, a retrieval toy, a swimming pool, cheering fans – and watch that dog fly.
In dock diving, dogs compete to run and leap as far as possible off a dock into water, popping up to swim and shake droplets all over their proud people.
Any water-loving, swimming, retrieving dog can learn to dock dive, even if they choose to jump only a few feet. But the most competitive of all can fly through the air over 30 feet before splashing down.
The organized sport of dock diving started around 1997, and now it's a popular spectator sport. Southeast Texas participation increased five years ago when North America Diving Dogs (NADD) sanctioned two local facilities to host official competitions: Animal Crackers Splash Paws in Spring and Houston Dive Dogs in Brookshire, say local trainers. 
Among those who love it are Buzz residents and their pooches.
Animal-loving Candyce Beneke competes with her 3-year-old, cream-colored golden retriever, Lily Grace, a therapy dog that Candyce takes to hospitals and nursing homes to spread snuggles and smiles.
"When Covid hit, the therapy visits stopped, as did Lily Grace's indoor dog activities," said Candyce. They both missed staying busy and being around people. Sometimes therapy dogs need a little therapy of their own. Dock diving ended up being the perfect solution. "Lily Grace loves both water and fetching, and the outdoor location made it a great fit."
Candyce and Lily Grace participated in spring, summer, and fall competitions. Lily Grace even received an invitation to the regional national finals to compete with the best jumpers in the country.
"It's hard to say which is Lily Grace's favorite event," said Candyce. "She has done a total of 100 jumps, and most of those are in Distance Diving, but she also loves jumping high in Air Retrieve to grab the bumper [suspended toy], and swimming fast in Hydro Dash to get the bumper at the end of the pool. Honestly, mostly, she just loves getting in the water."
She has lots of happy company out there.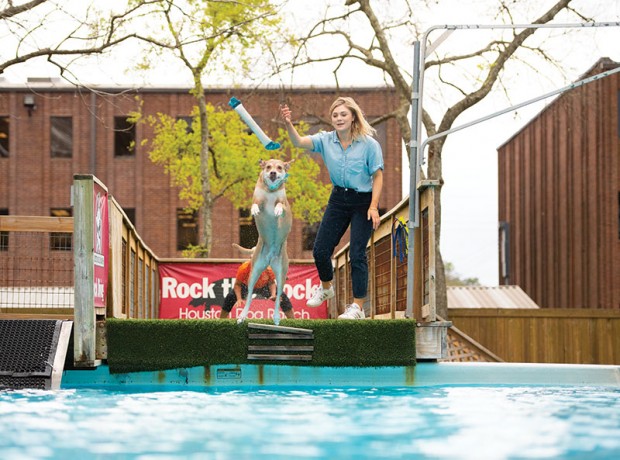 Three years ago, longtime dog enthusiast Bayleigh Collins decided she and Cali, her 3-year-old, 80-pound Catahoula rescue should check out dock diving.
"Cali was not sure at first, but once she got used to jumping off the dock, she couldn't stop," Bayleigh said. "Now she somehow knows whenever we are headed to dock diving and gets so excited she barks the entire way."
Bayleigh and Cali occasionally compete for fun. Cali has done very well at the Distance Jump event – she can jump 22 feet in her Master's Division.
Jo Dunham, trainer/owner at the Joasis dock-diving training center in Garden Oaks, has encouraged Bayleigh and is a big ambassador of dock diving in Houston.
"Dock diving is a great way to bond and be active with your dog and get outside more," she said. "If you want to try dock diving, I would start by seeing if your dog enjoys swimming and fetching, and if so find a pool and give it a try!"
In 2013, KHOU-TV news photographer Michele Scarantino was filming at a "Spring Bark" canine event that had a dock-diving demonstration. Intrigued, Michele and Hannah, her high energy, water loving,  2-year-old German Shepherd and Catahoula Leopard mix, decided to check it out.  
Michele eventually became a dock diving trainer at the Houston Dog Ranch in Spring Branch and has mentored hundreds of Houston owners over the past seven years. 
"Any size or breed of dog that loves water and chasing toys can dock dive. Tripods, senior dogs, and even deaf or blind dogs compete in this sport," said Michele. "I encourage anyone curious to check out the area docks and see what it's all about. It's playing fetch in the water."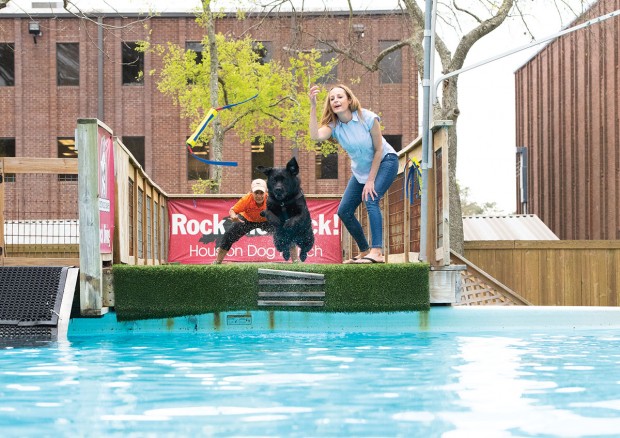 Jolee, a 2-year-old black Labrador retriever, was only 6 months old when she and her owner,  Courtney House, started dock diving.
"Two things that retrievers love to do is fetch balls and swim, so Jolee is in her element," Courtney said. "If we lived out of town near a lake instead of in the middle of the city, Jolee would be jumping off of a dock all the time. It's great having dock diving available in Houston so city dogs can play in the water, too."
Jolee's puppy trainer introduced Courtney to the sport, and Courtney has spread the word to her dog park friends and even her colorist.
Courtney said she is amazed to see all that Jolee can do. They look forward to competing for the first time this year.
Want more buzz like this? Sign up for our Morning Buzz emails.
To leave a comment, please log in or create an account with The Buzz Magazines, Disqus, Facebook, Twitter or Google+. Or you may post as a guest.