Finding your mom squad
Click the Buzz Me button to receive email notifications when this writer publishes a new article or a new article in this column is published.
Buzz Baby is a column about life with babies. Writer Annie McQueen is a mother of four children under the age of 6.
Becoming a first-time mother can be isolating. Humans need to remain connected, with a sense of belonging. New moms especially need that, among all the diaper changes and nighttime feedings. When the world feels too overwhelming, we need to be able to run to our corners with our people.
Kelly Crumley, a hospital administrator at Texas Children's Hospital, found herself at the end of her maternity leave after having her first child, Archer, in 2015. She woke up and got herself ready for something no parent truly ever feels ready for – dropping off her baby at daycare. 
Hands tightly gripped around his infant carrier, she entered the double doors to leave her new baby with strangers and make the drive alone to work. That feeling of a pit in the stomach is a feeling so many new parents know. 
But things got a lot better over time, slowly, after she started meeting some of the other moms at the daycare. Here and there at drop-offs and pick-ups, they learned more about each other, where they were from, where they worked, and she started to feel more connected. They started spending time together outside of the daycare grind. They called themselves "the mom squad."
Kelly and her husband Jarred welcomed their second, a baby girl named Abigayle, in 2019. Equipped with her mom squad, Kelly says she felt much more ready and confident on that drive to Abigayle's first day of daycare.
Kelly and Jarred have met other families at Archer and Abigayle's swim classes, her neighborhood mom's club, and the park.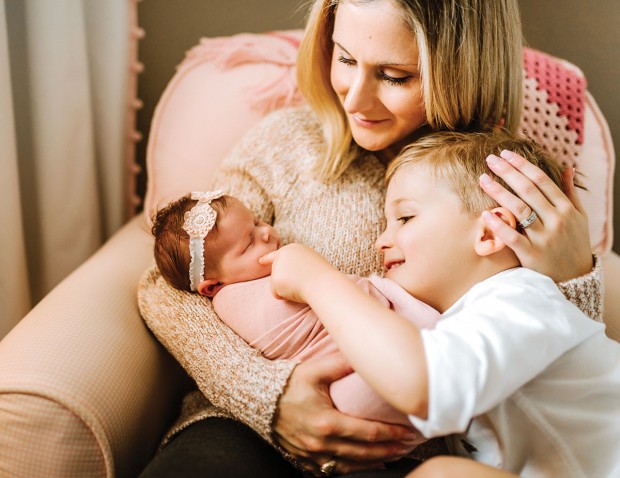 Being at home with your firstborn, feeding, laundering tiny clothes, and trying to sleep, can be isolating. It can feel downright prison-like on the hard days. I remember when I had my twins in 2014. I did not feel confident as a new mother leaving the house by myself with the twins when they were tiny infants (which, thankfully, changed with each child – I took all four to the grocery store not long after the last was born). But, early on, never leaving my house caused my isolation to deepen. 
I still thank God for what I believe was personally one of the best decisions I made as a new mother. I re-joined my local YMCA, the Trotter YMCA, where I could check my twins into the child-watch room for up to two hours a day and stay on-site. 
When I joined, I thought I had to check them in, immediately run up to the treadmill, and immediately return to get them after my workout. I felt guilty and unsure leaving them in there. 
I made that same drive Kelly made – and as I walked through the parking lot, knuckles gripped tightly on my double stroller, that pit-in-my-stomach feeling happened. I handed the babies over to the strangers and walked out. But that day, one of the childcare workers said something to me that changed my perspective about the whole thing. She said, "Some moms just take a shower, pay bills, talk to other moms…." 
I walked out of that baby room and walked into a great mother community I never knew existed at the YMCA. I joined in on the morning workout classes, which were filled with other moms. We would linger after class and visit, friend each other on Facebook, and start to develop a friendship that seemed to revolve around this short yet bewildering chapter of life of raising littles. That same mother community exists at other gyms with childcare around town, too. 
Amanda Behanick, who is expecting her third this month, meets other moms at her family's gym, Club Westside, which is equipped with childcare as well. Amanda has attended workout classes starting two months postpartum with each pregnancy. 
She pointed out another great spot to meet other moms of littles: baby-story hour at the library (check your local library's website). 
Amanda also joined her church's MOPS group, otherwise known as Mothers of Preschoolers, at Houston's First Baptist Church. "It provides childcare, breakfast, and a chance to talk to other moms in the same stage – or a stage ahead of you," said Amanda. Many churches offer MOPS groups. 
Some other groups to look into for meeting other moms are Bellaire Young Mothers, West University Moms, and Facebook groups like Memorial Area Kids Info. (Some groups might be closed to additional members. Just keep searching.)
This month we celebrate new mothers and veteran mothers. This is not an easy job. Surrounding yourself with other mothers makes it a little easier. Remember to stay connected on the journey. 
Know a great place to connect with other new parents? Share your tips with other readers below or by emailing [email protected]. 
Want more buzz like this? Sign up for our Morning Buzz emails.
To leave a comment, please log in or create an account with The Buzz Magazines, Disqus, Facebook, Twitter or Google+. Or you may post as a guest.