Mother's Day Gift Ideas: Book Recommendations for Mom
Click the Buzz Me button to receive email notifications when this writer publishes a new article or a new article in this column is published.
Finding a Mother's Day gift can be tricky and sometimes downright difficult. Books make great gifts because they cover so many different subjects and genres – there is something for everyone. 
Below, I provide some recommendations by category. I want to highlight one particular title by an Austin author that is a tribute to her mother, A Season with Mom: Love, Loss, and the Ultimate Baseball Adventure by Katie Russell Newland. I describe it in more detail below, but I want to mention that the book is available at H.E.B. beginning on May 10, and the Astros will be giving away copies at their game on May 12. 
Memoirs about mothers/grandmothers:
Everything Beautiful in Its Time: Seasons of Love and Loss by Jenna Bush Hager: Hager's heartwarming and emotional collection of essays honors her beloved grandparents, President George and First Lady Barbara Bush and her mother's mother Jenna Welch, who died within 13 months of each other creating a void in her life. To find comfort, she shared their words and wisdom with friends, family and others she encountered in her everyday life, and they urged her to memorialize these anecdotes in a book. 
Lilyville by Tovah Feldshuh – In her new memoir, Broadway and television star Tovah Feldshuh writes about her career through the lens of her often-complex relationship with her mother Lily. Cleverly structuring the book in a play format, Feldshuh reflects on her personal and professional life while providing "Lilyisms" – hilarious bits of wisdom from her mother - and juicy details about what went on behind the scenes in some of her greatest performances. Feldshuh's tribute to her mother will delight theatre and television fans, but will also resonate with those who understand the importance of a mother's role over a lifetime.
Nobody Will Tell You This But Me: A True (as Told to Me) Story by Bess Kalb - Bess and her grandmother Bobby shared a special bond, and when Bobby died at age 90, Bess was devastated. To commemorate Bobby, she wrote a memoir from Bobby's perspective utilizing the many voicemails, texts and emails Bess had saved. Channeling Bobby, Bess relays the advice she received (sometimes hilarious, sometimes critical but always heartfelt) and tales from Bobby's childhood. 
A Season with Mom: Love, Loss, and the Ultimate Baseball Adventure by Katie Russell Newland – Newland and her mom loved cheering the Cubs on from their New Orleans home and dreamed of visiting all of the Major League Baseball ballparks one day. When Katie's mom passes away before they can fulfill this dream, Newland sets out to visit all 30 ballparks in one season to both honor her mother and to reflect on their relationship along the way. This little gem will make a great gift for Mother's Day.
Books about food, wine and interior design:
Expressive Interiors: Designing an Inviting Room by Sandra Lucas and Sarah Eilers – This stunning coffee table book by Houstonians Sandra Lucas and Sarah Eilers highlights the duos' talents as award-winning interior designers. Early chapters detail their process including focusing on color and light, scale and proportion, and pattern and texture. Subsequent chapters provide glimpses into some of the homes where they have worked their magic with descriptions regarding furniture or accessory choices. While this will make a great gift for anyone who is contemplating a room or home remodel, it will also be a great addition to a coffee table or bookshelf for those who want to learn more about design or just simply to read about the pair's work.
Sparkling Wine Anytime: The Best Bottles to Pop for Every Occasion by Katherine Cole – Wine connoisseur Katherine Cole does a deep dive into sparkling wine, from its history to why it is so popular today. She spent nine months taste testing around the world, and she includes her favorite bubblies with food pairings, tasting notes, and producer profiles. This will be a great gift for anyone who lives wine; the illustrations and Cole's witty commentary are great additions to the useful information she provides.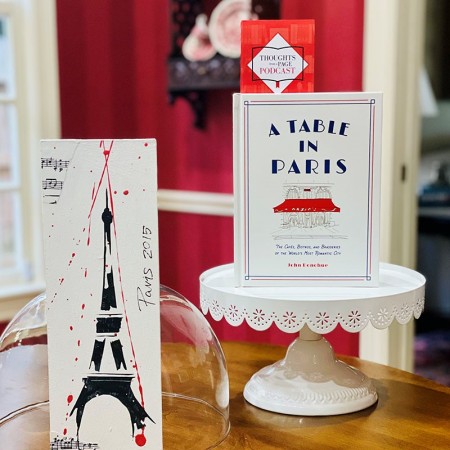 A Table in Paris: The Cafes, Bistros, and Brasseries of the World's Most Romantic City by John Donohue – This is the just the book for those mothers who love to travel, something that soon will be a possibility again. Organized by arrondissement, this charmingly illustrated book highlights the various cafes, bistros, and brasseries of Paris and provides entertaining details about each one; some in several pages of information and illustrations and others with just a sentence or two.
Fun fiction titles for moms:
The Social Graces by Renee Rosen - In The Social Graces, Rosen highlights the legendary feud between grand dames Alva Vanderbilt and Caroline Astor regarding who would reign supreme over New York City society during the Gilded Age. Mrs. Astor, known for determining who made the powerful 400 list and setting the standard for what was in and what was not, represented the old money group, while Alva Vanderbilt, who married into the newly-wealthy Vanderbilt family, continually worked to be accepted by New York society and wanted to eventually take Caroline Astor's place. The Social Graces is a dishy read that is perfect for summer.
Under the Southern Sky by Kristy Woodson Harvey – Newly separated from her husband and on the trail of a new story, Amelia Buxton stumbles across information she wasn't supposed to see. Her childhood friend Parker lost his wife three years ago, and Amelia learns that embryos he and his wife had saved are deemed "abandoned" and are soon to be destroyed. At the risk of upending Parker's world since he has been unable to move on from his wife's death, Amelia tells Parker about the embryos (long forgotten by Parker), and this information sets Parker down a new and uncertain path that will ultimately help him move forward while also honoring his past. This is just the book to throw in a beach bag.
If you are still looking for a book for mom and nothing above works, feel free to drop a note in the comments or email me. I am happy to provide more suggestions! And as always – shop local; independent bookstores are gems, and supporting them ensures that they stay around.
For more book recommendations and bookish thoughts, see Cindy's monthly Buzz Reads column, her Thoughts from a Page Podcast or follow @ThoughtsFromaPage on Instagram. Find upcoming Conversations from a Page events here.
Want more buzz like this? Sign up for our Morning Buzz emails.
To leave a comment, please log in or create an account with The Buzz Magazines, Disqus, Facebook, Twitter or Google+. Or you may post as a guest.