The Oasis: Bringing the Creativity of Burning Man to Bellaire
Click the Buzz Me button to receive email notifications when this writer publishes a new article or a new article in this column is published.
Passing by Atwell Street in Bellaire recently, you might have spied the glimmer of a dazzling tree on the horizon of the quiet cul-de-sac. The metal sculpture is in the shape of a tree, its trunk and branches lined with slowly-transforming colored lights. Hundreds of diamond-shaped leaves dangle like crystals from a chandelier. Wind blowing ever-so-slightly rotates the iridescent, leafy baubles resulting in prisms of colors. Patterns are constantly shifting.
This one-of-a-kind tree was created by artist Paul Robertson, a retired geoscientist. The inspiration for the tree sculpture sprung from a dry desert 2,000 miles away. Paul's adult sons, and fellow Renaissance men, Stewart and Alex, helped bring the vision to life. 
In 2016, Stewart experienced Burning Man for the first time. Located in Nevada's Black Rock Desert, tens of thousands of people gather the week before Labor Day to create a temporary seven-square-mile city, celebrating community, arts, self-expression, and self-reliance. 
Paul shared, "Stewart had a great time and regaled us with stories of the wonderful art at Burning Man. He continued to go every year and convinced my wife Frannie and I to make the trip in 2018. He was right - the art is fantastic." 
"The art pieces at Burning Man are spread out, sometimes over fairly long distances of a quarter mile or more," said Paul. "On one occasion, walking between art pieces, I had the inspiration that it would be neat to have a place to stop, get a little shade and rest, and that was the birth of the art installation that we eventually built [for Burning Man] called The Oasis." 
The vision was three conceptual trees lit at night and covered in dangling, high-gloss leaves that would shimmer in the sunlight during the day. 
Although none of the Robertsons are artists by profession, they all brought creative perspectives and valuable skills. Paul has past experience working with metals and painting cars in his garage, and had the tools and space to build The Oasis. Stewart, 29, is experienced in working with 3D CAD (computer aided design software). He created the engineering schematics and also helped with the welding, cutting and initial assembly of the piece. Alex, a 30-year-old massage therapist who currently lives in Boulder, came to Houston to help reconstruct the tree in Loftin Park. Frannie, long retired from the tech industry, acted as a sounding board and provided project support.
"Paul was surprised when various folks asked about his art portfolio," Frannie said. "He initially said he wasn't an artist, but now he more easily accepts the artist label."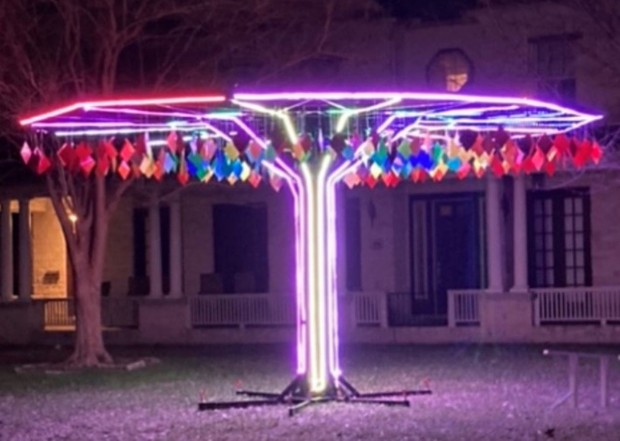 In addition to being drawn to art, the Robertson family is passionate about cars. Paul taught his sons how to repair and maintain cars; he frequently chats with Alex about his vehicle and even took on building a Super Light Coup race car with Stewart. Mechanical skills have been passed down through the generations. Paul said his father and grandfather were both mechanically-minded and taught Paul how to build and repair items. In turn, Paul has passed on these handy skills to his sons.
"Dad was always having us do DIY projects," Alex reflected. "It helped that he was always encouraging – sometimes even motivating us with Taco Bell!" 
The Robertsons began to build The Oasis in January 2020 with the goal of bringing it to Burning Man last fall. "Then Covid happened and Burning Man 2020 was canceled, which left me a fair amount of free time to continue working on the first tree," Paul said. This tree will be part of a larger installation. Paul is currently working on the other two sculptures, which will all be displayed together. This tree is the smallest of the three pieces.
Stewart was able to help Paul finish the tree over the summer. They stored the sculpture in the garage for six months then decided to install it in their front yard over the holidays. Alex came home and pitched in to help make leaves and set up The Oasis before Christmas. 
Soon, walkers and passersby had found their own Oasis in the middle of Bellaire. 
"One of the real bright spots of putting the tree in our front yard is that I have really been able to meet a lot of our extended neighborhood as the tree now seems to be a destination point for walking," Paul said, smiling. "I have met other artists and people who have gone to Burning Man that live nearby. One night we had a little mini Burning Man get-together under the tree with some neighbors who also had built an art piece for Burning Man a number of years ago."
In January, Paul posted a video of the tree on social media and received a tremendous response. Andy Williamson, the head of the Arts Council for the City of Bellaire, saw the video and ultimately invited Paul to display his tree as a temporary art installation in Bellaire.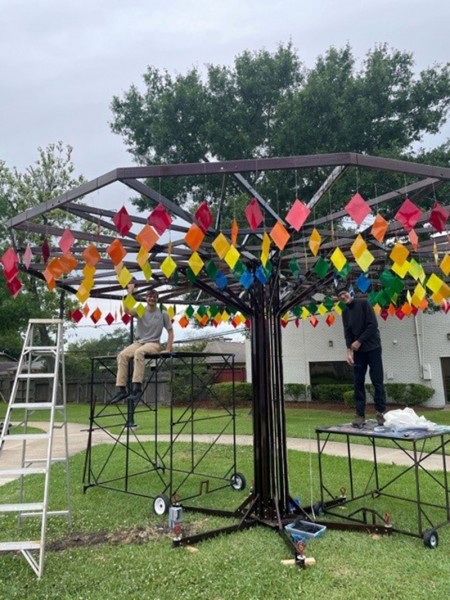 Paul happily agreed. The Oasis will be in Loftin Park next to Bellaire City Hall in late April until the end of July, with a ribbon-cutting on Thursday, April 22, 2:30 p.m.
"This is not something that I had ever envisioned doing and yet now that I'm going down this road it's very exciting and has really energized both my family and I," Paul said. "It is a great avenue for my sons, my wife and I to have a common interest and a shared purpose. I think it is important for families to be able to have something in common that they enjoy doing together like travel, outdoor activities, hobbies, etc.
"Having taken the leap to build this piece of art has inspired both my sons and I to do other things as well. It also gives a sense of possibility, which changes your mind and gives one the idea they can do a lot more."
The Robertsons and The Oasis - including all three tree sculpture pieces - plan to attend Burning Man 2021 in August if the event takes place; Alex hopes to join this time as well. In the meantime, stop by to get a glimpse of this colorful tree in Loftin Park.
The Oasis may have missed its 2020 Burning Man debut but perhaps the silver lining is a stop in Bellaire.
Want more buzz like this? Sign up for our Morning Buzz emails.
To leave a comment, please log in or create an account with The Buzz Magazines, Disqus, Facebook, Twitter or Google+. Or you may post as a guest.