Spreading Joy
With little acts of kindness
Click the Buzz Me button to receive email notifications when this writer publishes a new article or a new article in this column is published.
It's always a good time to show a little kindness. But this year? Well, this year calls for a double dose.
That's why the efforts of some local middle- and high-schoolers are more important – and more appreciated – than ever.
Esha Bhavsar, an eighth-grader at Lanier Middle School, Bella Kalra, a sixth-grader there, and Maya Kadia, a sixth-grader at St. John's School, are on a mission. They've founded Kind Cards with the goal of spreading joy to every household in Bellaire.
"I had an idea to write letters to thank healthcare workers," Esha says. "Then my mom was like, 'What if we did this for every single house in Bellaire?' So we had the idea to use art created by Bellaire citizens to make postcards spreading kindness and love for our community.
"Maya and Bella are both family friends of mine. They're really reliable and great people, so I invited both of them to join me."
"Thanks, Esha," Bella says. "It's awesome to work with her!"
Maya chimes in: "I was really excited when Esha asked me because I think it's a really great idea. This pandemic has been very difficult, really devastating. Also with the recent election, there's a lot of division in what people believe in. I was really enthusiastic about this project and thought it would bring everyone together."
Esha has always loved drawing, and she especially likes to make handmade birthday cards. So it was natural for her to want to use artwork created by neighbors to adorn cheerful postcards to send throughout her community.
"My mom came up with the Kind Cards name and our slogan, 'Kind Cards Bellaire: Share the love,'" Esha says.
Sneha Bhavsar, Esha's mom and a member of the City of Bellaire's Culture and Arts Board, was inspired by a project Bella's family, the Kalras, took on last summer. They asked neighbors to display signs with kind messages in their front yards.
"Last summer, during the pandemic," Bella explains, "my mom came up with the idea of everyone designing their own sign – my mom has a friend who makes signs – and paying $20 that would raise money for UNICEF. My favorite was my friend's sign that said, 'Spread kindness, not Covid-19.'"
Kind Cards will feature artwork made by Bellaire residents and submitted for consideration to be printed on postcards. Additionally, the girls are asking residents to submit poems and quotes relating to kindness. Postcards will feature the art and a kind message. Each Kind Card will also have a tear-off postcard that the recipient can use to send to another Bellaire neighbor.
"We want people to submit even if you feel like you aren't good at art," Maya says. "Just putting in that effort and thinking about kindness is really important."
The girls meet weekly over Zoom to check in with one another. "It's our weekly debrief and discuss, and the core of the whole business," Esha says. "We talk about things we need to do, and next steps, like how we are going to get funding to print and mail the cards." They've estimated printing and postage costs to be about $2,000, and they're working on ways to raise the money.
"We're planning to create a template for other towns to organize groups to make Kind Cards," Esha says. "We want to come up with other ideas of how to bring kindness to your community."
"I'm sure after this people will be inspired to do other acts of kindness," Maya says.
"We also want to do neighborhood challenges," Bella says. "Things like next time you make a sweet treat, drop some off to a neighbor, or put a sticky note on your neighbor's door with a kind message. We just really want people to do random acts of kindness because that's awesome!"
Lily Harvey, a freshman at St. John's, is spreading kindness in her own way, by gifting frontline workers with bracelets she's made. Like Esha, Lily was initially inspired by her mom. 
Lily's mom, Mikki Hebl, a professor in psychological sciences at Rice, learned to make bracelets to give friends at her 50th birthday party. Her neighbor Nancy Bynon, a retired nurse, taught her how to do it.
"I like to make bracelets and wear them, and if someone likes it, I'll roll it off and give it to them," Nancy says. "It's a little happy.
"When Mikki and Lily wanted to make something for the frontline workers, I got Mikki to double-mask, and we went and got a bunch of beads. And when I say 'a bunch of beads…'"
Lily says, "We thought it was important to thank the frontline workers for all they were doing. We had been in quarantine a lot during the summer, and I was grateful for them.
"Nancy showed me how to make the bracelets at first just for fun, and then we decided to make it into a project."
And a project it became. Lily not only made the bracelets but also calligraphed thank-you notes to pair with the jewelry, and she bagged everything in little jewelry bags so that it would feel special to the recipient.
"She would not let me near them," Mikki says. "Sometimes we mothers do the projects. But this was not that."
According to Nancy, Lily was systematic about the project: She calculated how many bracelets she could make each day, and then she made them. "Lily would take them back to me because my husband [Steve] works [as a transplant surgeon] at Memorial Hermann. I would give them to my husband to give them out to doctors or administrators, then they'd go to the ICU and all over. I even took some to the grocery stores and got the managers to give them out to cashiers."
Lily's beautifully calligraphed notes read, "Thank you so much for everything you do. I really appreciate you helping to keep the community safe."
"Frontline workers can't afford not to do their jobs, and they are risking themselves so that the rest of us can stay safe," Mikki says.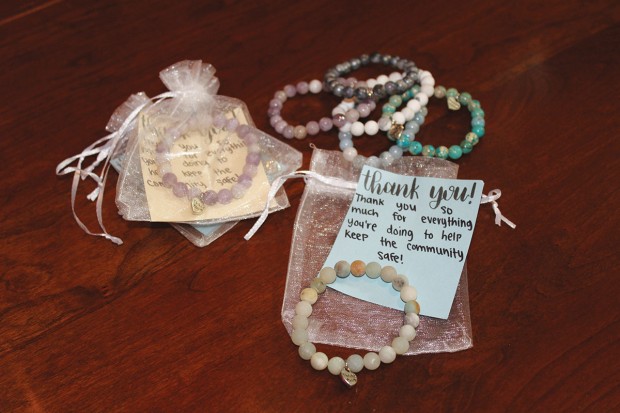 Lily says that making the bracelets introduced her to the joys of giving back to her community. She has put in around 300 volunteer hours this year, both making bracelets and participating in service opportunities at St. John's. Now she is one of three Community Service Officers in her class.
"I've gotta tell you," Mikki says proudly, "one of my jobs in life is to produce good citizens. Lily has found a love at a very young age. For some it's athletics, for some it's a special musical talent. For Lily, it's giving to others."
Mikki adds, "It is in giving that we receive. Lily does not see this as work. Right now, she's got markers all over her fingers. And she really does feel joyful about it."
If you want to submit art and/or quotes and poems to be considered for use on Kind Cards, send your work and/or ideas to [email protected].
Want more buzz like this? Sign up for our Morning Buzz emails.
To leave a comment, please log in or create an account with The Buzz Magazines, Disqus, Facebook, Twitter or Google+. Or you may post as a guest.