Chef's Corner: Jonathan Benno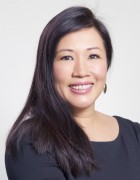 Click the Buzz Me button to receive email notifications when this writer publishes a new article or a new article in this column is published.
Michelin-starred chef Jonathan Benno anticipated that his Cafe Leonelli in the Museum of Fine Arts Houston's new Nancy and Rich Kinder Building would be bustling. After being cooped up during Covid-19, he figured Houstonians would be itching to dine out, plus the counter-service concept would have a captive audience. Dining options are sparse around the 14-acre MFAH campus on Bissonnet. 
Cafe Leonelli was the first of two MFAH dining concepts to open this spring. The Bastion Collection, a New York-based hospitality outfit behind La Table in Houston's Galleria area, tapped Benno to open the cafe in April, followed by Michelin-starred chef Alain Verzeroli's upscale French-inspired Le Jardinier. 
The roughly 2,500-square-foot Cafe Leonelli, located just off the atrium, seats 100 diners, with an outdoor area overlooking the Cullen Sculpture Garden. Its breakfast and all-day menus borrow from Benno's Italian trattoria, Leonelli Restaurant & Bar, and Leonelli Bakery, the chef's salute to Rome's great bakeries. Bastion's executive pastry chef, Salvatore Martone, oversees desserts for Le Jardinier and Cafe Leonelli, which also houses Martone's ice cream shop Frohzen. 
"Cafe Leonelli has been incredibly busy," Benno said. "We knew we would have an audience Wednesday through Saturday, but Mondays and Tuesdays have been good, too. What's been amazing has been the turnout from the community. We have 500-600 people coming through the restaurant daily. You heard right, 500-600. Right now, a busy problem is good to have." 
Benno operates his eponymous fine-dining restaurant, along with Leonelli Restaurant & Bar and Leonelli Bakery, in the historic Evelyn Hotel on East 27th Street in New York City. Below, the Connecticut native discusses the dining scene there and here, and how he garnered Michelin stars for not just one, but three restaurants. 
Houston restaurants and bars have returned to full capacity. What about New York?
Fifty percent and no bar. It's an opposite problem in New York, where there is no revenue.
Your wife, Elizabeth, a chef, and your two daughters live on the East Coast. You're dividing your time between Houston and New York. How did you end up here?  
Yes, it did seem strange at first to come down to Houston. I've never been here before, but the reason this works is because of Stephen Conklin. He's the executive chef for La Table, and now also Cafe Leonelli's executive chef. 
We worked together in New York and have been friends for years. Unless I had someone on the ground who is familiar with the recipes and how we work, I don't know if I could do it.
Well, you did it. Tell us about the menu, particularly the eggplant parmigiana. 
The dishes are high-quality and beautiful, but also recognizable. From 8 till 11 a.m., you have an array of Italian pastries, oatmeal, and yogurt, but we're already looking to expand the offerings because neighborhood turnout has been so great. We might include more frittatas, more egg dishes in the morning. 
From 11 on, we offer focaccia, sandwiches, salads, and soups. Then there is a selection of hot, ready-to-serve foods, such as lasagna verde with meat ragu and chicken cacciatore with roasted mushrooms, cultivated by Lone Star Mushrooms in Tomball, Texas. I grew up eating meatballs, so we serve them here with marinara and polenta from Homestead Gristmill up in Waco, Texas.  
The eggplant parmigiana is from my grandmother, who was Italian American. In the summer, she would make it with fresh tomato sauce, eggplant, and basil. It was unbelievable, and I make it the way she made it, except she sliced her eggplant by hand, and here, we use an electric slicer. 
Pasta and olive oil are the heart and soul of Italian cooking. When you're not making fresh pasta, do you have a dry pasta brand that you like to use at home? 
De Cecco is great. There are a ton of smaller producers just outside of Naples, but if I make pasta at home? It's De Cecco rigatoni. 
What about olive oil? Any favorite? 
We use a ton of olive oil. We use a workhorse olive oil called Monini. As for really fine extra-virgin olive oil, that should never be heated because you destroy the bouquet and the flavor. Now, olive oil, a lesser grade, you can heat, but not to the smoke point. If you're wilting spinach or braising greens like we do, that oil gets hot, but it doesn't smoke. For sautéing, we use canola oil. We used to use peanut oil, but we have to be really careful because of the allergies. Canola is the way to go for cooking. Olive oil for medium-heat cooking, and extra-virgin olive oil for finishing or drizzling onto dishes and salads.
You washed dishes at 15, then cooked at the Hard Rock Café in Hawaii. After The Culinary Institute of America, you worked for the Who's Who of cooking, including Michael Mina, Thomas Keller, Christian Delouvrier, Marco Conora, Tom Colicchio, and Daniel Boulud. Who influenced you the most? 
Thomas Keller. I worked for him, on and off, for 10 years. I certainly learned a lot about classical French cuisine from him and organization, discipline, attention to details, respect for the ingredients, and respect for the staff. 
As Keller's chef de cuisine, you helped Per Se earn three Michelin stars. You also garnered a Michelin star for Benno and Lincoln Ristorante in New York's Lincoln Center, which you opened after leaving Per Se. Now that Café Leonelli has opened, have you checked out Houston's culinary finds and offerings? 
I just got back from Granel Spice Market (2503 Link Road) near the Houston Farmers Market. I can't wait for that to fully open. I've been to La Lucha (1801 N. Shepherd Drive), State of Grace (3258 Westheimer Road), Bludorn (807 Taft St.), and The Pit Room (1201 Richmond) for barbecue. I've started branching out a bit, though. I've gone to a few of the Asian places in Bellaire. It's an exciting city.
Grandmother's Eggplant Parmigiana
This family recipe hearkens back to the warmth of Michelin-starred chef Jonathan Benno's grandmother's kitchen. In the summer, she used fresh tomatoes and eggplant plucked from the garden.  It remains his favorite dish.
The marinara sauce is always good to have on hand for a quick, easy weekday meal. It is the foundation for not only eggplant parmigiana but countless other Italian dishes.
Marinara Sauce:
¼ cup olive oil
1 cup Spanish onion, diced
2 whole garlic, pressed or minced
28 oz. canned San Marzano tomatoes, crushed, and keep the tomato juice
1 piece of bay leaf
Salt and ground Tellicherry black pepper to taste
⅓ Tablespoon red wine vinegar
⅛ cup fresh basil, whole or roughly chopped
Add olive oil to a heavy-bottom pot or pan – heat oil to temperature over medium heat. Add onion and garlic and cook until soft, constantly stirring to prevent browning. Add tomatoes and bay leaf. Cook on low flame for about 2 hours, stirring occasionally. Turn off heat, and season with salt and pepper to taste.
Stir in red wine vinegar and basil and allow to cool. You'll end up with about 2 cups of marinara. You can store the sauce in the refrigerator until you're ready to make the eggplant parmigiana. It will keep for about five days.
Eggplant Parmigiana:
Marinara Sauce (see above)
1 medium eggplant, sliced thin
¼ teaspoon salt
2 cups canola oil for frying
½ cup AP flour for dredging the eggplant
½ cup Parmigiano Reggiano cheese
⅔ cup shredded mozzarella
Preheat oven to 375 degrees. Thinly slice the eggplant into rounds. Lay the sliced eggplant on a sheet tray and lightly sprinkle salt all over the sliced eggplant. Let it sit for about 15-20 minutes. You will see tiny droplets of water on the eggplant; that is when you will know that all the bitterness has been extracted.
While eggplant is "sweating," add canola oil in a deep sauté pan. Heat the oil to 350° F.
While the oil is heating, dab paper towels on the eggplant to remove the remaining bitter water. Dip the eggplant slices into the AP flour; make sure the slice is coated. Once coated, give it a tap to release the excess flour.
Fry the eggplant slices in the oil until golden brown on each side. Once golden brown, pull them out and place on paper towels. Repeat this process in batches to prevent overcrowding and until all the eggplant is fried.
Assemble the eggplant parmigiana in a small baking dish. Start with a layer of marinara on the bottom of the dish, then eggplant, then Parmigiano Reggiano cheese, followed by mozzarella. Season with salt and pepper.
Repeat this process until you get to the top of the baking dish. The last ingredient on top should be mozzarella.
Place the eggplant parmigiana in the oven and cook for 45 minutes or until it is golden brown on top and the sauce is bubbling. Let it rest for 5 minutes before serving. Makes 3-4 servings.
Editor's note: Buzz dining columnist Dai Huynh is a James Beard food-journalism award winner and longtime Houston-based restaurant writer.
Want more buzz like this? Sign up for our Morning Buzz emails.
To leave a comment, please log in or create an account with The Buzz Magazines, Disqus, Facebook, Twitter or Google+. Or you may post as a guest.