Author Q & A with Houstonian Kristin Waring
Click the Buzz Me button to receive email notifications when this writer publishes a new article or a new article in this column is published.
Houstonian and Buzz resident Kristin Waring self-published her book, On the Mound, in April 2021. While I have not read On the Mound, I always enjoy hearing authors' stories and the different journeys they have taken to publication as well as highlighting Buzz residents who contribute to the book world. 
Kristin Moyer Waring grew up in Wayland, Massachusetts, and she now lives in Houston, Texas with her husband. Kristin was lucky enough to spend summers on Cape Cod with her family as her father was involved with the Cape Cod Sea Camps in Brewster.
I hope you enjoy our Q & A.
Tell me a little bit about your book.
On The Mound is a story set on Cape Cod about an autistic young man who can pitch a baseball as fast as any major leaguer. His talent catches the eye of a famous New York sports reporter who gets caught up in his story and becomes enamored with his family, especially the boy's father. She remains on Cape Cod to write her story for ESPN and realizes she has met a family of remarkable individuals. Caleb, the young 19-year-old pitching phenom is dearly loved and protected by those around him. As she and the boy's father grow closer she becomes a trusted friend of the family. One mistake nearly costs her everything. It is a story of love, family and second chances. 
What comes first, the plot or the characters?
The plot came first - 100 percent! I love an underdog story to begin with and grew up around the Cape Cod Baseball League during the summer and absolutely loved going to the games. Putting something together with those was how I came up with the "what if?" moment. I wrote the first two chapters creating the main two characters after that. The rest just followed. Although I knew how I wanted it to end, I wrote the rest really in piecemeal.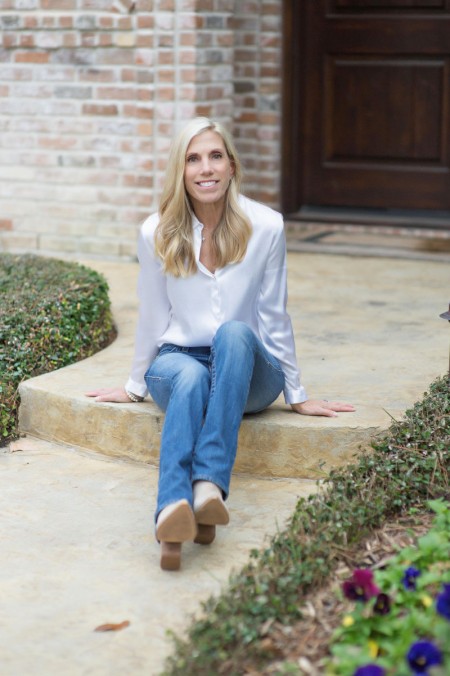 What do you hope your readers take away from your book?
Although life throws many "curve balls" and everyone has their struggles, leaning on and counting on one's family and friends for support is so important. Life is not perfect and second chances are always a possibility. 
What were the key challenges you faced when writing this book?
Writing about an autistic young man and the struggles of his family was by far my biggest challenge. I did a lot of research about what families with autistic children face and some of their challenges. What I really counted on was my intuition as a parent. A parent and the lengths to what one would do to protect and nurture a child was what I based a lot of the story on. 
How do you come up with the title to your book?
The title I had in mind from the very beginning. On the mound is where Avery first sees Caleb, but more importantly to their story is it is when Avery first lays eyes on Dan, Caleb's father. 
What is the most difficult part about writing for you?
Being disciplined and making the time to write and edit and work on the post production of the novel. Basically the entire process. I enjoy writing so much, and it befuddles me how sometimes I am not that disciplined about the process. I actually read a lot of books, articles, and podcasts about forming good habits. 
What was your favorite part and least favorite part of the publishing journey?
Deciding between publishing & self-publishing was the hardest part. For a long time it was "if" I publish a novel. I can remember the day when it became a "when," that was my most favorite though. 
Are you working on anything at the present that you would like to share with me?
I am about a third of the way through my second novel, Abroad. It is set in Boston, Connecticut, and Rome. I thought it would be different with my second novel, but I realize it is the story, the "what if" that I start with and the rest comes from there. 
What are you reading now?
I am listening to The Alice Network by Kate Quinn and reading Bunker Hill by Nathaniel Philbrick. I will read anything he writes. He also wrote Mayflower and In the Heart Of the Sea, which are both incredible. 
For more book recommendations and bookish thoughts, see Cindy's monthly Buzz Reads column, her Thoughts from a Page Podcast or follow @ThoughtsFromaPage on Instagram. Find upcoming Conversations from a Page events here.
Want more buzz like this? Sign up for our Morning Buzz emails.
To leave a comment, please log in or create an account with The Buzz Magazines, Disqus, Facebook, Twitter or Google+. Or you may post as a guest.