Waterfront Dining
In Bayview, Bacliff, and San Leon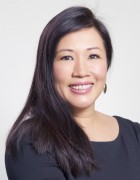 Click the Buzz Me button to receive email notifications when this writer publishes a new article or a new article in this column is published.
Laughing gulls, brown pelicans, shrimping boats, barges, speedboats, glittery Galveston Bay, and distant tanker lights – food eaten by the water always seems to taste better. 
The tranquil waters around Galveston Bay can stir the soul and appetite just as much as San Francisco Bay or Long Island Sound. At sunset, over giant fried Gulf shrimp, the ripple of the water dances to a kaleidoscope of yellows, oranges, reds, and purples. 
As the sun meanders across the horizon on long summer days, diners can linger over icy beers and fried oysters on breezy decks or, more recently, in a glass-walled patio at the new Pier 6 Seafood & Oyster House in San Leon. Of course, several places along Kemah and Galveston Island overlook the water, but few hold onto the last ray of sunshine like San Leon and neighboring Bacliff. 
When my editor suggested a waterfront piece, I thought about showcasing eateries in Galveston, Seabrook, Kemah, and Clear Lake. One particularly stylish surf-and-turf place, Opus Ocean Grille (1510 Marina Bay Drive), overlooks the Clear Lake Shores marina. Less than three minutes away in Kemah is an oldie, but still a goodie – Sundance Grill II (800 Mariners Drive), adjacent to sailboat masts at the Waterford Harbor Marina. 
Landry's Kemah Boardwalk also offers plenty of family options, but beware: The kids might talk you into riding the Boardwalk Bullet Roller Coaster after dining at the Flying Dutchman (9, Waterfront) or Bubba Gump Shrimp Co. (5, Boardwalk). If that's the case, know with satisfaction that you rode on one of only four wooden roller coasters in Texas. 
But after listing waterfront restaurants off the top of my head, I kept coming back to the unincorporated communities along Galveston Bay: Bayview, Bacliff, and San Leon. Like a string of pearls, the trio span about 12 square miles, with a combined population of 15,000 or so. Imagine a half-waning crescent moon beginning at Bayview and ending at San Leon. 
Aside from boaters and anglers, weekenders often have overlooked the area. There is even an annual music festival called "Where the Hell Is San Leon?" at Waynos, a local watering hole.
Until recently, developers ignored the area, leaving the laid-back, scrappy communities relatively underdeveloped and the salt marshes with cordgrass and saltgrass intact. As a result, the restaurants on the Bacliff and San Leon shores boast hard-to-beat water views.
The busiest day of the year is July 4, when the area swells with visitors seeking prime vantage points to watch the fireworks over Kemah, a spectacle that can be seen as far as San Leon. Folks here also can view fireworks in Baytown and League City. Many people will rent two years in advance to see the spectacular display, says Airbnb host Nancy Greenstein. 
Greenstein compares coastal living to "being on a permanent vacation" with abundant, fresh, and local seafood. People in the know come from all over to sample the menu at land-locked Gilhooley's – the adult-only oyster stronghold famous for wood-grilled oysters. 
The original Gilhooley's location in Bacliff is now Noah's Ark Bar & Grill (4438 Boulevard Street), where Greenstein sends guests for breakfasts. Greenstein also likes Sunday brunch at Marais (2015 FM 517 Road East) in Dickinson, with its beer garden and adult swings. However, the Louisianan dining complex enjoys a bayou view vs. the bay view at Noah's.
At Noah's, Harley-Davidson motorcycles park by the rail fence with an American flag. Saturday starts quietly at the multi-level food and music venue. Breakfast attracts baby boomers, who dress in protective leather gear on  the weekends and in designer suits on weekdays. At the largest palapa bar in the area, you never know who you'll run into – a struggling sculptor or biotech millionaire dreaming of Jimmy Buffett's Margaritaville.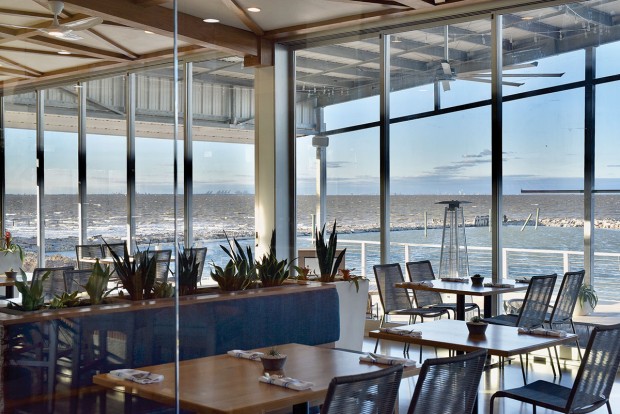 A waitress breezes by a three-person band with a plate of Hot Mermaids – bacon-wrapped shrimp with jalapeños. The best-seller comes beer-battered and fried or grilled. In her other hand is a vodka-spiked chocolate mudslide with Blue Bell vanilla ice cream and Kahlúa. Eyes widen when her blond colleague brings out a half-foot-tall Hog Burger, stacked with three 8-ounce beef patties divided by two kinds of cheeses and four slices of bacon. 
The second-floor Parrot's Nest affords a bird's-eye view of the bay, bordered by wild grass and sunflowers. A father with two teenagers throws a line off a pier in front of the eatery. 
"We're on island time," co-owner Kellie Verlander says. "People will spend hours here. Then, when they leave, they're a little more relaxed." 
Noah's makes a banana drink, the Dirty Monkey, with 2-year-old reserve XO rum from Railean Distillers. 
Kelly and Matt Railean opened the first Texas rum distillery in 2006 on 5th Street in San Leon. Today, it produces seven rums, three agave spirits,  two whiskeys, and vodka. At 3 p.m. every Saturday, the tasting room opens for tours. For $20, participants get a shot glass and a tasting. 
An easy day trip would be touring Railean for a couple of hours and then forking into some of the juiciest oysters around at Pier 6 Seafood & Oyster House (113 6th Street). 
With 300-plus seats and an expansive two-level patio, the San Leon restaurant couldn't have opened at a worse time, amid the Covid crisis last October on Halloween. Some say owner Raz Halili and executive chef Joe Cervantez switched on the stove to meet the challenges head-on when opening an upscale seafood palace in an area that doesn't like to take on airs. Or, Halili had the foresight that times and tastes are changing. People wanted something more upscale but still unpretentious along the docks where he grew up.     
Before the doors open on a recent Saturday, people line up outside Pier 6. With more than 5,000 weekly visitors, those without reservations might be out of luck on the weekend.  
"I'm humbled by how much people enjoy coming here," Halili says. "I guess we fill a void."  
His executive chef commanded the kitchen at Killen's Steakhouse, then Brennan's of Houston – both Gulf Coast-driven – before Halili lured him away. Cervantez's refined touches are apparent throughout the menu, starting with the refreshing plumb, raw Texas oysters topped with a lime-tart cucumber granita. The Art Institute of Houston grad showcases them in the appetizer section and on the cold seafood platter for weekend brunch. For $49.99, it includes lobster tail, boiled shrimp, and a mellow smoked octopus ceviche.  
At Pier 6, diners can make an entire meal out of oysters in their various guises, from the anise-anointed Rockefellers with chiffonaded spinach or garlic-butter Prestige draped in Parmigiano Reggiano, to the Hot Blooded, garlic-spiked sriracha and habanero butter. 
Getting the best bivalves for Halili is as easy as a two-minute drive down the street to 1st Street in San Leon, literally. His Albanian father, Johnny, started their immigrant rags-to-riches family business, Prestige Oysters, with his mom, Lisa, diligently working alongside as deckhand. Prestige now supplies oysters to restaurants and companies in the United States and Canada with a fleet of 100-plus boats, processing facilities, and docks in four states. 
Chef Cervantez's task was to elevate familiar favorites. He excelled in the jumbo Gulf shrimp swathed in golden breading and immaculately fried. The hamburger is a surprise favorite. Soft, tender buns benefitted from a loosely hand-shaped Akaushi patty gooey with American cheese. Cervantez's simple yet perfectly executed approach is elegant. It complements the brisk contemporary 5,000-square-foot space, formerly Bubba's Shrimp Palace. 
Most places in the area will allow leashed pets on the outdoor patio, and Pier 6 is no different. A glistening chocolate Lab looks around the sprawling South Beachesque deck, then calmly returns his gaze to the sparkling bay, only marginally marred by the marina's construction. 
Halili hopes to finish part of Pier 6's marina in the summer. It's hard to pin down the date. But he looks forward to when 70 or so boats pull into the slips, and boaters can dine on fried snapper without stepping off their yachts or sailboats. Instead, waiters will come to them. 
Across town, an hour before sunset, fishing boats and a 30-foot Albin pull into Topwater Grill (815 Avenue O) in southern San Leon, home of another major Gulf oyster producer, Misho's. 
A 50-something man, his sun-kissed wife, and her sister step off a cruiser, then slide into a gliding booth that swings back and forth, and order a couple of pounds of Royal Reds.
"Most people come here for the steamed Royal Red shrimp," waitress Nicole Trout says.   
I ate at Topwater Grill every weekend for years when I was a boater in another marriage, another life. I hadn't been back in a while, and while it has changed, in other ways, it's the same.
It's incredible, considering that Hurricane Ike leveled the place in 2008, and then it reopened a year and a half later. Not much has changed except for the size of the restaurant. Topwater started in a 900-square-foot cinder- block building that grew and grew to 8,000 square feet.
The fried shrimp is still the No. 1 seller, hands-down. "Momma" Angelica still makes the blueberry bread pudding out of everything she can get her hands on, including hot dog buns. The thing that still sets Topwater apart is that it will fry or grill your catch for $14 per person.
The roof remains blue, and the cheerful yellow building beckons diners, mirroring the staff's sunny disposition. After 22 years, Robert Jakubas still runs Topwater with a sense of humor. Regulars still can catch a glimpse of his dad, Capt. Wally, surveying the marina.  
People thought Capt. Wally and wife Barbara were nuts to purchase a four-acre marina on April Fool Point in the '70s. More than four decades later, they are viewed as brilliant and lucky. 
April Fool Point remains surreal at sunset, especially on warm evenings when the sunset bleeds across humid skies. Then, almost magically, the evening light washes everything in a golden halo. Birds drift through, flying high, then low one last time before the water goes dark. 
Editor's note: Buzz dining columnist Dai Huynh is a James Beard food-journalism award winner and longtime Houston-based restaurant writer.
Want more buzz like this? Sign up for our Morning Buzz emails.
To leave a comment, please log in or create an account with The Buzz Magazines, Disqus, Facebook, Twitter or Google+. Or you may post as a guest.