Diving into the 2020 Tokyo Summer Olympics
Click the Buzz Me button to receive email notifications when this writer publishes a new article or a new article in this column is published.
During the 1996 Atlanta Olympics, I worked in logistics for NBC Sports. One of my responsibilities was driving a 15-passenger van with the crew to and from the tennis venue located at Stone Mountain, about 30 minutes northeast of Atlanta. Passengers included the director, assistant director, and NBC sportscasters (and tennis legends) Bud Collins and Mary Carillo. I had never driven a van that big! Every morning I prayed that I would remember to take the right freeway. That year, Americans Andre Agassi and Lindsay Davenport both won the gold. It was a once-in-a-lifetime experience.
The 2020 Tokyo Olympics (delayed by a year due to the pandemic) kicks off Friday, July 23, 2021. Catch the Opening Ceremony live at 6 a.m. CST or watch the rebroadcast on NBC, 6:30 p.m. CST.  
More than 11,000 of the best athletes from 206 countries will participate in 33 sports: aquatics, archery, athletics, badminton, basketball, basketball 3×3, boxing, canoeing, road cycling, cycling track, mountain biking, BMX freestyle, BMX racing, equestrian, fencing, field hockey, football, golf, artistic gymnastics, rhythmic gymnastics, handball, judo, modern pentathlon, rowing, rugby, sailing, shooting, table tennis, tennis, taekwondo, trampoline, triathlon, volleyball, and weightlifting. After a 12-year hiatus, baseball and softball are back, plus four new events: karate, skateboarding, sport climbing, and surfing.
Fired up like the Olympic torch for the 2020 Tokyo games, these gold medal-worthy Buzz spectators shared some favorite Summer Olympic memories.
1996: Atlanta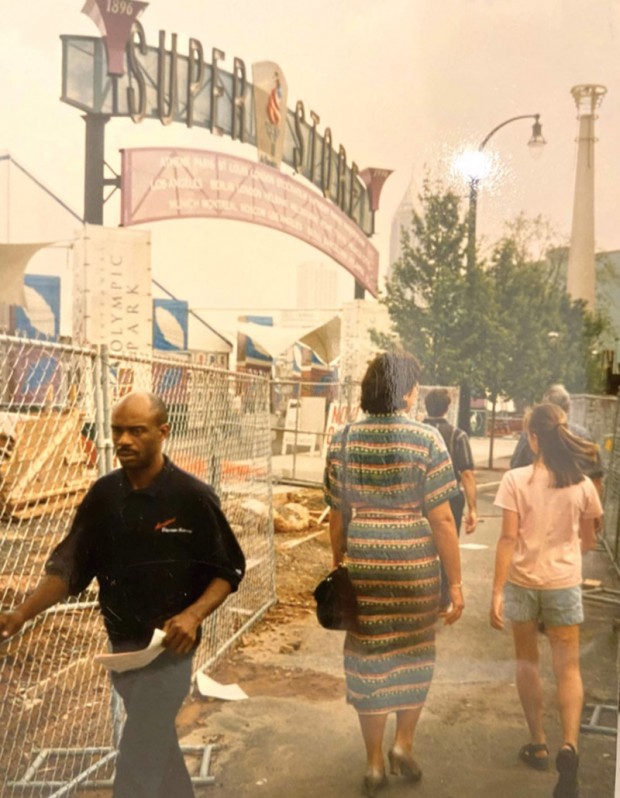 Audra Dezfulian and her mom, Shirley Flanders Horn, were living in Atlanta in 1990 the day the International Olympic Committee announced that Atlanta would be the host city for the 1996 Olympics.
Audra, 12 at the time, shared, "TVs were brought into our classrooms so we could watch the news. The teachers and students all started cheering and celebrating. Outside everyone started honking their horns! The whole town was so excited." 
Shirley was director of catering at the Omni Hotel in the CNN Center near Centennial Park and often saw VIPs like the USA Basketball team, which included Charles Barkley, Shaquille O'Neal, and Hakeem Olajuwon.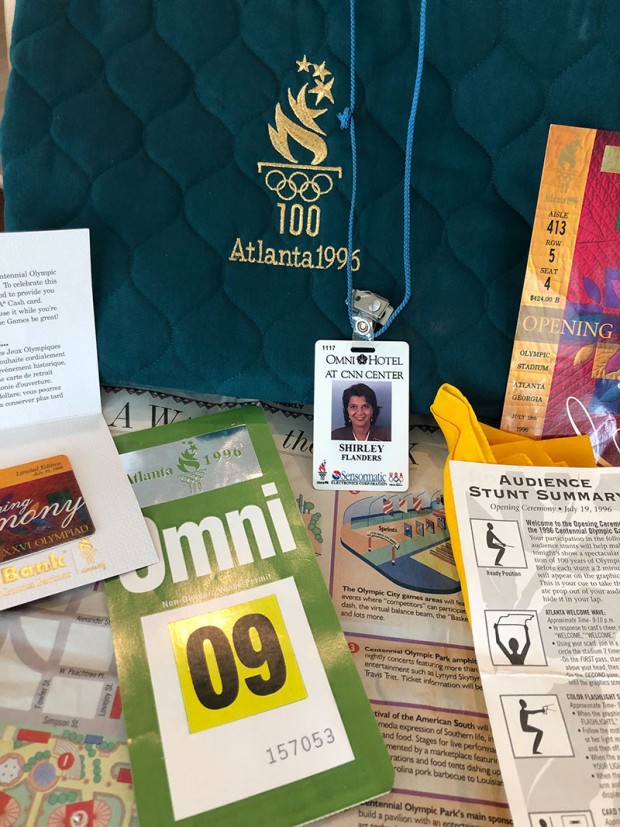 A friend gave Shirley a ticket to the Opening Ceremony. "My seat was right next to Katie Couric. We said hello but then she was catching up with her kids on a cell phone, which was cutting edge at the time!" She remembers yellow scarves left on every seat; spectators had to wave the scarves during the ceremony. "They even made us have a practice!" 
Audra and her dad attended a free Joan Osborne concert in Centennial Olympic Park. "We arrived four hours early so we could get 'front row' seats right behind the USA women's gymnastics team including Kerri Strug on her crutches. It really was a lot of fun to see so many people from all over the world in our city during that special time."
Talia Nowitz Diamond was 23 when she traveled with her parents and two brothers to visit their cousin in Atlanta who recently had a baby. Talia said it was perfect timing - they had the opportunity to meet their new family member and her uncle got them tickets to see the track and field events plus Closing Ceremony. "Our family immigrated to Houston from South Africa in the late '70s and we love the USA, but we wore South African colors and had South African flags. It was very exciting to see all the fans represent so many different countries!"
2008: Beijing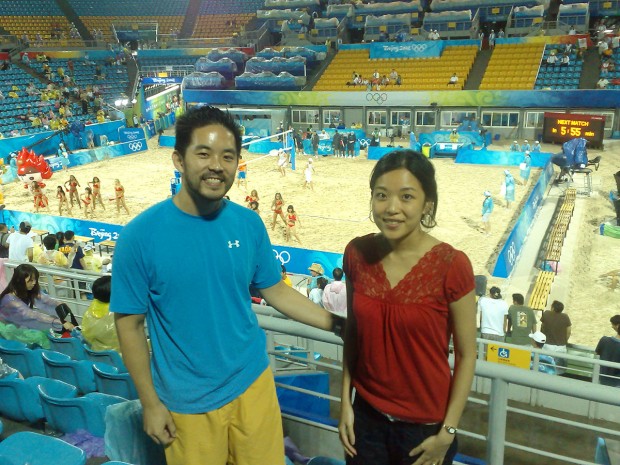 Vicky Yip and her husband, Patrick, were living and working abroad during the 2008 Olympics in Beijing. "This was before we had kids, so we had the freedom to make the most of it!" Vicky shared. "We ran around the city with our international friends, cheering at sporting events, attending Olympic parties, and just enjoying the super festive atmosphere during those crazy couple of weeks."
The couple watched the women's US soccer team win gold, the Dream Team US Men's Basketball play in the semi-finals and marveled at Usain Bolt during a track event. Vicky also enjoyed beach volleyball games, indoor volleyball games, swimming events, and a (featherweight) boxing match.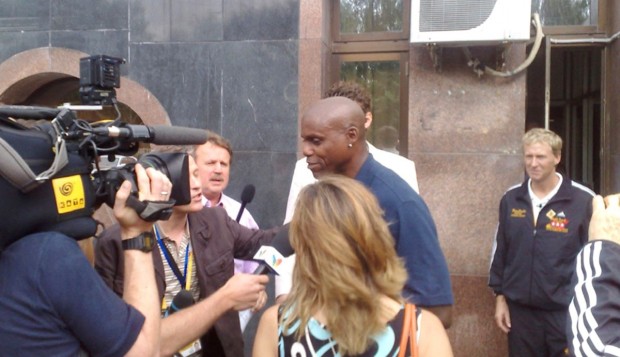 "We spotted American celebrities including Olympic figure skater Michelle Kwan and track star Carl Lewis," Vicky dished. "Patrick even saw Vince Vaughn and Owen Wilson in the men's room at a Budweiser Olympics party. We were so lucky to have been living in Beijing at that time to fully experience it all and have these fun and special memories." 
2012: London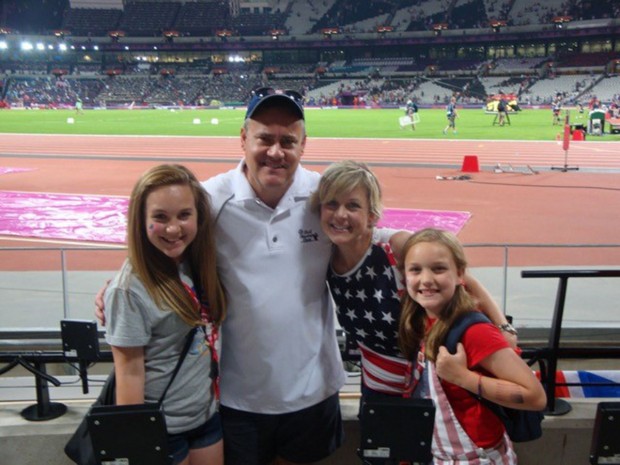 Heather and Steve Johnson and their daughters Kelsey and Carly, now 22 and 20, respectively, were living in London and fondly remember their Olympics experience. "The venues were all amazing," Heather said. "It was exciting to cheer for both the UK and the US. The Brits obviously outnumbered most spectators, so we mainly dressed in American kit." The family went to Men's Basketball, Men's and Women's Beach Volleyball and Athletics.
"The energy in town was indescribable. So much patriotism, but also such a feeling of unity. As a spectator you proudly cheered for your home country, but there was never a sense of 'us' versus 'them.' There was nothing but admiration for those incredible athletes and what they represent. You couldn't help but feel the pride for the winners, regardless of their home country. I think my eyes welled up at every national anthem played!" 
"It truly was a once-in-a-lifetime event and oh, how grateful our family is to have witnessed it firsthand!" 
The 2020 Tokyo Olympics festivities will continue for 17 days through the Closing Ceremony on Sunday, Aug. 8. See the full schedule here.  
People in this article:
Debbie Edwards
,
Karen Vine Fuller
,
Bud Collins
,
Mary Carillo
,
Andre Agassi
,
Lindsay Davenport
,
Audra Dezfulian
,
Shirley Flanders Horn
,
Charles Barkley
,
Shaquille O'Neal
,
Hakeem Olajuwon
,
Katie Couric
,
Kerri Strug
,
Talia Nowitz Diamond
,
Vicky Yip
,
Patrick Yip
,
Michelle Kwan
,
Carl Lewis
,
Vince Vaughn
,
Owen Wilson
,
Heather Johnson
,
Steve Johnson
,
Kelsey Johnson
,
Carly Johnson
,
Lynn Huang
,
Chris Luo
Want more buzz like this? Sign up for our Morning Buzz emails.
To leave a comment, please log in or create an account with The Buzz Magazines, Disqus, Facebook, Twitter or Google+. Or you may post as a guest.