Drive, Chip, Putt
Kinkaid junior wins national finals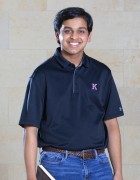 Click the Buzz Me button to receive email notifications when this writer publishes a new article or a new article in this column is published.
It's four-and-a-half feet to national champion…." The tense voice of the commentator at the famed Augusta National Golf Club in Georgia trailed off. A long silence followed, and Jaivir Pande, a rising junior at The Kinkaid School, took his shot.
And then, shouts of joy erupted from the crowd. "Yeah! I like it! That's the way to win it!" the Golf Channel commentator exclaimed. Jaivir, wearing an orange polo, khaki pants, and an orange baseball cap, sank the putt on the 18th hole, winning the Drive, Chip, and Putt National Finals for his age division. He pumped his fist and cracked a broad smile.
The journey to Augusta had not been easy. He had worked his way through three levels of intense competition, first at the subregional level, then the regional level and finally a five-state competition. He distinguished himself from thousands of other young golfers as one of 80 players aged 7 to 15 to play at Augusta.
The Drive, Chip, and Putt championship is a tournament created in 2013 by Augusta National, the United States Golf Association, and the PGA Tour. The competition centers around three fundamental skills in golf (driving, chipping, and putting). Participants hit three shots per skill for a total of nine shots, and points are accumulated per shot. The overall champion in each division is determined by the participant with the most points accumulated between all three skills. Finalists earn a place in the National Finals at Augusta, this year on April 4, and broadcast live by the Golf Channel.
"Just being able to go to the course and experience it for myself was incredible," Jaivir said. "I've grown up watching the Masters Tournament on TV. When you finally go there, the TV just doesn't do it justice. The welcome we received was truly heartwarming. On the morning of the competition, we were shuttled from our hotel to Augusta, driving through the preeminent Magnolia Lane, which only tournament players and members are allowed to go through. The scene was truly breathtaking and was an experience I will never forget." 
Jaivir (whose name is pronounced Jay-veer) met some inspiring personalities throughout his time at Augusta, including the heads of the USGA, Augusta National, and the PGA, plus star golfers like Justin Thomas, Adam Scott, and Bubba Watson. Watson is a longtime supporter of the Drive, Chip, and Putt championship. "I was also able to meet many of Augusta National's members such as Virginia Rometty, former CEO of IBM, and former Secretary of State Condoleezza Rice, who congratulated me as I walked off the green after making my winning putt."
Jaivir was introduced to golf at the age of 4 by his grandfather, Gaurav Rana, a decorated military official in the southern-Asian nation of Nepal. Rana and Jaivir's parents, Sabra and Malika Pande, have supported him, and he has played tournament golf since the age of 6. He remembers learning the basics of the sport and hitting balls with his dad and grandfather. "Even now, my grandfather calls me after every tournament to talk about my round," Jaivir said.
Golfing runs in Jaivir's blood. He says golfing in Nepal was started by his grandfather's great-uncle over 100 years ago. His grandfather's great-uncle was part of the Nepalese prime minister's delegation that visited the United Kingdom in 1917, where they played golf and were gifted clubs. He says the prime minister enjoyed the game so much that he ordered a course to be built.
KPRC sports reporter Ari Alexander said Jaivir is the first and only golfer of Nepalese descent to set foot on the grounds of the Augusta National Golf Club. Jaivir said his goal is to become the world's first Nepali-American pro on tour and said that he is proud of his roots and of being able to represent Nepal.
In Nepal, golf is an uncommon sport, with cricket and soccer taking the foreground. There are very few golf courses across the country, and the golfing community is rather small. "Nepal is a country in which many people don't have the opportunity or means to play golf, so hopefully, I can inspire many kids in the younger generation to pick up the game of golf and pursue their goals," he said.
Jaivir has spent several hours a day outside of school, six days a week, since 2013 at the Westwood Country Club perfecting his game to get to Augusta. He has competed across the United States, as well as Scotland. After school and on weekends, he works one-on-one with his father. During the athletics period at school, he practices and competes with the competitive Kinkaid golf team, coached by Bobby Eggleston. The team won the Southwest Preparatory Conference golf championship this year. 
When training for the Drive, Chip, and Putt championship, Jaivir said he found it challenging to refocus himself on the goal of the competition: practicing three skills until he reached perfection. 
"All through these years, I have competed in stroke-play format, which required me to play head-to-head in tournaments all across the country," he said. "To successfully move from one round to the next, I needed to perfectly hit my drive and make my chip and putt with great accuracy in each competition. Augusta was such a coveted competition that, just in my age category of 14 to 15 year olds, there were about 2,000 golfers across the country."
He had reached the regional finals in the Drive, Chip, and Putt Championship three times over the past eight years, always getting narrowly edged out. Only one golfer had the honor of representing the South Central region – Texas plus six surrounding states – at Augusta.
"The very reason I play golf as much as I do is that I always go into a tournament thinking I can win," Jaivir said. "That confidence drives me in my belief, especially this last time through the various qualifiers and the national championship. Knowing it would be my final opportunity to compete forever, I was more mentally prepared to not let up in any way."
Another notable victory was at the famous Alotian Golf Club in Arkansas. He won all three skills for 174 points and was 40 points ahead of the second-place finisher. He describes his experiences at Augusta and Alotian as "surreal."
Jaivir went to school at St. Francis Episcopal School all his life until 2019-20, when he came to Kinkaid as a freshman. "St. Francis has played a big part in shaping me into the person as well as golfer that I am today," Jaivir said. "I played golf for the St. Francis team, and we won two consecutive HJPC [Houston Junior Preparatory Conference] championships while I was there. St. Francis has shaped me as a person because of the constant support that I received from the community, especially the faculty." His younger sister, Samara Pande, is a rising fourth grader at St. Francis Episcopal School.
The Kinkaid community has rallied behind him as well. "The entire golf team have been like a family to me these past two years at Kinkaid, and I am forever grateful to all of them for their support."
When Jaivir is not practicing, he likes to listen to music from the 1980s and 1990s, read fiction or golf-related books, watch action and mystery movies, and travel. He listens to music to help him focus when he is on the golf course. "If I could describe myself, I would say that I'm someone who is very focused and determined, but I also like to spend time with my family and friends," he said.
As a junior, Jaivir is looking forward to his remaining athletic seasons. He says his goal is to find a college that is both an academic and golf power and qualify for the pro golf tours. 
Want more buzz like this? Sign up for our Morning Buzz emails.
To leave a comment, please log in or create an account with The Buzz Magazines, Disqus, Facebook, or Twitter. Or you may post as a guest.