How They Roll
Bowling family back at Palace alleys
Click the Buzz Me button to receive email notifications when this writer publishes a new article or a new article in this column is published.
It was May 1998 around 2 a.m. when Suzie (Finger) Daum realized she was experiencing contractions. Later that morning, she went to her doctor, who said her baby would arrive sometime that weekend but not quite yet. Oldest son Josh was 3 at the time, eagerly awaiting a baby sister.
They had to pass the time somehow – so Suzie, husband Steve, and Josh went bowling. 
Suzie timed her contractions to the sounds of bowling pins colliding in the background, and Jenni was born that night. 
It seems fitting that the Daum family spent that day at Palace Bowling Lanes. It was a place where Suzie had spent much of her childhood.
"Bowling was just a part of our family life," she says.
Her mom, Nancy Finger, went bowling every Monday night. Her dad, Lawrence "Larry" Finger, bowled every Tuesday night. Suzie, along with cousin Teri (Silverman) Gerber, bowled Saturday mornings. Suzie remembers when she and Teri were young, they were in a league called the Bantam Earlybirds since they met around 9 in the morning, and then they moved up to the Junior Strikes and Spares. 
"My family was serious in the bowling scene," she says. Her parents owned their own bowling balls, and when she received a ball of her own as a birthday gift, it was a big deal, she says. Growing up, friends' birthday parties and team sports parties were often held at Palace Bowling.  
"And you didn't even say 'Palace.' You just said you were going to 'the bowling alley,'" Suzie says. "We just said 'the bowling alley' because everyone knew that was the plan. That was our neighborhood bowling alley." 
When Palace Bowling Lanes closed in 2016, it felt to many like the end of an era. For multiple generations, it had been the setting for countless memories. The bowling alley was the backdrop to family outings, birthday parties, youth-group programs, teen hangouts, first dates.
The disappointment of a gutter ball. The triumph of a strike. Those soft, salty French fries.  
So the recent debut of Palace Social – a nostalgic reimagining of the former beloved bowling alley at the same location (on Bellaire Boulevard inside Loop 610, between the City of Bellaire and West University) – has brought back happy memories. The property, which had been operated by the Lillard family for about 45 years prior to being sold in 2015, has been transformed into a mixed-use development called Southside Commons.
The building now has a restaurant, Dish Society, on the left side and medical/retail offices on the second floor. Palace Social sits in the center. Large glass windows scale the exterior with thick stripes in a retro color scheme. Walking through the doors evokes a sense of nostalgia for many, although just about everything inside is new. 
"It's so bright and airy," says bartender Emma Crabbe, who worked at Palace Bowling Lanes from 2000 until it closed in 2016. Emma is the only current staff member who used to work at the old Palace Bowling Lanes, but other employees have vivid memories set at the iconic bowling alley over the years. Palace Social CEO Billy Forney recalls bowling there, too.
In this "fancy" reincarnation, Emma says, there are more things to do. It's not the same vibe, though she's glad the camaraderie among employees today is friendly, as it was back then. Emma doesn't miss the smell of cigarette smoke permeating the multi-colored carpeted floors. But she does miss the league bowlers.
"They were so competitive. You could always tell who was throwing a perfect or near-perfect game. People would crowd around them. That was fun to see," she says. In particular, she recalls a Sunday league from the Montrose area whose members were always entertaining. 
Emma knew the new version would be a different experience than what she was used to, but it was "too tempting" not to return, she says. "It's fun to work at places like this." 
The original Palace Lanes had 44 bowling lanes, whereas now there are eight. The bones of the building remain the same, including the steel pillars and beams, but everything else was gutted.
The revamped concept has a modern rustic feel with retro-chic components, such as the color scheme – blues, yellows, oranges, and pinks. On the wall next to the shoe-rental counter are bowling balls that rolled down the alleys of the original Palace. Vintage shoes (they aren't from the original Palace but look like they could've been) line a wall in the lobby.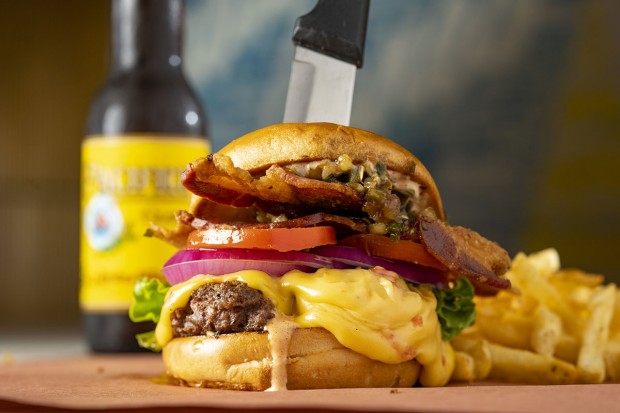 Those looking for the French fries or tater tots of yesterday won't find those exact dishes today, but there's upscale comfort food, including burgers, flatbread pizzas, and Frito pie, plus craft cocktails and beer and wine on tap in the 159-seat restaurant and lounge. Initially open for dinner, the restaurant will eventually offer lunch and brunch. In addition to the eight bowling lanes, there's an arcade, esports lounge, virtual-reality center, ride experience, and multi-sport simulator bays (including a golf course), plus three event rooms (think karaoke parties). 
There likely won't be bowling leagues, and the lanes might not attract cutthroat bowlers. But the new Palace is a place to make new memories across the generations. 
Thinking back on the original Palace Lanes that once stood here, Suzie describes a scene out of a classic '50s or '60s film: women in bouffant hairdos, wearing matching bowling team shirts; men dressed in long pants and their matching bowling shirts; kids clamoring for a greasy burger – "the best burgers in town," Suzie says. 
Suzie's cousin, Rusty Silverman, also has fond memories of growing up at the bowling alley along with his sister, Teri. As a kid, around 7 or 8 years old, Rusty would often go with his grandmother, Esther Pepper. He was a gifted bowler right from the start, and Esther loved to show him off to her friends in her bowling league. 
Rusty remembers the anticipatory thrill of improving his score, of winning patches and trophies. And besides the competitive game, it was a place to hang out with friends. Parents would drop off their kids, who would bowl, play on the pinball machines, eat lunch, chat. And later in the teenage years, it was a "good excuse," says Rusty – parents thought their kids were at the bowling alley.  
Esther competitively bowled up until her mid-60s when her knee started to bother her. It was years later that husband Harry – known to his many grandchildren and great-grandchildren as Papa – became a bowler too. 
A natural athlete, Harry was honored for cycling in the Ronnie Arrow Jewish Sports Hall of Fame in 2003. He was one of the most decorated Senior Olympians in the country, winning numerous gold medals in decathlon while in his 70s and cycling in his 80s and 90s. But it was only when Larry Finger, his nephew and godson, and Barbara Dokell invited him to join their senior bowling league that Harry became serious about the game. He was 98 at the time. 
Larry, who will soon celebrate 85, recalls visiting his aunt Esther in the hospital when Harry informed her that he'd joined the bowling league. Her response? "You old b------ . . . that's my game!" 
For many years, Esther had been an avid bowler. Daughter Arlene Nathan says her mom frequently won state tournaments; at one time, Esther was among the top 10 women bowlers in Houston. It was her game. And it wasn't an easy one. Back then, there were heftier, wooden bowling pins and heavy 16-pound balls – they didn't have lighter-weight bowling balls, recalls Arlene. 
Growing up, Arlene spent a lot of time in the bowling alley but, although she was athletic and played multiple sports, bowling wasn't her thing. "I got schlepped to the bowling alley my whole life, it seemed like," she says, remembering doing her homework while her mom bowled. And then there's the matter of manicures. "Bowling and nails don't mix," she says, grinning.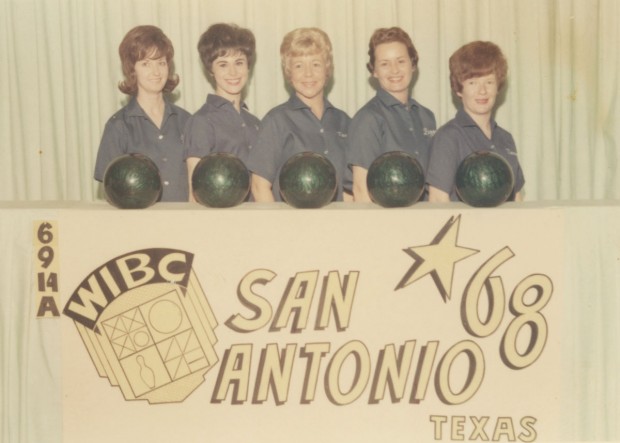 Larry's wife, Nancy, grew up in Denver and, when she moved to Houston, she didn't know anyone. So, Esther decided to take her under her wing. Larry remembers, "Esther asked Nancy, 'What do you like to do?' and the first thing she said was bowling. (In fact, Larry and Nancy first met at a college bowling-league event.) And the rest was history."
Soon after, Esther and Nancy were bowling partners along with Esther's daughter, Gloria (Pepper) Katz. The trio played in scratch leagues, a competitive bowling format in which a team is scored based on their pin count, disregarding handicap. The atmosphere was "blood and guts...," Larry says. "[League members] would look at you with hatred if you miss[ed] a spare." 
Bowling truly was Esther's thing for many years, as it was with both Nancy, who passed away in 1992, and Gloria, who passed away last year. "I think [dad Harry] stayed away from it [purposely] and took it up again later in life when she [Esther] was gone," Arlene says.
Esther passed away in 2006. And, perhaps partially to stay connected to his late wife, Harry kept on bowling – and rolling strikes – until he was about 103. 
At Palace Lanes and in the wider community, Harry was something of a legend. "Papa was shooting 200-plus games at over 100 years old," Rusty recalls. "It's remarkable. There's no doubt about it."
The charming Harry passed away in 2015 at the age of 104. He was a Life Member and volunteer with the Houston Livestock Show and Rodeo for 66 years, serving as an original member of the Calf Scramble Committee. At age 100, he rode in the show's downtown Rodeo Parade. Harry had an extraordinary zest for life. 
"When Papa passed away, we wanted to celebrate his life. We didn't want to remember his death," says granddaughter Nicole Gibson. "We celebrate with the kids on his birthday by going bowling." 
Nicole, along with husband George and kids Alec, Evan, and Eliya Gibson, look forward to celebrating Harry's birthday at Palace once again this year. 
"We've always loved to bowl. The whole family – every generation – has loved it. Yeah, it's a part of who we are at this point," Nicole says, as she watches her family bowl on the new lanes. Her sister, Natalie, gets a strike, and everyone cheers. Just like old times.
Want more buzz like this? Sign up for our Morning Buzz emails.
To leave a comment, please log in or create an account with The Buzz Magazines, Disqus, Facebook, Twitter or Google+. Or you may post as a guest.