The Girls of Football
A new generation of talent
Click the Buzz Me button to receive email notifications when this writer publishes a new article or a new article in this column is published.
Friday night lights look a little different at Episcopal High School. If you look closely during the kickoff, you'll notice a long ponytail peeking out from the bottom of No. 20's blue helmet.
Mia Tuckwood, a junior (and a girl), takes her spot at the center of the 40-yard line with five teammates to her right and five to her left to start the varsity game with a kick into a field of all-male opponents. If it weren't for the ponytail, you would think she was one of the guys because her 6-foot-2-inch stature blends in seamlessly with the rest of the team. 
Mia, 17, is the first girl to play football at EHS. A seasoned athlete, Mia has played club soccer since she was a young girl and has been on the Episcopal girls' soccer team since her freshman year. She spent many football seasons in the bleachers watching her older brother, Ethan, play football for the Episcopal Knights, and she knows the game. She decided her athletic ability and kicking skills were as good as anyone else's, so she approached varsity football coach Steve Leisz about joining the team. His response: "As long as you're all in." 
"I'm the kicker, so I go out on kickoff, and I do field goals and extra points," said Mia. She wears the same uniform as the boys, participates in the same practices, and receives the same coaching. "Coach Leisz doesn't treat me any differently," she said. 
Football is an opportunity for Mia to do something new with her proven athletic ability. "I'm not doing it just to prove a point, but there's definitely a point to be made," she said. "It's a space where I can go out and show what girls can do. That's what I like about football. I hope other girls will look up to me and think, 'If she can do that, then maybe I can, too.'"
Mia says her teammates are welcoming and supportive, and her coach suspects it is because her athletic ability has earned an immense amount of respect. "She's a grinder, and I mean that in a positive way," Leisz said, laughing. Mia's first days on the team were during the summer when the team does intense conditioning workouts.
Typical of most summer outdoor-conditioning camps, the players fight against dehydration and exhaustion, and becoming physically ill is not unheard of. Mia walked onto the field being in exceptional shape from the soccer season and had no problem handling the football workouts. "She earned her spot on the team," Leisz said.
The male players are inclusive, but Mia concedes there are natural differences. "They're accepting and supportive, but they're also teenage guys, so I think it's kind of weird for them at times," she said. "It's kind of hard to relate to some of the guys, but at the end of the day it's just sports."
Simple logistics like where she changes into her uniform come into play. During home games, she can use the Episcopal girls' locker room, but arrangements need to be made in advance for her to have dedicated space to use when they play away games at other schools.
Mia says she doesn't feel isolated or like she is missing out on team bonding, and she is able to join the boys in the locker room during halftime. "Sometimes I like being by myself in the girls' locker room in order to get my own space," she said.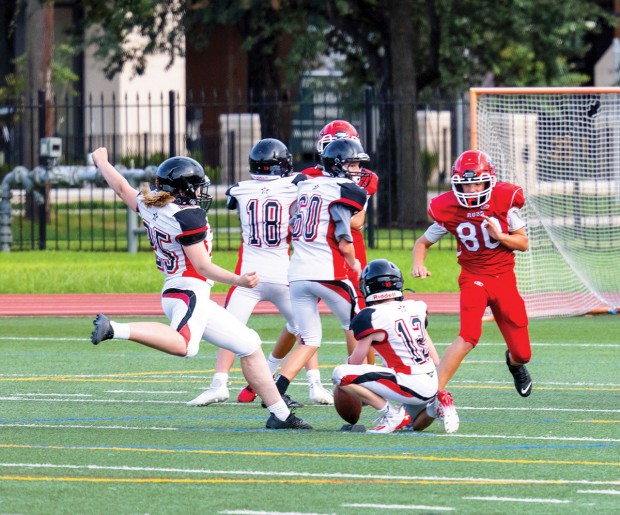 The St. John's School eighth-grade football team also has a female kicker. Addison Perry, who is roughly the same height as the male players, is in her second season as a football player after starting last year with the Southwest Football League (SFL) Orange Shamrocks team. The 2020 football season didn't exist for many middle schools, so groups of players formed their own teams through SFL. The Orange Shamrocks needed a kicker, and Addison filled the gap.
"I learned football with my dad and brother during quarantine," said Addison. "My brother is a kicker for St. John's varsity, and while we were all stuck at home he would go outside with my dad and kick. I thought it would be fun, and the next thing I knew I was kicking with them every night."
Sibling rivalry with her brother, Caden, played an important role in Addison's training. "Kicking is always about being under pressure, so my brother and I teased each other to try to get in each other's heads and have fun annoying each other while practicing," Addison said. 
Like Mia, Addison says the school team is welcoming and supportive, and she enjoys being a girl on a "boys" team. "Last year I definitely got some looks from the other teams, though," she said. "It was kind of funny to walk out on the field and see the reactions when they realized that I'm a girl." 
Mia and Addison are part of a national trend of rising numbers of girls playing football. According to the National Federation of State High School Associations, 47 out of 50 states have seen significant increases over the last decade in the number of girls playing tackle football, and two states (including Texas) have created girls-only tackle leagues.
Adding girls to the football landscape furthers the discussion around injuries and the overall safety of the sport for children. Addison's mom, Angela, says even though her daughter has never been injured on the football field, it's something that is in the back of her mind.
"Right now, she's only doing field goals, and she's not really in a position to get hurt," said Angela. Looking to the future, there might be an opportunity for kickoffs or punting, but Addison has not done those plays yet, and Angela isn't in a hurry to see it happen. "There could be people out there who might target her on the field," Angela said.
Dr. Albert T. Hergenroeder, chief of adolescent medicine and sports medicine at Baylor College of Medicine and chief of adolescent medicine in the sports medicine clinic at Texas Children's Hospital, says football is not inherently more dangerous for girls than for boys.
"It has to do with their ability to compete," he says. "If girls have the size, strength, and speed, then they probably have no more risk than boys do." Younger players are usually at less risk of injury than older and larger players, regardless of gender. 
Emma Rodriguez, 8, plays tackle football for the Spring Branch-Memorial Sports Association junior varsity Bulldogs team. The third grader began playing flag football this summer and is now the center for the boys' tackle team.
"I'm a big kid, and if I get hurt I get back up. I'm fine," Emma said. "I can outrun any boy." Like many other girls who play football, Emma has had lots of exposure to the game from watching her older brother. Gabriel, 10, also plays center for his team in an older division.
Initially, Emma wasn't thrilled about being tackled, but center is a very physical position to play, and she quickly became resilient. She enjoys being on the offensive end of tackling and because she is about the same size as the boys, she is equally as effective.
If these girls decide to continue playing football, they have a role model at the collegiate level. In 2020, Vanderbilt University kicker Sarah Fuller made history on the football field as the first female to play in a Power Five game when she kicked off for the Commodores against the University of Missouri.
Mia, the Episcopal kicker, is used to people asking if she was inspired by Sarah Fuller's history-making moment. "She's very impressive, but actually I was playing football before she was," Mia said. 
Want more buzz like this? Sign up for our Morning Buzz emails.
To leave a comment, please log in or create an account with The Buzz Magazines, Disqus, Facebook, Twitter or Google+. Or you may post as a guest.