Little Free Libraries
Leave a book, take a book
Click the Buzz Me button to receive email notifications when this writer publishes a new article or a new article in this column is published.
I am a huge fan of Little Free Libraries, the colorful little boxes that are found in front of some people's homes, at parks, and sometimes even businesses. I regularly restock the two closest to my home, at Colonial Park and in front of the Scout House in West U, with books that I have finished or duplicates that I have received. I love to see what others have left and sometimes find a new book to read myself.
Little Free Libraries (LFLs) are tiny libraries created to provide a sheltered place for people to share the books that they have read and loved. The idea is to "leave a book and take a book." People can donate books they have read and grab something new – it is a fun and adventurous way to do a book exchange.
The program has a great website with details about some of the more than 125,000 libraries that are registered around the world, including one in Antarctica. There are now Little Free Libraries on all seven continents.
In 2009 in Hudson, Wisconsin, Todd Bol built the first one modeled after a one-room schoolhouse as a tribute to his mother. Using wood, he crafted a much smaller version of the schoolhouse, 20 inches wide by 15 inches tall, and mounted it on a pole at the right height for people to reach into it and grab a book.
He placed it in his front yard, and it was such a success, he built several more and gave them to his friends and neighbors. The initiative gained momentum, and the name Little Free Library was established in 2010 with the goal "to share good books and bring communities together," and Todd subsequently turned it into a nonprofit.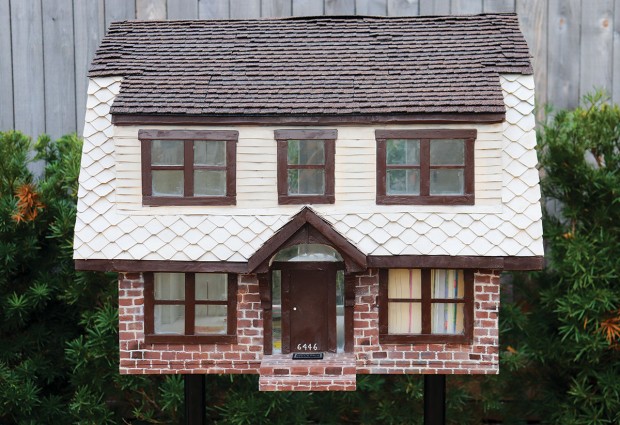 The website provides guidance on building and also sells $160-400 kits in various shapes and sizes, in wood or composite material, for those who want to get started quickly or who are not the building type. You can register your library, bought or home-made, and have it added to the global map to help anyone who wants to locate one nearby.
In March, I wrote a Page Turners column on The Buzz's website about a new Little Free Library in West University. The Girl Scouts of San Jacinto Brownie Troop 146153 decided to place one at the Jennie Elizabeth Hughes Park, a park created on the lot where Jim Hughes grew up in the heart of West U. When Jim Hughes died in 2016, he bequeathed the property to the city with funds to create a quiet park in his mother's honor.
The troop worked with builder David Crow (who donated his time) to design the library as a replica of the home that Jennie Elizabeth Hughes built in 1930 on the property, a traditional one-story cottage similar to those that originally populated the neighborhood, off Buffalo Speedway between University and Holcombe.
The Brownie troop is the steward of the tiny library and makes sure there are always a variety of books there, including children's books, popular adult books, and occasionally cookbooks. I recently spotted copies of The Four Winds by Kristin Hannah and Nine Perfect Strangers by Liane Moriarty. Susan Sample and Anne Marie Thompson are the troop's leaders, and current members include Sofia Thompson, Caroline Cozart, Caroline Larsson, Ellie Egan, Ellie Payne, Emmy Grace Benitez, Kelsey Yip, Lila Cooley, Paige Berry, Sona Raghavan, Sophie Burrow, Stella Grewal, Zara Alousi, and Zareena Rehman.
In the River Oaks area, Katherine Palmer and her family maintain a bright blue Little Free Library that sits in their front yard by the sidewalk. Katherine had seen the one in Pumpkin Park, and she was excited about the idea of book sharing someplace other than the library, so she asked for her own for Christmas.
She picked one out from the Little Free Library website, and when it arrived, she placed it in her yard. Katherine decided to "load it up and see what happened."
"People immediately started stopping by to exchange books," she said, "and while libraries were closed during Covid, it provided a wonderful sense of community."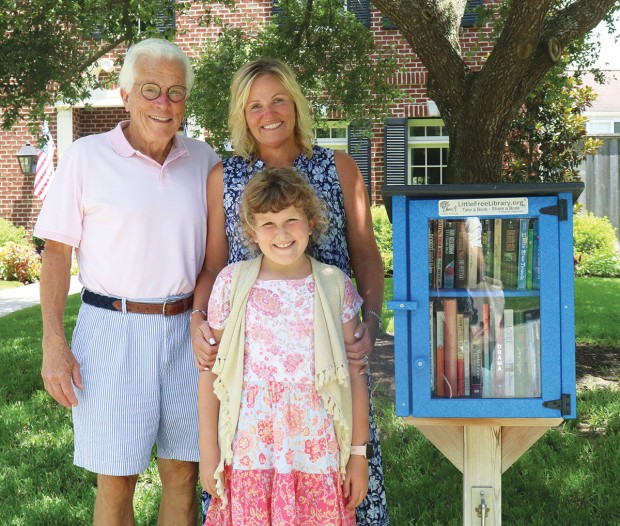 Susan Gallagher opened her Braes Heights Little Free Library on Gramercy Street in 2016. Hers is red and in a shaded area in her front yard. She hosts events in her front yard by the library, including an annual "Eeyore's Birthday Party."
She says her library "helps us meet our neighbors and build community. In a time when we seem very polarized and fragmented, it is such a joy to share positivity and friendship."
With no library nearby and a large English-as-a-second-language population, John Burns started his Little Free Library in the Meyerland area for children attending the nearby elementary school and charter schools. There are two side-by-side, one for kids and one for adults, both a colorful lime green with thatched roofs.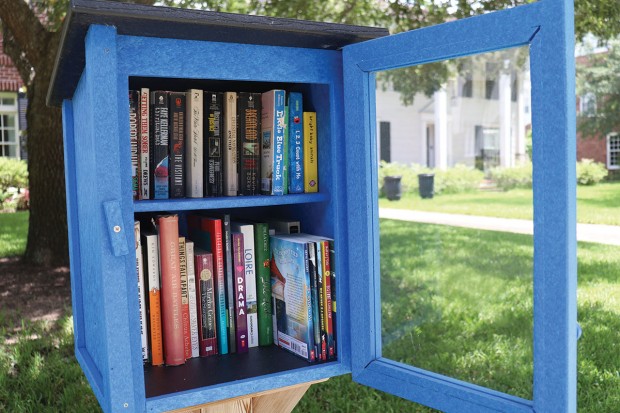 Recently, one of my favorite publishers, Celadon Books, has recruited bookstagrammers to participate in a country-wide book drop of one of their upcoming titles. They gather the Little Free Library locations that will be used by the bookstagrammers and create a map for anyone who wants to try and find a copy of the book being dropped. I have participated in several, and the most recent was for We Are the Brennans by Tracey Lange, which I placed in the library run by the Palmers.
If you are interested in creating your own tiny book nook for sharing, check out the Little Free Library website. And let me know via email because I am happy to help contribute books to get it started!
Editor's note: Southside Place resident Cindy Burnett also writes our weekly Page Turners column. She hosts the Thoughts from a Page Podcast, is co-creator of the Houston literary event series Conversations from the Page, runs the Instagram account @thoughtsfromapage, and regularly speaks to groups about books.
People in this article:
Cindy Burnett
,
Todd Bol
,
Jim Hughes
,
David Crow
,
Jennie Elizabeth Hughes
,
Kristin Hannah
,
Liane Moriarty
,
Susan Sample
,
Anne Marie Thompson
,
Sofia Thompson
,
Caroline Cozart
,
Caroline Larsson
,
Ellie Egan
,
Ellie Payne
,
Emmy Grace Benitez
,
Kelsey Yip
,
Lila Cooley
,
Paige Berry
,
Sona Raghavan
,
Sophie Burrow
,
Stella Grewal
,
Zara Alousi
,
Zareena Rehman
,
Katherine Palmer
,
Susan Gallagher
,
Tracey Lange
Want more buzz like this? Sign up for our Morning Buzz emails.
To leave a comment, please log in or create an account with The Buzz Magazines, Disqus, Facebook, Twitter or Google+. Or you may post as a guest.