Montana moments
Click the Buzz Me button to receive email notifications when this writer publishes a new article or a new article in this column is published.
For Sue Needle, the flight to Montana spelled a chance to beat the Houston heat and bond together as a family. For veteran saltwater fisherman Paul Magaziner, it was a chance to enjoy some camaraderie with other anglers and learn a new style of fishing. For both, it ended up being the adventure of a lifetime. 
Paul quickly confesses he knew nothing about the sport. But when his business partner, Joe Castellano, told him he'd be taking a fly-fishing trip with buddy Greg Greenway and invited Paul to come along and bring a friend, he couldn't resist. He called up friend Sam Akers. Soon the two – both in their early 70s – were about to learn some new tricks.
"Truthfully, I am not a fly fisherman," said Paul. "I am not capable of taking a fly rod and putting on waders and going into a river … I can't even see the flies, they're too small."
With a good guide between them in the canoe, however, it didn't matter. 
The first trip was to Arkansas, and they liked it so much they decided to take it to the next level: Craig, Montana, where the Missouri River flows cold and clear and is home to some of the finest trout in the country. Just an hour from the headwaters of America's longest river, the town has become a fly fishing mecca.
They were on the water by 9 a.m. – Sam on one end, Paul on the other, and guide Jeremy in the middle. There was no motor; the guide would steer their boat with a paddle. 
"You want to imagine yourself in the movie, and you're Brad Pitt," said Paul, referring to the 1992 Robert Redford film, A River Runs Through It. "But Sam and I are the pretenders – without that guide in between me and Sam, we'd probably starve to death."
Floating down the river, you can see anything: mountain goats, deer, elk, moose, bald eagles. "You're not in Houston anymore, I'll tell you that – and you're not in Memorial Park."
But there isn't much time for sightseeing, since the eyes must be constantly trained on the bobber, and you have to be ready to react in a split second. "When Sam and I cast, both of us have on hats and sunglasses. And we're just as likely to hook each other as to get it out there to the fish."
They got a taste of authentic Montana culture with their guides, who, like a lot of people in Craig, make their living in the five months of fishing season before the early Montana winter closes in.
"They take this very seriously; they really want you to catch the fish, and it gets really interesting when you don't, or when you lose the fish," said Paul. "They start yelling at you – 'What are you doing?' But the whole thing is fantastic and good fun."
Both ended up catching some fine-looking trout – brown as well as rainbow. But this being a fish-and-release stream, they just let them back into the river – and Paul was fine with that. 
They paid a visit to the Lewis and Clark National Historic Trail Interpretive Center, which gave them pause for reflection on the difficulty of that historic expedition as well as the fate of the original inhabitants of these lands. 
"I walked out of the Lewis and Clark museum, and what really occurred to me is back then you didn't know where you were going, you didn't know what you were going to see, and you had to carry your boat with you," said Paul. "The American Indians got a really bad deal – because they were here first." 
The beauty of the land won their hearts, as did the chance to hang out and enjoy some guy time – their cabin, rented through The Trout Shop, had two balconies, one for grilling and the other they called the cigar balcony – and it was right up next to the river. For $400 a night – $100 per person – it was as good a spot as Paul could imagine. "If you rent the right facility, you may be able to do fishing right from your cabin," he said. 
Paul came away from the trip deeply impressed with the place and its people.
"My advice would be to see America, and fly fishing is one way to do it," he said. "As you meet the people in Montana, you see how much they respect the land and how important it is to them and keeping it the way it was. Going to Montana is just as spectacular as Europe or any other place, except that you're in America; you get to see what it was like 300 or 400 years ago in this country. They've done a fabulous job of taking care of the place."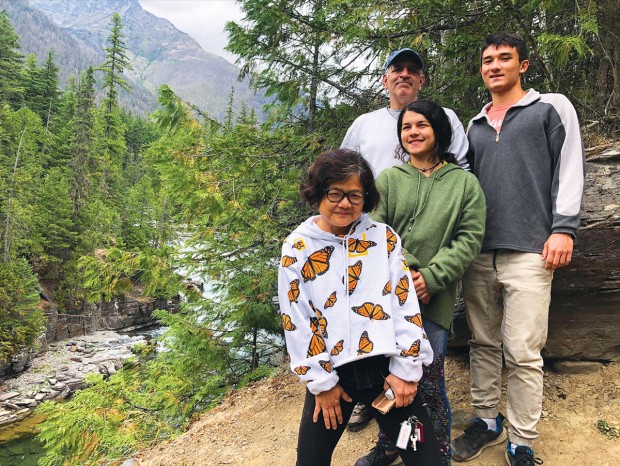 Sue, a longtime United Airlines business analyst, was looking for a summer escape for her family when the nonstop flight to Kalispell, Mont., caught her eye. Husband Jonathan liked the idea, and so did 19-year-old Noah and 16-year-old Hannah. So it was that in a little under 4 hours, they were landing at Glacier National Airport – the gateway to Glacier National Park, 1,500 square miles of wilderness along the Canadian border in Montana's Rocky Mountains. On the other side of that border is Canada's counterpart, Waterton National Park; together, the two form the Waterton-Glacier International Peace Park.
The weather was sublime for mid-August – lows in the 50s, highs in the 70s – and the views were stunning. The area is a hot destination for cyclists, and the Needles ended up booking a cabin at the Montana Bike Hostel & Camping in nearby Columbia Falls. A half-hour drive to the west entrance of the park, it was the perfect base.
Many of their adventures began with Going-to-the-Sun Road, a 50-mile route that crosses the Continental Divide, passing waterfalls and glaciers, peaks and valleys, alpine tundra and bunchgrass prairie – and frequently, wildlife. They canoed and they paddleboarded, and in the nearby towns, explored a museum and a rodeo. And perhaps the biggest adventure, at least for Sue, was the hike to the glacier-fed Avalanche Lake. 
Darkness was already beginning to fall as they wound their way upward through the cedar and hemlock forest, mist falling around them. They reached a gorge and a sign that said it was four miles to Avalanche Lake. 
"There weren't many hikers at that point, and we didn't know whether we could make it all the way to Avalanche Lake," said Sue. "So I told my son, who's a bit more athletic, to just run up and take a look, run around it and come back and tell us if it's worthwhile."
They continued their walk at a leisurely pace, when suddenly they saw a black bear.
"I said, 'We just have to keep on walking. Let's not pay any attention to it. We can look at it through our peripheral vision.'" The bear went on about its business, and so did the hikers. Realizing that Noah wasn't coming back anytime soon, they decided to just keep going – up, and up, and up. Almost to their destination, Noah finally appeared; it had taken him that long to walk around the lake and make it back to the trail. When they finally arrived, they were amazed at what they saw: a lake at the top of the mountain, level with the ground around it, almost like a natural infinity pool. 
"The misty lake was so heavenly, and the water was a teal color," she said. "I just felt like it was a little bit mythological. Something I'd find in a movie, maybe."
By the time they finally got back to the car, it was dark, and they were relieved to have made it back. Sue added, "There are a lot of incidents in national parks, and people going missing. Even a couple weeks after we came back, they found a woman who went on a hike with her dog and got lost. She didn't make it."
Avalanche Lake was the highlight for Sue and Hannah; for Jonathan, it was the opportunity to relax and spend time with the family, although he also enjoyed hiking on Whitefish Mountain and the Kalispell Rodeo.
For Noah, it was learning to paddleboard, a sport he'd never had the chance to practice before. And he did it atop the depths of Lake McDonald, a 500-foot-deep lake formed by Ice Age glaciers. The official moniker is Lake McDonald, but what will stay with them was the name used by the indigenous Kootenai people who originally inhabited these lands and practiced lakeshore ceremonies on its banks: Sacred Dancing Lake. 
The glaciers also left an impression on the family, and more importantly, their disappearance. A display of one glacier showed how it was only 25 percent of what it used to be in 1850,  a sobering reminder of the ongoing process of climate change. Of the 150 glaciers that the park once held, only 25 remain, and those are predicted to be gone in a decade. 
The memories are mostly happy ones, however: marveling at the 360-degree views from the heights of the ski lift at Whitefish Mountain Resort; picking huckleberries along the trail and making huckleberry pancakes; driving through a wild cherry grove along Flathead Lake and eating their fill of wild cherries. 
The one thing they did not do was to go biking. They checked out the bicycle rentals along the way and almost did, but they ran out of time. So they are already planning their return, next spring – and next time, it will be a bicycle trip on Going-to-the-Sun Road – in May, when the road is only open for cyclists. 
Editor's note: Buzz travel columnist Tracy L. Barnett is a Lowell Thomas travel journalism award winner and longtime travel and environmental writer. Email her at [email protected] to share your own travel tales.
Want more buzz like this? Sign up for our Morning Buzz emails.
To leave a comment, please log in or create an account with The Buzz Magazines, Disqus, Facebook, Twitter or Google+. Or you may post as a guest.