Rumor Has It - November 2021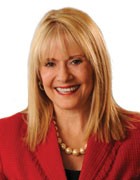 Click the Buzz Me button to receive email notifications when this writer publishes a new article or a new article in this column is published.
Rocky Mountain high. Former Spring Valley resident Natalie Mattern and Chicagoan Andrew Beckman met at Denver's St. Mark's Coffee House two and half years ago, where their love of good brew and nature drew them together. During a weekend in 2020 in Crested Butte on a camping trip, Andrew proposed to the long-haired beauty as they hiked in an aspen forest. They married in Telluride with a full moon overhead as they overlooked Bridal Veil Falls. The cannabis bar, with choices of sativa or indica, was a big hit, with warnings about MJ hangovers. They honeymooned in Washington state near Olympic National Park. Parents of the couple are Beverly and John Mattern and Sheila Beckman and (the late) Matthew Beckman.
Got lemonade? The youngsters of the Hunters Creek Wood neighborhood hosted a homemade lemonade and cookie stand. The convenient location next to the Memorial Villages Farmers Market made for lots of customers. They had fun until the rain dampened business. Already young philanthropists, they voted to give their profits to Texas Children's Hospital. The little entrepreneurs included Louise and Henry Isaacs, Sellers and Mae Burney, Sebastiano, Alessandra and Francesca Danese, Emma Brice, and August and Aras Henderson. 
That's what good friends are for. A friend group of Stratford High guys and their nurse-girlfriends from UT Galveston introduced Brice Simpson to Shandi Cormier from Orange, Texas. Turns out they love dogs, hikes, workouts, and their huge friend group. Brice proposed to Shandi on the Omni Barton Creek Resort lawn by a firepit that overlooks the golf course. Parents Clint and Sharon Simpson and Mike and Vicky Cormier and the couples' siblings waited in the resort restaurant to surprise Shandi with a family dinner. A Houston fall wedding in 2022 is in the works.
Could be a familiar story. Because of Covid, Nathalie Yates and Matthew Monigold's wedding date was changed three times. Wedding coordinator Joan Lebow didn't even blink an eye when she had to recoordinate the Santa Fe, New Mexico wedding. The only extra expense was the save-the-date announcement, which, due to timing, had to be redone only once. Most vendors were accommodating with the date changes. The couple, who met on an Aspen ski trip, dated four years and wed at the historic Loretto Chapel with its miraculous staircase. The reception was at La Mesita Ranch Estate amid 140 acres, with a nature reserve, ponds, and an exclusive equestrian center, all on the Pueblo reservation. The couples' parents, Christa and Steven Yates and Elizabeth Monigold and Phillip Monigold, gave the couple a tribal hug as they left for their honeymoon in Athens, Mykonos, and Santorini, Greece. 
Surprise! Mystery writer Stephanie Perkins had a surprise non-surprise birthday party when besties planned the dinner on the Toulouse Cafe patio for her 50th. She knew there would be six, but the seventh guest was Choo Kim-Isgitt, who flew in from San Diego to join in the dinner and to catch up the next day together. Toasting with champagne were Monica Brauchle, Andi Richardson, Heather Nelson, Katherine Sabom, and Dashca Rico.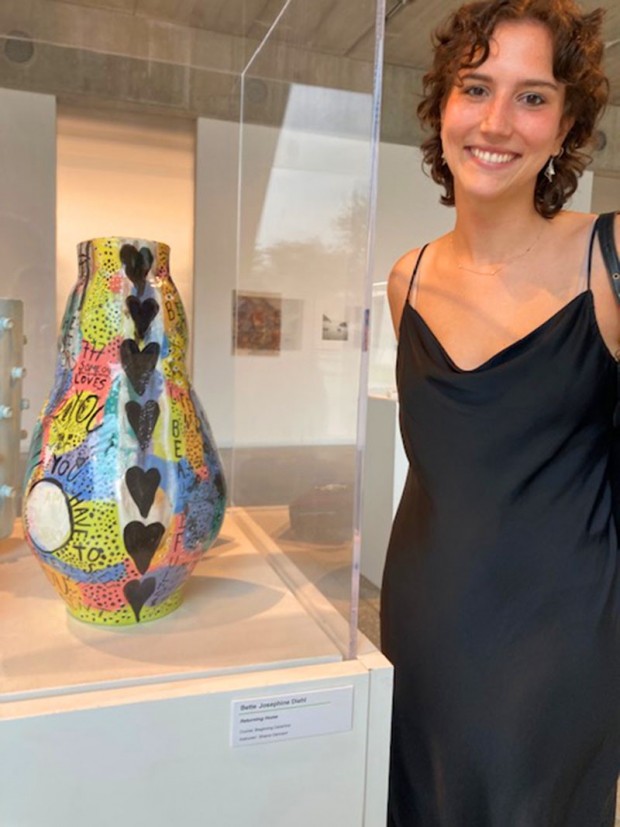 On view now. When Josephine Diehl returned home this spring from The University of Texas at Austin to complete her degree online (a Covid precaution), she enrolled in art and ceramics courses at the Glassell Studio School in conjunction with The Museum of Fine Arts, Houston. One of her ceramics, "Returning Home," was chosen in the juried Studio School annual student exhibition and was on view at the Glassell this summer. "Her Surrender to the Search," a hand-built ceramic sculpture, is on view until Nov. 19 in a juried show titled Emotions: Student Images for The Glassell School of Art Exhibition Series at the Kinder Morgan Building downtown. Josephine has carved out an internship at the Anya Tish Gallery. 
Ice cream block party. The Soda Shoppe vintage ice cream trailer arrived to celebrate the end of summer at Madison and Hannah Smooke's driveway. Isabella Barry, Lauren Sitta, London Wolfe, and Sam Chelminsky chatted about school over ice cream while Michaela Shapland, Adalia Williams, and Maddie Trinh opted for drinks. In the crowd were Elizabeth Sitio, Gai-Linn Sitta, Leanna Smith, and daughter Stephanie Nieto with Olivia and twins Max and Maddie, Jennifer Larsen, and daughter Emily.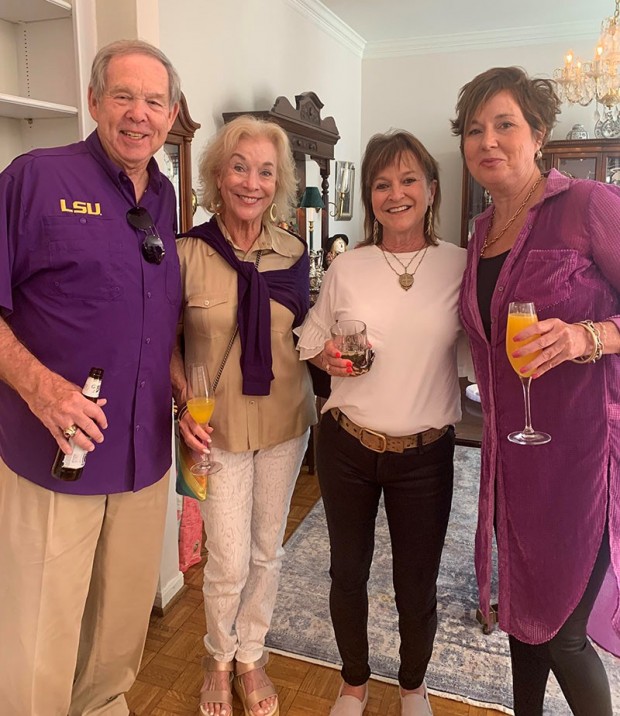 Geaux, Tigers! LSU fans Debbie and Richard Miller hosted 20 friends, including two former LSU cheerleaders and a former LSU defensive tackle, to watch the LSU Tigers beat the Mississippi State Bulldogs. Other guests roaring with the Tigers and nibbling on Cajun fare were Al Lasher, Joe Doggett, John Lecky, Anita Schall, Phyllis Sefeldt, and Maria Lacy. Helen Perry provided halftime entertainment with a rendition of a marching trombone player from The Golden Band from Tigerland. Richard and Debbie reminisced about Heisman Trophy winner Billy Cannon's 89-yard run Halloween night in 1959. "We were both there!" said Debbie, "but it was on a blind date in Houston 12 years later before Richard and I met and married."
From highrise to lowrise. The Arctic Blast in February inspired Lorena Toleno to look for a lower place to live, instead of the eighth floor of the Galleria highrise she lived in. Since there was no generator, she had to walk the eight floors every day when the power went out.  She stayed in the same area when she moved to a second-floor condo. When Lorena, who is dual-licensed in aesthetics and massage, is not doing facials and massage therapy, she's a pet sitter and dog walker for others. Although she has watched all the Cesar Millan shows, she's an unlicensed dog whisperer.
An evening in Wonderland. The Storybook Gala (formerly known as The Jungle Book Gala) will be held Nov. 12 at Hotel ZaZa Museum District. Co-chairs Kasey and Nick Carnrite and Joselyn Tego and Jeff Carnrite of the Young Professionals Group, an organization with the Barbara Bush Houston Literacy Foundation, have a great committee (thanks to Charlotte's Web-like skills) in Megan Carrasco, Beverly Caskey, Grace Gosnell, Andrea Henery, Lindsey Koszela, Cody Schlegel, Lauren Stanfill, and Victoria Villarreal. This party with a purpose will feature the Drywater Band, a silent auction, and a Peloton bike raffle powered by Reliant. Phillips 66 will be honored, and Carnrite Group will serve as this year's title sponsor. Be where the wild things are and join in to change a life through literacy. Goodnight, Moon.
Have some good news to share? Email us at [email protected].
People in this article:
Natalie Mattern
,
Andrew Beckman
,
Beverly Mattern
,
John Mattern
,
Sheila Beckman
,
Matthew Beckman
,
Louise Isaacs
,
Henry Isaacs
,
Sellers Burney
,
Mae Burney
,
Sebastiano Danese
,
Alessandra Danese
,
Francesca Danese
,
Emma Brice
,
August Henderson
,
Aras Henderson
,
Brice Simpson
,
Shandi Cormier
,
Clint Simpson
,
Sharon Simpson
,
Mike Cormier
,
Vicky Cormier
,
Nathalie Yates
,
Matthew Monigold
,
Joan Lebow
,
Christa Yates
,
Steven Yates
,
Elizabeth Monigold
,
Phillip Monigold
,
Josephine Diehl
,
Madison Smooke
,
Hannah Smooke
,
Isabella Barry
,
Lauren Sitta
,
London Wolfe
,
Sam Chelminsky
,
Michaela Shapland
,
Adalia Williams
,
Maddie Trinh
,
Elizabeth Sitio
,
Gai-Linn Sitta
,
Leanna Smith
,
Stephanie Nieto
,
Olivia Nieto
,
Max Larsen
,
Maddie Larsen
,
Jennifer Larsen
,
Emily Larsen
,
Stephanie Perkins
,
Choo Kim-Isgitt
,
Monica Brauchle
,
Andi Richardson
,
Heather Nelson
,
Katherine Sabom
,
Dashca Rico
,
Debbie Miller
,
Richard Miller
,
Al Lasher
,
Joe Doggett
,
John Lecky
,
Anita Schall
,
Phyllis Sefeldt
,
Maria Lacy
,
Helen Perry
,
Lorena Toleno
,
Kasey Carnrite
,
Nick Carnrite
,
Joselyn Tego
,
Jeff Carnrite
,
Megan Carrasco
,
Beverly Caskey
,
Grace Gosnell
,
Andrea Henery
,
Lindsey Koszela
,
Cody Schlegel
,
Lauren Stanfill
,
Victoria Villarreal
Want more buzz like this? Sign up for our Morning Buzz emails.
To leave a comment, please log in or create an account with The Buzz Magazines, Disqus, Facebook, Twitter or Google+. Or you may post as a guest.